HTC S740 WM6.1 Smartphone Review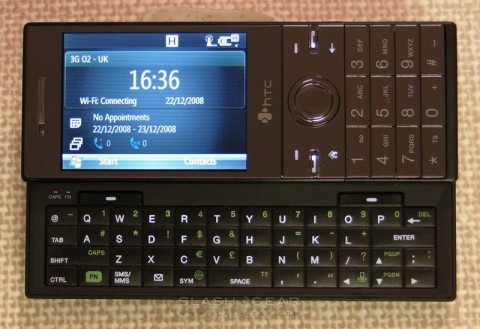 After the runaway success of the Touch HD, HTC offered us another smartphone to try out.  If the HD was all about superlative media, the HTC S740 takes us back to smartphone basics: no touchscreen, Windows Mobile 6.1 Standard, and a hardware QWERTY keyboard.  A step backwards or one in the right direction?  SlashGear set to finding out.
First impressions are very good: the S740 is sturdy and solid, with a weighty, quality feel in the hand.  It's undeniably a thick device – overall measurements are 4.6 x 1.7 x 0.7 inches and 5oz in weight – and that could be a deal-breaker for some, but it has a slender build and a pleasingly soft-touch faceted rear panel. 
Underneath the back panel (which is surprisingly tough to remove) sits the 1,000mAh battery and, after you remember to thread the cord through a tiny hole in the panel itself, a lanyard hook, but no SIM or memory card slots.  These, instead, are stacked under a pop-up panel on the reverse side of the sliding top section.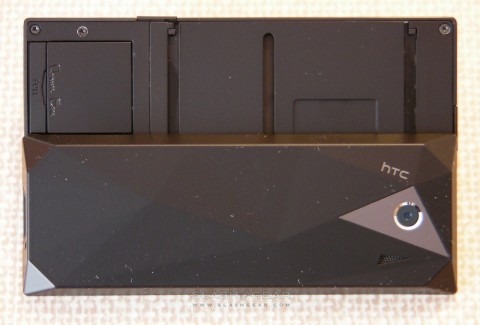 The first disappointment to many of our regular readers is the absence of US-spec 3G support.  Just as with the Touch HD, the S740 is not intended for the US market, which means quadband 850/900/1800/1900MHz GSM/GPRS/EDGE and dualband 900/2100MHz HSDPA/WCDMA.  In Europe and Asia, network depending, you can expect up to 7.2Mbps downloads; if you want that sort of speed in the US, you'll have to have a WiFi connection.  Happily the S740 has WiFi b/g support, together with Bluetooth 2.0+EDR.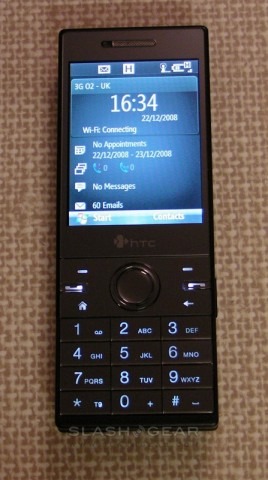 The primary controls – number keys, D-pad with center-select, soft-keys, Home and back buttons and dial/end keys – almost all feel cut from the same piece of transparent plastic, making the front panel of the S740 darkly reflective.  Up top there's a long, narrow power button which, when the smartphone is switched on, calls up a shortcut menu of profiles, device lock and access to the task manager and communications manager.  On the left-hand side there are volume up/down buttons, while a camera shortcut/shutter button is on the right.
A little pressure to the right, and the top panel slides across with a solid, spring-loaded click to reveal the QWERTY keyboard.  The buttons are all 8 x 5mm (with the exception of the space, left-shift, enter and two soft-keys, which are double-width) and slightly domed, with white and green backlit text.  Two small green LEDs on the top left indicate Fn and Caps-lock status.  As well as the standard alphanumerics (with number keys sharing the top row of the QWERTY 'board, and accessed via the Fn modifier), there are shortcut buttons to SMS/MMS, Email, internet and the communications manager.
In use, the keyboard is reasonable.  It would benefit from more key delineation, and perhaps some backlighting between them to emphasize where one ends and another begins.  The softkeys can be a little tricky to press, being relatively close to the top screen layer, requiring a fingernail jab rather than the pad of a finger.  There's also no auto-correction beyond automatic capitalization of the first letter in a new sentence; presumably with a full keyboard you're not meant to make any mistakes, but we missed it nonetheless.  Sliding open the keyboard causes an optional messaging shortcut menu to appear, giving access to SMS/MMS, Email and MSN Messenger; screen rotations aren't instantaneous, and there's a moderate pause involved if you quickly slide the S740 open and closed as the screen flips back and forth.
That's not the only keyboard-related bug we've seen.  In replying to a received SMS text message – by selecting it from the homescreen and then sliding open the keyboard – the S740 occasionally lets you type a few characters then tries to reload the original message.  In the process anything you've typed in reply is lost, and you need to back up a level and then go back in before it will accept any typed text. 
Still, it's a rare occurrence, and mostly the messaging system is the same, stable – if not exactly exciting or attractive – approach we're used to from Windows Mobile.  Text messages are threaded, while photos and audio files have shortcut options to send them either via email or MMS.  Initial setup, with an Exchange server at least, was the usual straightforward procedure of entering email address and password; the S740 then automatically synchronized inbox, contacts, calendar and tasks.  If you're not using Exchange, there's a comprehensive email wizard that guides you through setting up POP or IMAP accounts.
Once setup, new email is flagged up in the S740's homescreen.  Unlike HTC's other recent smartphones, which use TouchFLO 3D, the non-touchscreen S740 has a more basic, vertically-oriented interface that stacks different panes of information.  In normal use you can see a status bar, with battery, WiFi, signal strength and connection type, as well as new message icons and audio profile, at the top, followed by a large time pane with network, date and WiFi SSID.  Underneath there's a calendar, showing the day's first event (or just the date if no events are scheduled), followed by missed call and voicemail indicators, SMS message indicator and then the number of new emails.  All that fits on the screen as standard; scrolling down with the D-Pad finds weather, Internet Explorer shortcuts and the music status pane, with an optional setup pane – for setting the time and other new-owner aspects – that can then be removed.  At the very bottom is a setup pane, with profile, ringtone, communications manager, wallpaper and task manager shortcuts.
As you move vertically between each pane, it enlarges to give more detail.  The SMS and email panes, then, allow you to scroll left and right through unread messages, with the final option being to create a new message.  Weather shows the current forecast for your home zone; Appointments shows the day's schedule and, finally, lets you add a new entry.  It makes for a speedy way to access the key features of the handset without requiring you to trawl through the various pages of the Start menu (only nine icons shown at a time, so it's split into several pages) or miss a touchscreen.  Our only complaint would be that there's no obvious way to rearrange the list; if you're more usually fielding email than phone calls, we can't spot a way to bring the email pane any higher up.
Internet access on the S740 is never going to be as straightforward as on a touchscreen handset, and Internet Explorer Mobile doesn't exactly make things any more elegant.  By default webpages are squashed into a single, long column, with minimal left or right scrolling; there's no accelerometer for page rotation, but sliding open the keyboard does flip the display around and let you take advantage of the extra 12mm width.  At least there's a full-screen mode to hide the status and softkey bars, as well as copy & paste functionality, and you can zoom out to aid navigation. 
The S740 has GPS and A-GPS, and comes preloaded with Google Maps for Mobile as well as HTC's own QuickGPS app.  The latter seeks to shorten acquisition times by downloading a weeks' worth of satellite locations over your data connection; you can set it to do this automatically whenever you sync with your laptop, or it will remind you every seven days.  As with Google Maps for Mobile on other smartphones, you're at the mercy of your data connection for responsiveness; it's certainly good enough for street level navigation, but don't expect to use it as your in-car GPS.
As smartphone cameras go, the S740 may have the megapixels but it lacks polish.  HTC have picked a 3.2-megapixel sensor, but it's coupled to a fixed-focus lens with not even a simple LED flash, never mind a sliding lens-cover.  Image quality, therefore, is merely mediocre, particularly lacking in low-light situations.  Alternatively the handset will shoot video, in up to 352 x 288 resolution; the results are prone to blur during movement, though the camera responds quickly to changes in brightness.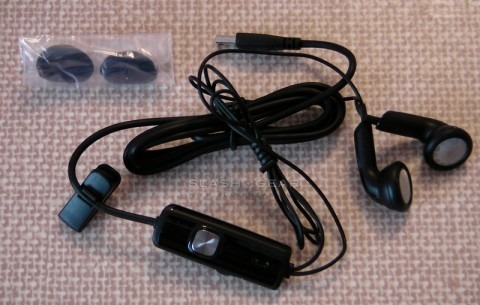 Battery life has proved reasonable, though particularly swayed by WiFi use.  With 3G active, WiFi switched on and ActiveSync set to deliver Exchange email as it arrives, the S740 lasted around a day and a half with heavy email use and a few short calls.  Switching off push email and WiFi overnight extended that to between two and three days.  Recharging can be done with any mini USB cable; however the cord HTC supply uses the company's ExtUSB proprietary connection, so don't expect to be able to hook up digital cameras or other devices using it.  Incidentally, despite the S740 not having a standard 3.5mm headphone socket (HTC include a wired headset with microphone) there's no usual adapter dongle included as with the various versions of the Touch Diamond and Pro.
In fact media altogether comes across as very basic.  In the standard homescreen layout there's an audio shortcut pane down at the bottom; Windows Mobile does duty as media player, together with a streaming video client, plus there's an FM radio that requires the headset to act as an aerial.  Sound quality is limited by the headset itself more than anything else, and without an adapter dongle there's no easy way to plug in your own earphones (dongles are available as an accessory).  The S740 does support the Bluetooth A2DP profile, if you have wireless headphones.  Video playback is reasonable, though the 2.4-inch screen limits enjoyment by virtue of both its scale and its QVGA resolution.
Far better are voice calls and sound quality, with a tremendously loud speakerphone and crackle-free reception on both 3G and GSM connections.  We experienced no dropped calls in our time with the S740, and even with a single bar displayed were able to make and receive calls of quality roughly equal to that of a landline.
The S740's forte, then, are mainstream features like messaging and voice calls, and if you've been waiting for a reliable and capable handset with a full-QWERTY keyboard then this HTC should definitely be on your shortlist.  Build quality is excellent, the main keys are generously proportioned and call functions are all top class.  It's not a case of "good despite no touchscreen", either; in fact sensible use of number shortcuts mean you're no slower navigating, through menus at least.  And by not having to cater to thick fingers, the smaller display permits a narrower, more hand-friendly profile.  Really, the only significant drawback is the absence of US-spec 3G; even then, that's something you'll only notice if downloading large attachments or pushing Internet Explorer Mobile to its limits.  I was prepared to dislike the S740 – not least because, when it was delivered, HTC also snatched the Touch HD from my hands – but it's proved to be a surprisingly successful device, and one that comes SlashGear recommended.
HTC S740 Unboxing Video: