HTC Preview Solicits User Feedback For Upcoming Designs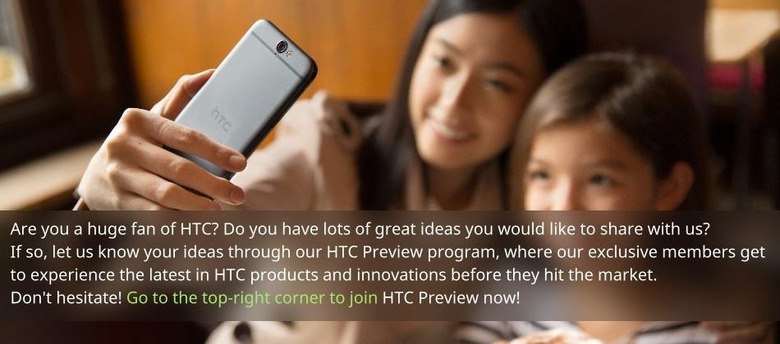 HTC once admitted that it didn't have the massive marketing budget the likes of Samsung has at its disposal. So instead, they relied more on word of mouth, viral marketing, and the power of the crowd to get their message, and their products, across. Now they seem to be once again trying to harness that resource when it comes to quality testing and design feedback not just for new software but even for upcoming hardware by launching the new HTC Preview program for loyal fans to join.
After the success that was the HTC One (M7), the Taiwanese OEM has been steadily receiving no small amount of criticism over its smartphones, both in the lack of significant innovation in hardware as well as stagnation in design. The recent One A9, on the other hand, has been flamed for aping Apple's iPhone 6 design. Needless to say, HTC seems to be in need of help testing its designs before putting them out to the market.
That is exactly what the HTC Preview is trying to do, without having to hire (and pay for) a dedicated team. Users who are dedicated to the brand and would like to see some changes happen in HTC can now indirectly make that happen. Applying for membership only requires signing up, but getting into the program is, of course, a different matter. Most of the projects under Preview will be about software changes and updates but there will also be a chance to test new hardware. Which program you get into depends on the details that you put into your profile when you apply.
So what's in it for end users? Mostly the satisfaction of having done their part to help build HTC's future. Oh, and you also get to see upcoming features before anyone else does. As for privacy concerns, HTC does admit that they will be collecting some logs on network/signal strength, battery information, usage times, apps used, etc. but nothing personally identifiable like passwords, account information, or messages.
And as for possible leaks, HTC will of course require participants to sign a non-disclosure agreement and might even threaten legal action against those who break them. That said, you can bet leaks will happen anyway. Hopefully for HTC, it will all be worth it.