HTC One X hands-on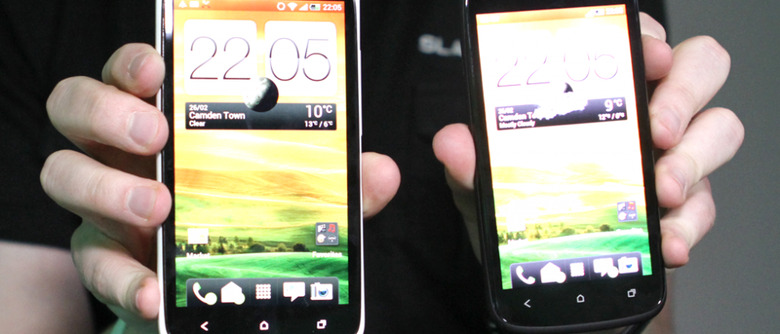 HTC is pushing overall user experience with its MWC 2012 smartphone range, but it's hard not to talk about the HTC One X without spec hyperbole slipping in. The flagship of the new One Series, it's a 4.7-inch 720p HD "All-In Device" HTC insists, and – with a few blips – it's hard not to agree. After a long history of Qualcomm-powered devices, the One X brings NVIDIA's quadcore Tegra 3 into the HTC range. Read on for our hands-on first impressions.
HTC opted for plastic rather than metal for the One X, a polycarbonate casing that helps keep weight down. While the sides have a high gloss finish, for aesthetic appeal, the back is soft-touch and matte for easier gripping. The speaker grille has, the company is keen to point out, been micro-drilled with perforations rather than using a separate grille section as on the Sensation series, keeping the design more cohesive.
In the hand, like many polycarbonate devices, the feel is still a little less premium than with metal. It's light, though, and the side profile of the plastic chassis – into which the Super-LCD panel slots – gives the impression that, like the Galaxy Nexus, the handset is curved, even though the glass itself is entirely flat. On the back there are pogopins for a docking station or other accessories, together with a small pop-out microSIM tray accessed with an iPhone-style pin. No microSD card slot, however – 32GB of onboard storage is your lot – and the 1,800 mAh battery is non-user-accessible.
They share space with the Tegra 3, NVIDIA's latest processor, along with HSPA+ connectivity, WiFi b/g/n, Bluetooth 4.0 and – for the first time in an HTC phone – NFC. In the US, AT&T will have an exclusive version of the One X, adding in 4G LTE connectivity but replacing the Tegra 3 with Qualcomm's S4 dual-core. Having seen the S4 benchmarked last week, that's not necessarily a bad thing.
There's also a microUSB port with MHL-HDMI output support, though HTC also has a new MediaLink HD wireless HDMI dongle which hooks up straight to your TV or projector's input. Swipe up on your phone with three fingers and the output is automatically mirrored to your TV, with certain apps – like HTC's own Watch video rental service – allowing you to use the One X's display independently from playback on the big screen. That way you can check your email while you watch a movie.
A front-facing camera lives above the display, but the main action is on the back, where an 8-megapixel camera with an LED flash and 1080p Full HD video recording lives. HTC has used a Backside-Illuminated (BSI) sensor for improved low-light performance, together with an f2.0 lens that, the company claims, delivers 44-percent more light to the CMOS than a regular smartphone's f2.4. That means either better shots in mediocre lighting, or faster regular photos.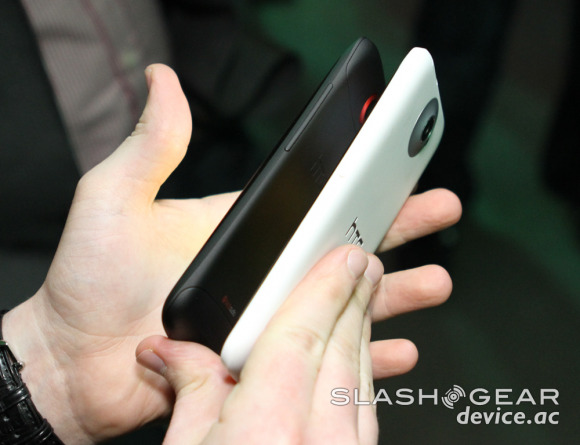 Rather than instantly convert to lossy JPEG and then do color correction and other tweaks, HTC has used its own image processing chip – the mundanely named HTC Image Chip – to do all the heavy lifting on the RAW frame, before it gets converted and loaded into the gallery. There doesn't appear to be any way to access the RAW images, however. It's a swift camera too, with 0.7s to load up and then autofocus lock in 0.2s – faster, HTC boasts, than the blink of an eye, which comes in at around 0.3s – and while we haven't got our stopwatches out here at MWC, it's certainly one of the fastest cameras we've used.
HTC has reworked its camera app as part of overall changes introduced in HTC Sense 4.0, bringing more functionality to the primary controls rather than demanding you dig through for them. It's a welcome change: now you can shoot photos and video simultaneously – the camera button stays on-screen while you're filming, and frames are captured without interrupting video – and holding your finger down on the shutter release automatically triggers burst photo mode. That can be preset to fire off up to 99 frames, with a viewer automatically loading when you lift your finger.
Even the LED flash has become more intelligent, now supporting seven different levels of brightness that are automatically selected between based on the proximity of your subject. It's a great example of how specs on paper aren't the be-all and end-all of the overall device experience: HTC's changes actually make the One X better to use as a camera.
Elsewhere, Sense 4.0 is still distinctively "HTC" in its design, but it's a marked improvement over the increasingly stylized versions we've seen before. Widgets are pared back and cleaner, with no unnecessary animations, and the whole OS feels swifter and slicker. HTC has implemented a new multitasker system – triggered by one of the three dedicated touch-sensitive buttons – which shows angled preview panes of each app, similar to a CoverFlow album cover UI, though you can apparently switch to Ice Cream Sandwich's default too.
We'll have to save full benchmarking and the like until HTC One X review units are available, but suffice to say that the Tegra 3 smartphone feels swift and lag free, even with what is presumably non-final software. HTC has been ambitious – both with hardware and software – and it's a challenger stance we're pleased to see the company return to after so many flabby, me-too devices in 2011. With its sizable display and distinctive styling, the HTC One X probably isn't the smartphone for everyone, but it's a very welcome reboot all the same.