HTC One V hands-on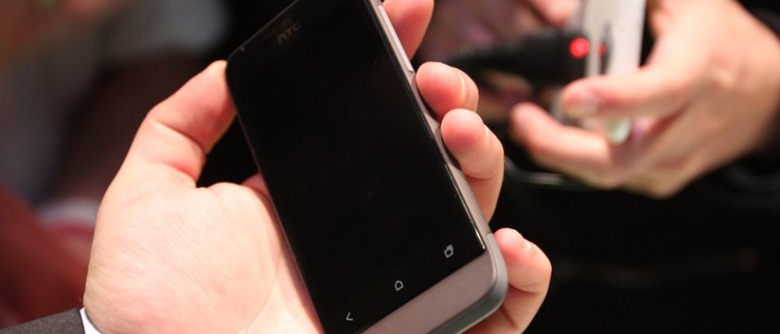 The chin is back in town: HTC's One V shows that the company just can't let a styling cue die, though when you're basing your new smartphone on the beautiful HTC Legend, that's probably no bad thing. If the One X is for the power user, and the One S for the everyman, the One V attempts to raise the bar for entry- to mid-tier devices with a combination of style and performance. Read on for our hands-on first impressions.
At 3.7-inches, the One V's Super-LCD WVGA display is bigger than that of the Legend, but HTC has managed to shave down the smartphone nonetheless: it's a slim, 9.24mm slab of metal with a slight jut to its chin. That chin does nothing but give you somewhere to rest your thumb, mind; there's no optical trackpad or buttons, with the touch-sensitive keys themselves being under the glass touchscreen itself.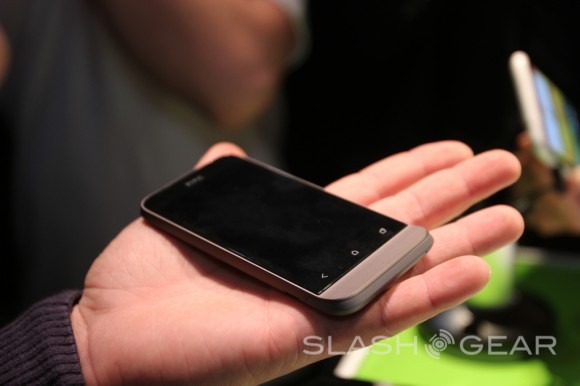 The One V is certainly creak-free and feels of higher-than-average quality in the hand, though the slightly raised glass – proud of the bezel – is an odd design decision. Inside HTC has balanced price and performance, with a single-core 1GHz processor and 512MB of RAM driving Ice Cream Sandwich and Sense 4.0. That's a whole three cores short of the One X – four, if you take into account Tegra 3's "ninja core" – though with fewer pixels to drive and likely more humble ambitions by users themselves.
In practice, the One V moves swiftly enough, though HTC's demo handsets aren't exactly loaded down with third-party apps. Sense 4.0 works well in its trimmed-down form on the more compact display, rather than leaving you with the feeling that the chrome was crowding out the information as in previous iterations. The One V has a 5-megapixel autofocus camera, rather than the 8-megapixel snappers in the One X and One S, but it still packs a Backside-Illuminated (BSI) sensor and f2.0 lens.
HTC has also installed its unimaginatively named HTC Image Chip for RAW-level image processing, and the combination of that and the improved CMOS and optics promise to make these 5-megapixels that punch above their weight. We'll have to wait and see how review units with final software manage to know for sure, though. As with the larger phones, there's simultaneous photo/video shooting along with easy burst-photography and an intelligent, 7-level LED flash.
As is the case with the One S, HTC has opted out of including NFC in the One V. You still get HSPA+, WiFi, Bluetooth and GPS, mind, and HTC opted for a regular-sized SIM card rather than a microSIM. You also get the option of slotting in a microSD card, too, to augment the 4GB of storage, though the 1,500 mAh battery is still non-accessible.
HTC is yet to confirm pricing for the One V, and it's likely to be the point on which the smartphone lives or dies. It's certainly well constructed and Sense 4.0 looks good, but rival devices with cheaper build but dual-core processors are undoubtedly going to challenge it at the same price point. We'll save final judgement for the full SlashGear review, though.