HTC One S Official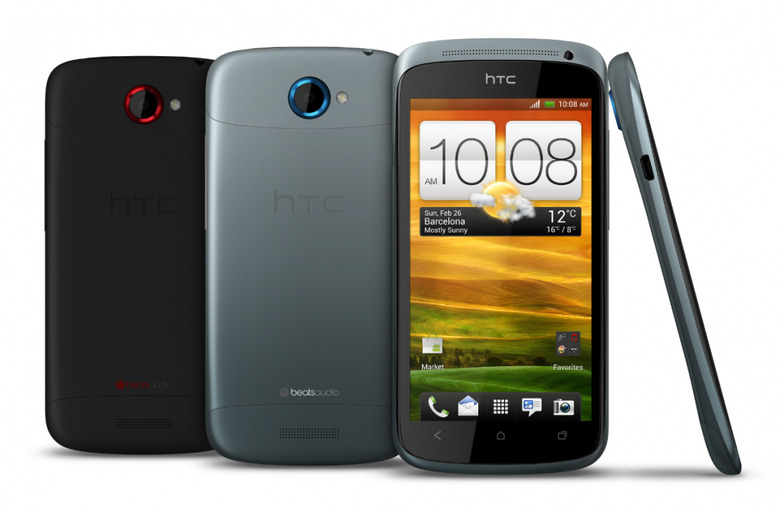 It's finally here: HTC has just unveiled its latest workhorse phone, the One S. This model slides in just below the One X, using a smaller 4.3-inch screen with a 960x540 resolution, the same as most of HTC's phones for the last year. Instead of the screaming Tegra 3 on the X, the HTC One S gets a standard Qualcomm 1.5ghz dual-core processor. On the software side, it gets the same treatment: Ice Cream Sandwich with HTC's updated Sense UI 4 as a topping. The phone is getting its worldwide unveiling at Mobile World Congress.
Interestingly (and like HTC's other unveiled phones), it's using the standard three ICS buttons in a capacitive array, not the on-screen navigation found in the Galaxy Nexus. For all that, it's still one of HTC's most stylish phones out there, with a slim 7.9 mm profile that extends to 8.7mm at the bump. That's even more impressive considering that it revives HTC's unibody aluminum design with a scratch-resistant Micro Arc Oxidation coating. The downside is that it makes the 1650mAh battery non-removable.
For storage the One S has 16GB of internal memory, though you can augment that with free access to some free expanded storage via DropBox. Memory is a roomy 1GB, though with both ICS and Sense even that might start to feel cramped after a while. The camera on the back is 8 megapixels and shoots 1080p video, while the forward camera is just VGA. HTC didn't neglect the audio portion, and they're making the most of their partnership with Beats by integrating it just like on the One X.
HTC hasn't announced price or availability for the One S yet, but expect it to come in the summer. Keep an eye on our Mobile World Congress portal for a hands-on look very soon.