HTC One M8 for Windows sneaks into T-Mobile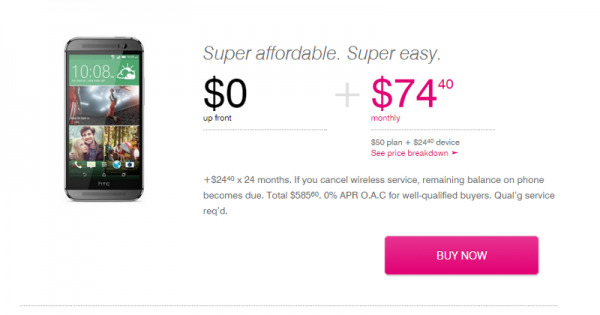 Windows Phone devices outside of the Nokia, now Microsoft, Lumia line do exist but they might as well be non-existent given the rather low profile they have. HTC and Microsoft, however, wanted to change all that and offer the platform's fans a truly high-end option. Now, the HTC One M8 with Windows edition has finally completed its US carrier round, rather quietly creeping into T-Mobile's online catalog. With HTC's admirable design and hardware, this smartphone could very well be the Windows Phone flagship, if the OS can catch up.
In terms of that design, the two incarnations of the One M8 are pretty much alike. That is, it is powered by a 2.3 quad-core Qualcomm Snapdragon 801 supported by 2 GB of RAM. The display is also the same 5-inch Full HD Super LCD3. Storage is also at 32 GB with the option to increase it by 128 GB via a microSD card. The similarities also carry over even to the Duo Camera setup, though for this Microsoft and HTC had to cook up their own camera software, as this is totally new ground for Windows Phone.
So yes, the difference lies squarely with the OS, which is also the focal point of the user experience. The HTC One M8 with Windows definitely gives the platform a lot of breathing space, but that space will most likely be mostly unused given the lack of popular apps, though Microsoft's catalog definitely continues to grow. Unless, of course, you're already a solid Windows Phone for a long time, in which case this smartphone should pretty much look like the creme a la creme of the flock. If you want to read our thoughts about it, head on over to our in-depth review of the smartphone.
The main product page of the T-Mobile One M8 for Windows still shows it as coming soon, but here's a little trick. Head on over to this landing page and click on the info (i) button for the One M8 for Windows. You will be treated to a popup that reveals the $74.40 monthly price tag, $24.40 for the phone itself, and $50 for the plan. No full price has been noted yet.
SOURCE: T-Mobile
VIA: TmoNews