HTC Magic vs. iPhone 3G: plus HTC Magic live photos & video!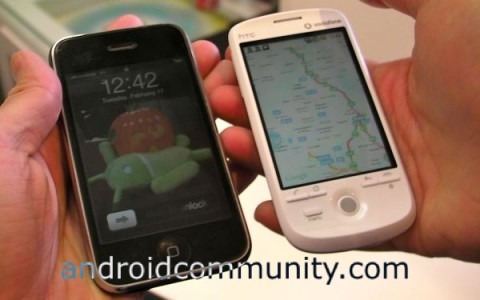 It's only hours since the HTC Magic's announcement, but we're sure there are plenty of people asking the obvious question: iPhone 3G or HTC Magic?  The T-Mobile G1 managed to circumnavigate too much comparison thanks to its hardware keyboard, still a sore spot among some Apple-fanciers, but the candybar totally-touchscreen HTC Magic will have no such escape.Full comparison – plus Vodafone HTC Magic demo video and live photos after the cut
There are a few similarities, certainly.  Both the iPhone 3G and the HTC Magic have capacitive touchscreens, the former 3.5-inches and the latter 3.2-inches, both running at 480 x 320.  They're similar in size, too, with the iPhone 3G (4.5 x 2.4 x 0.48 inches) a little longer, wider and thinner than the Magic (4.45 x 2.17 x 0.54 inches).  Despite the extra girth, though, the Magic is lighter: 4.18oz versus the iPhone 3G's 4.7oz.
Apple are more cautious than HTC with their core hardware specs.  The Magic has a 528MHz Qualcomm MSM7201a chipset, and from the limited experience we have with the pre-production smartphone it runs just as slickly as the iPhone manages.  In our typing video demo the HTC Magic certainly keeps up, something lesser-powered devices can struggle with.
Connectivity might be an area where HTC edge out Apple.  The iPhone 3G delivers HSDPA, WiFi b/g and Bluetooth, although the only Bluetooth profiles supported are the headset and handsfree.  Meanwhile the HTC Magic has 7.2Mbps HSDPA, WiFi b/g and Bluetooth 2.0, and there's much more flexibility in the Bluetooth stack.  Apple score a point for having a standard 3.5mm headphone jack, while HTC insist on you using an adapter dongle with their ExtUSB port, however the Magic score a point themselves by having native miniUSB support versus the iPhone 3G's proprietary connector.
The HTC Magic has more hardware controls than the iPhone 3G, with a row of dedicated search, home, menu and back buttons directly under the touchscreen, then hardware send/end call keys and a trackball with enter button.  On the left hand side there's a volume control, but there's no dedicated camera shortcut.  Apple make do with one home button, volume controls, a lock button on the top and a physical ringer switch, which is certainly more useful when the phone is in your pocket or bag.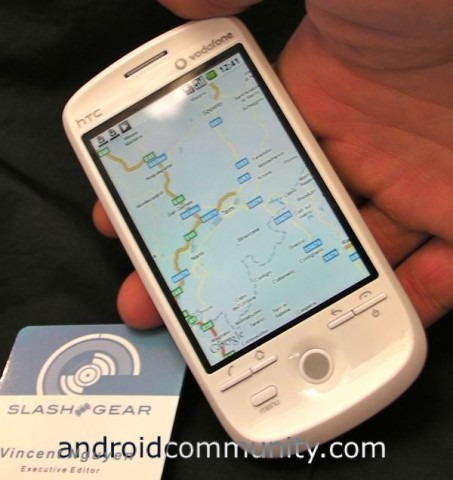 Both handsets can be had with up to 16GB of storage, but they go about it in very different ways.  The iPhone 3G is available in 8GB or 16GB sizes, with no way to expand that capacity; meanwhile the Magic has a mere 512MB ROM but a microSD slot – underneath the battery compartment hatch, but not under the battery itself – happy with up to 16GB cards.  We don't know what size card HTC or Vodafone will bundle in the retail packaging – it's unlikely to be anything as high as either 8GB or 16GB – but for some the flexibility of adding their own memory cards will be worth the extra initial outlay.
One area where we expect the HTC Magic to comprehensively trounce the iPhone 3G is the camera.  Apple disappointed many people when they left their second-gen handset's camera as just 2-megapixels with a fixed-focus lens, and they were right to be so as the picture quality is relatively poor.  HTC have given the Magic a 3.2-megapixel camera with autofocus, and while the company might not be as lauded for their optics as, say, Samsung or Nokia, that and the higher resolution should edge it ahead.  Autofocus is a necessity for the Magic, really, given that apps such as ShopSavvy rely on being able to clearly recognize close-up barcodes; we're disappointed to see no flash, though, not even a basic LED one.
In terms of media, we've already given Apple bonus points for their standard 3.5mm headphones jack, and in fact the whole iPod music and video suite takes some beating.  Apple's dominance of the electronic music ecosystem – with the iPod and iTunes – means that if finding, buying and listening to music in the simplest way is your priority, their offering is difficult to ignore.  The iPhone 3G makes an excellent PMP for both audio and video playback, and being able to download audio tracks on the move over WiFi or 3G, direct to the iPhone, is a useful feature.  Still, the iTunes DRM has few fans (although there are many DRM-free files, albeit at a price-premium) and the HTC Magic should cater to more formats (though not iTunes DRM-encrypted audio, so if you've a big existing library from the Apple service then you might be better off looking at the iPhone 3G).  We're yet to see how video playback looks on the Magic.
The DRM issue segues neatly into perhaps the most obvious difference between Apple and the Google Android platform: openness.  Whereas Apple tightly control their user experience, device and software, setting plenty of hoops for their developers to jump through in order to see their wares on the smartphone's touchscreen, Android is open-source and much more flexible.  The Android Market has far less software choice than the Apple App Store, but now that Google have opened the gates for paid-software we should see a new tide of developers broaching the platform.  Out of the box, the HTC Magic probably won't be as comprehensive and slick as the iPhone 3G is, but there's a whole lot more tinkering that can be done with it (without Jailbreaking the Apple device); the question will be, will Magic buyers be willing to go to that effort.  The T-Mobile G1 appealed to early adopters willing to prioritise potential over initial polish, but it remains to be seen whether HTC Magic buyers will feel the same.  Certainly, if a very well harmonized ownership experience is your key priority, you might be less frustrated with the Apple handset.
We still don't know when Vodafone's exclusivity deal ends, nor when – or if – a US version of the HTC Magic with suitably-fettled 3G might arrive.  However they're far more likely than Apple throwing open the gates and offering the iPhone 3G on multiple carriers in the same market, something which might minimize their control.  The iPhone 3G remains a premium device, and as such Vodafone are likely to price the Magic competitively, undercutting Apple's handset significantly.  Data prices and voice tariffs are still an unknown, but again expect a relatively competitive all-you-can-eat package to fit in with the Google "internet everywhere" ethos.
In case you hadn't guessed, we're excited about the Vodafone HTC Magic.  There's still a lot we don't know – we're hoping to find out more tomorrow, after we have a 1-on-1 with the smartphone – and we're still big iPhone 3G fans.  However while there might be room for two favorites in our pockets, most people will have to decide on one or the other; we're looking forward to the chance to review the HTC Magic in full, to help you make that decision.
More on the HTC Magic over at our sister-site, Android Community!https://www.youtube.com/watch?v=QBbu_FR6XPU
]