HTC M4 to be mini-One not Facebook-free First rumors claim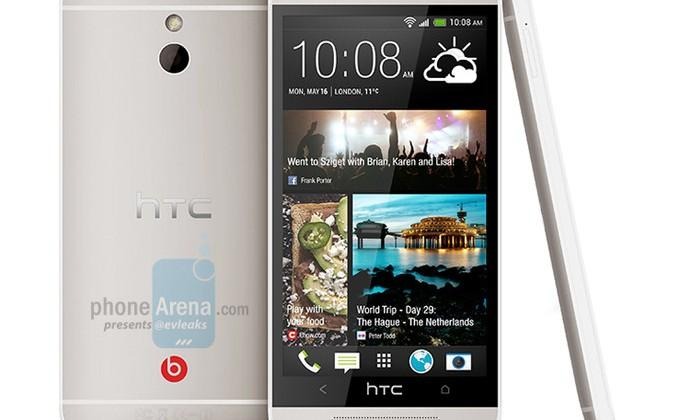 HTC put its faith in the One to restore its position in high-end smartphones; now, leaks suggest, the company may be sticking closely to the same pattern with the HTC M4 for the midrange. Expected to be visually near-identical to the HTC One, according to phoneArena's sources, the M4 (a codename, of course; the One was codenamed HTC M7) is expected to have a 4.3-inch 720p display and an UltraPixel camera.
If that all sounds familiar, we're not surprised. Chatter around the M4 began in early April, meshing in with this latest leak with talk of a dualcore processor, 16GB of onboard storage versus the 32GB+ of the HTC One, and 2GB of RAM.
However, those rumors pegged the M4 as more of a Facebook-free HTC First, rather than a mini-One. The Facebook Home phone has a 4.3-inch, 720p display after all, along with a dualcore processor, leading to suggestions that the HTC M4 would effectively be a rebadge of the predominantly plastic handset.
Instead, this new batch of rumor pegs a far closer aesthetic to the HTC One for the M4, though it's unclear how much this is a speculative render from evleaks above, rather than a leak of the actual device. Although similar in design, it's also expected to shelve some of the One's rock-solid materials so as to hit a lower price point; whether that means metal-effect plastic rather than the sturdy unibody aluminum we're so fond of on the One remains to be seen.
Otherwise, the M4 is expected to have LTE, a fixed 1,700 mAh battery – 600 mAh less than the One, not to mention 300 mAh less than the HTC First – and run Android 4.2 Jelly Bean when it arrives near the end of Q2 2013. The biggest difference from the First, beyond software, of course, is the inclusion of UltraPixel technology: HTC's oversized pixels which trade sheer resolution for improvements in low-light performance.
As a strategy, it's something we've seen work well in the Samsung Galaxy S III mini, borrowing halo branding and design to push a far cheaper model to those with less cash and less ambitious expectations. Whether it's enough for HTC to continue turning around its 2013 remains to be seen.