HTC Incredible snapped in Verizon livery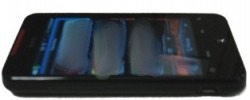 Other than the iPhone, it really seems to me that Verizon gets most of the cool phones first. Maybe AT&T is afraid another cool phone that users actually use for data on their network will do them in. We have been hearing grumblings about the HTC Incredible for a while now and the device has been spied all decked out for Verizon service.
We know some of the details on the handset already. The beastie will get an 8MP camera with dual LED flash and a Snapdragon processor running at 768MHz rather than the 1GHz it is capable of. I would guess that the CPU speed is underclocked to reduce heat and extend battery life.
Other know features of the device include 512MB of ROM, 512MB of RAM, Android 2.1 with Sense UI, an optical track pad, FM tuner, and WiFi. The handset uses a big 3.7-inch WVGA AMOLED screen with a resolution of 800 x 480 and a 1300mAH battery.