HTC Hero hands-on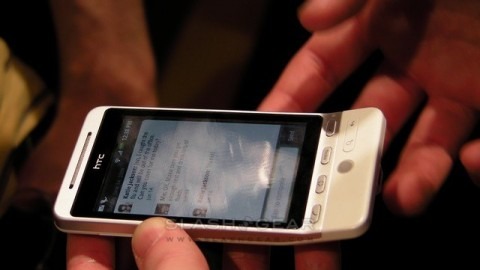 You've seen the press release, now for the hands-on shots.  We've just grabbed some time with the HTC Hero, and even a sneaky opportunity to compare it with the HTC Magic.  Check out the full gallery after the cut.
In the hand, the Hero feels slimmer than the Magic, not least because of the bevelled edge. The HTC rep we talked to wasn't sure whether the pre-production handset you see here has the Teflon back coating or not; it doesn't feel especially different to a normal matte-finish panel.  The fingerprint-resistant screen is, as you'll see in the shots, not particularly good at avoiding smudges in the first place, but like the iPhone 3GS it sheds them with a quick wipe.
In use, HTC's new Sense UI is reminiscent of TouchFLO 3D – some of the toggle buttons are very similar – but with an Android edge to it.  It's too early to say what level of improvement there is over a standard Android build, but the new widgets for Facebook, Twitter and the like do bring often-used functionality to the fore.
We'll have hands-on video with the Hero when it's processed, so keep reading SlashGear!