HTC HD mini Review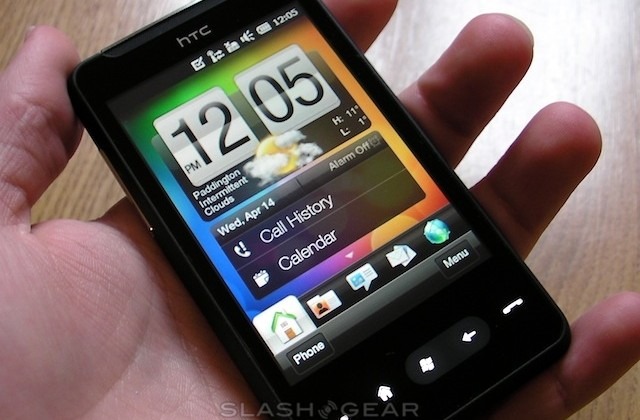 It sounds like a recipe for success: take the surprisingly popular HTC HD2, shrink it down some, and offer it as a more pocketable alternative. Yet out of the three devices HTC announced at Mobile World Congress in February, the HTC HD mini has prompted the least interest. The HD mini has to convince prospective buyers not only of its own merits but that it's worth buying into an ageing OS that's just months away from replacement. Can it deliver? Check out the full SlashGear review after the cut.
At its launch, HTC told us that the HD mini embodies their new "Hidden Power" design ethos, where the structural form of a device is embraced by its aesthetic rather than hidden away. Most obvious are the four exposed screw heads that emerge through the rubbery back cover, being not just decorative but what's actually holding the whole phone together. The front, meanwhile, is a single pane of glass, with a 3.2-inch HVGA 320 x 480 capacitive touchscreen and five touch-sensitive buttons for Call, Home, Start, Back and End. On the side there's a volume rocker while up top a small power button doubles as the lock key; on the very bottom there's a microUSB port.
Take off the rubberised back plate and you'll find HTC have finished the entire rear of the phone with a bright yellow finish, complete with matching battery. It's eye-catching, certainly, but we can't help but wish you could see it without having to open the whole thing up. HTC expect transparent or colored aftermarket cases to show up shortly after the HD mini launches, but they'll need to be more than just silicone skins since the antenna is embedded into the lower section of the cover. It remains to be seen whether HTC's business market will see the appeal.
HTC HD mini unboxing:
[vms 02b6d35bea8460aa8f8e]
Inside, where the HD2 gets Qualcomm's 1GHz Snapdragon chipset, the HD mini makes do with a more mundane 600MHz processor such as you'd find in the HTC Legend. That's paired with a Europe/Asia-Pacific friendly dualband HSPA/WCDMA 900/2100MHz radio (with quadband GSM/EDGE), WiFi b/g, Bluetooth 2.1+EDR and GPS. So far there's no talk of a US version, so if you decide you're desperate to use the phone in North America then you won't get 3G speeds. ROM is 512MB and RAM 384MB, and there's a microSD slot content with up to 32GB cards. Overall performance proved nothing to write home about, with the CPU running out of breath when trying to deal with data-heavy apps.
As for that ageing OS, the HD mini is HTC's latest Windows Mobile 6.5 device, toting the HTC Sense interface on top. As is common knowledge now, Windows Mobile is due to be replaced by Windows Phone 7 by the end of 2010, with handsets running the new platform expected to be on sale in time for the holiday shopping season. Lacking sufficient screen resolution, processor grunt and physical controls, there's pretty much zero chance that the HD mini will see an official Windows Phone 7 upgrade option, though of course there'll be plenty of unofficial hacked ROMs if that's the path owners want to take.
Windows Mobile 6.5 has been well criticised, and it's certainly not the most pleasing OS on the market today. It does have a few strengths, however, not least the decent baked in Exchange support which makes hooking the HD mini up to a corporate network an indecently simple proposal. As for usability, just as we've seen on the HD2, HTC's Sense system goes a long way in improving matters. The regular homescreen is replaced by a finger-friendly UI that allows you to flick between different task-specific tabs, such as the preloaded Opera browser, Footprints GPS photo-tagging app and HTC's own Peep Twitter client. It also does a decent job of hiding some of Windows Mobile's less attractive dialog boxes and settings pages.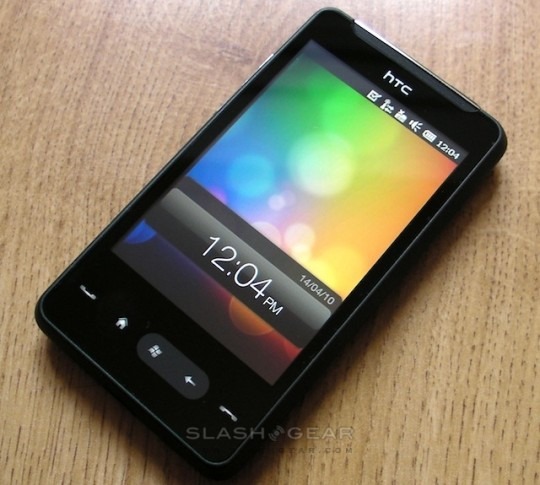 Nonetheless, in comparison to the flexibility of Android or the intuitive nature of webOS, Windows Mobile 6.5 feels clunky. Sense might pull in Facebook, Flickr and other information into your contacts, and link together different communication records – all emails, SMS, calls and other contact – per individual, but other platforms simply do a slicker job of it. The HVGA display also falls short, and while it's color-rich it's also noticeably grainy in comparison to the (WVGA) screen on the HD2. That undermines media playback, and it makes for frustrating web-browsing too, demanding plenty of panning and zooming if you want text to to be readable. The onscreen keyboard, meanwhile, does a decent job of auto-correcting errors and predicting words, but we prefer the experience on the Legend which, despite having the same size and resolution display, we found we were more accurate on.
Photos from the HD mini's 5-megapixel autofocus camera are passable, if nothing outstanding. There's no hardware shortcut, just as on most HTC phones, but at least when you finally get to the camera app it loads relatively quickly. Images demand more light than we've found on other recent handsets from the company, and there's no LED flash (though, to be fair, we generally aren't impressed with their performance anyway). Once you've snapped a shot you can upload it with relative ease to Facebook or Flickr.
As a phone, we experienced some issues with the HD mini's call quality. Both us and the people we were calling experienced static and audio drop-outs, and the audio performance generally fell short of what we've come to expect from HTC devices. We weren't alone in our disappointment, either; we know other reviewers who have found the HD mini falls short in this department. Hopefully this is a pre-production flaw that will be ironed out by the time the handset ships.
Battery life, meanwhile, was certainly enough to get through a full day, even with push email turned on and regular Twitter polling. HTC reckon you'll see up to 435 minutes of GSM talktime from the 1,200mAh battery, or alternatively up to 500hrs WCDMA standby (340hrs GSM), up to 8hrs video playback, or up to 12hrs audio playback. With more casual use we reckon you could see your way through a couple of days, in fact, which given we're used to nightly recharges (or even mid-evening top-ups for some greedier devices) is a serious plus for the HD mini. HTC preload their excellent WiFi Router app – which allows you to share the phone's 3G connection with WiFi devices like a netbook or iPad – but be warned that sucks down power considerably.
There's no disguising that we've been impressed with the recent HTC smartphones to cross our desk, but we need a little extra convincing with the HD mini. It's not so much that it's a bad device – though we hope the call quality issues are addressed before production models go on sale – but rather that it lacks that all-important spark. Where the HD2 has enough hardware-wow – the speedy processor, the huge display and the fulsome multimedia handling – to offset the lacking appeal of Windows Mobile 6.5, the HD mini's more mundane specs can't quite manage the same.
If you're wedded to a particular app that demands the current Microsoft smartphone platform – and it's worth noting that Windows Phone 7 breaks backward compatibility with Windows Mobile 6.5 titles – or you want their solid Exchange support, the HD mini might still appeal; we'd point you to the company's own HD2, however, which while more expensive offers a far more impressive user experience. Had HTC released the phone this time last year, the outlook for the handset could be very different; faced with a significantly more appealing OS right around the corner, and a wealth of tempting rivals running different platforms on shelves today, the HTC HD mini doesn't offer enough to warrant buying into Windows Mobile 6.5.