HTC Flyer Review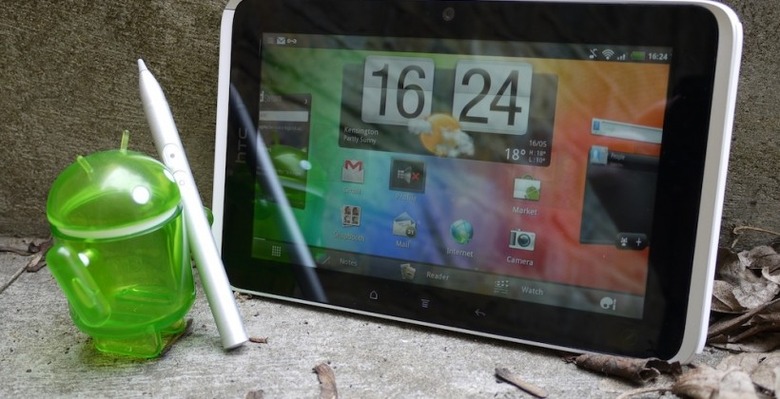 It's been a long time since we've seen an HTC tablet: the HTC Shift, in fact, all the way back in 2008. Even then the company didn't play by the normal rules, pairing Windows Vista and Windows Mobile on a single device. Now, it's the turn of the HTC Flyer to shake things up once more, and the talking point today is whether a slate with a stylus can compete when fingers are in fashion. 7-inch star or 'droid dud? Check out the full SlashGear review after the cut.
Hardware
The Flyer's HTC heritage is clear, looking at first glance like an oversized Desire S with its unibody-style aluminum and white plastic insert-sections. It's 7.7 x 4.8 x 0.52 inch chassis is a little longer and thicker than that of the original Samsung Galaxy Tab, and it's heavier as well at 14.82oz. Still, that's because of the metal used in the construction, and the upside is a far sturdier, more expensive feeling slate.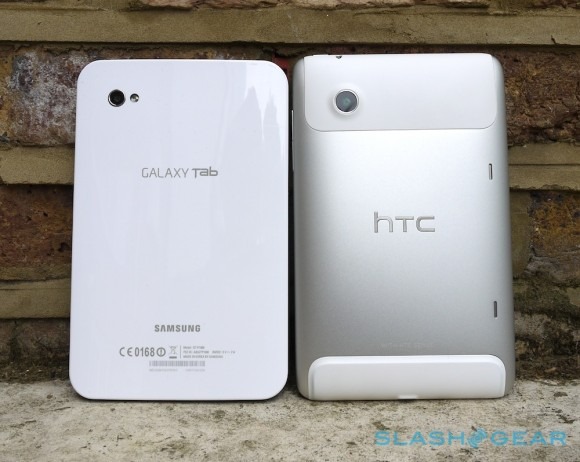 It's certainly not too large to hold in one hand, and in portrait orientation we could easily grip the edges; alternatively, the screen bezel is just the right width to hold the Flyer like a book without accidentally tapping the screen. Physical controls are limited to the power/lock button on the top edge (which also has a nifty integrated status light) and a volume rocker on the right edge; you also get a 3.5mm headphones socket on the top, and a microUSB port on the bottom. The latter can be used with the unusually-shaped plug on HTC's included AC adapter, or with a regular microUSB cable; the Flyer will charge from both, though faster with the former.
On the back there's a 5-megapixel autofocus camera (which lacks an LED flash) together with stereo speakers. The lower plastic section pulls off to reveal the SIM slot for the triband HSPA/WCDMA (and quadband GSM/EDGE) modem in our 3G review unit, as well as the microSD card slot. Internal storage is 32GB, though the WiFi-only Flyer has half that, at 16GB. Both pack WiFi b/g/n, Bluetooth 3.0, GPS, an ambient light sensor, g-sensor and digital compass, as well as a front-facing 1.3-megapixel camera for video calls.
HTC Flyer Unboxing & First-Impressions:
[vms 39b5002a3f8909ecb88f]
Unlike the bigger Android tablets we've seen in recent months, HTC has avoided dual-core processors and instead opted for a single-core, 1.5GHz chip for the Flyer. Qualcomm's MSM8255, it's paired with 1GB of RAM. It's worth noting that the Flyer can't be used as a phone, with its 3G radio only for data connectivity.
Like the Galaxy Tab, the Flyer has a 7-inch 1024 x 700 capacitive touchscreen. This uses an LCD panel, and comes through bright, clear and with decent colors. The Flyer doesn't get the rotating button icons of the Incredible S, but it does pack a second set of the touch-sensitive keys: hold the tablet in landscape orientation and you get backlit home, menu, back and "stylus" buttons underneath the short edge of the display; rotate it into landscape orientation and you get the same buttons underneath the long edge. It's all very clever, though ironically considering how we found ourselves holding the Flyer, we wished we could choose which set of keys were active since often it would've been easier to reach the alternate set.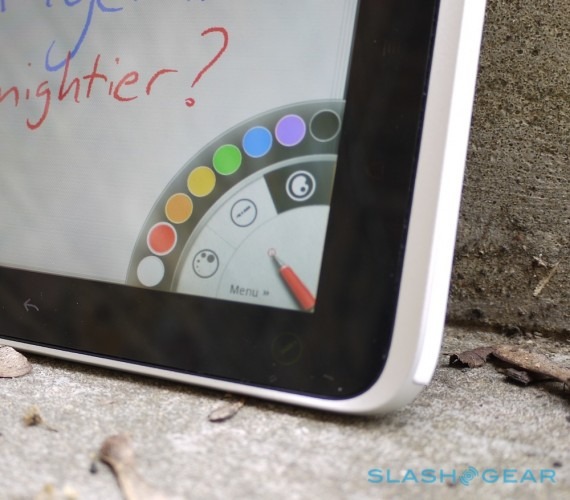 The mention of the "stylus" button should have given it away – if you've not been following the Flyer's gestation – but HTC offers a "Magic Pen" with the tablet for text entry, annotation and sketching. Using N-Trig's active digitizer technology, that allows for far greater accuracy (as well as pressure sensitivity) when writing on the screen. It also automatically shuts off the regular, multitouch capacitive touch panel when the pen's nib is near, so that you can rest your palm on the display without accidentally triggering anything. In Europe, the Magic Pen will be bundled with the Flyer; in the US, it will be a roughly $80 accessory.
If your mouth has already puckering with distaste at the thought of a stylus, don't be so quick to judge. The Flyer's pen is leagues away from the nasty plastic toothpicks of old-style resistive touchscreen devices. Its smooth nib glides nicely across the Gorilla Glass of the Flyer's display, accurate and lag free. HTC took responsibility for adding digital pen functionality to Android, and they've done a solid job; we'll cover exactly how they've integrated them in the software section.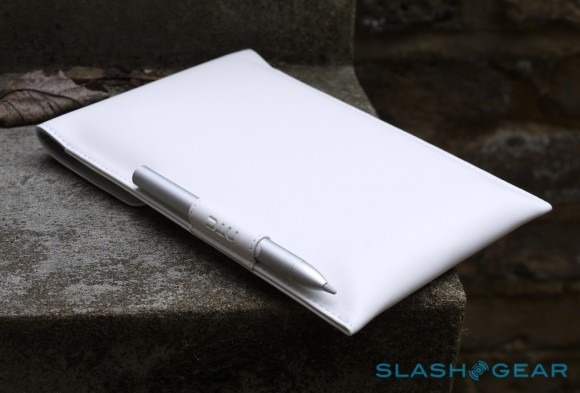 What HTC hasn't accommodated is the stylus itself. Unlike tablet PCs and resistive touchscreen phones, there's no slot or silo for the Flyer's digital pen to hide in; instead, HTC bundles a leather slip case with a magnetic flap and a tightly-fitting loop into which the pen can tuck. While we like the idea of a bundled case, it's not entirely ideal. For a start, the white finish – although matching the Flyer's color scheme – seems to invite scuffs and blemishes; leaving the pen on the outside and, for the most part, unprotected also feels risky. Finally, although reasonably close-fitting, it still adds some bulk. That can make the difference when it comes to pocketability: bare, you can easily slot the Flyer into an inside jacket pocket or even the back pocket of your jeans, something that can be trickier or even impossible when the case gets involved.
Software and Performance
The Flyer is smaller than the other recent Android tablets, and it runs older software, too. Rather than Android 3.x Honeycomb, as on the XOOM, G-Slate and Galaxy Tab 10.1, HTC has opted for Android 2.3 Gingerbread, the latest version intended for smartphones. They've not left it untouched, of course; HTC Sense makes its usual appearance, though here with some significant modifications to the familiar UI to take into consideration the tablet form factor.
Unlike HTC phones, the Android homescreen now works in both portrait and landscape orientation. Both get a carousel-style interface, with endless rotation; flick the homescreen fast, and the perspective pulls back to show the eight panes spinning. A pinch-zoom gesture shows all eight thumbnailed. It's slick and swift, the 1.5GHz processor showing its grunt. Pull down the notification bar and there are shortcuts to the last ten apps used as well as settings shortcuts and alerts; in portrait orientation the latter are on different tabs, while in landscape they're all visible at once.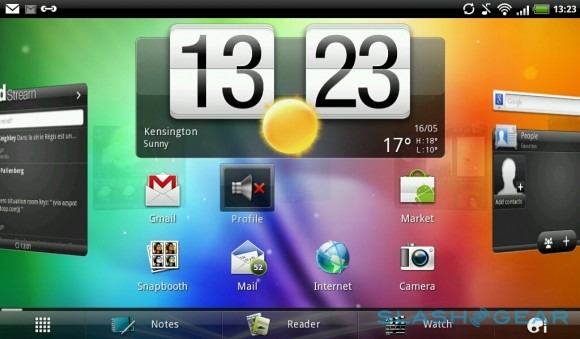 Along the bottom of the display there's the app menu button, then shortcuts for HTC's new Notes app, HTC Reader and HTC Watch, which we'll cover separately later. There's also the usual Customize button, which allows you to change the wallpaper, add icons, shortcuts and widgets – both the standard Google fare and HTC's own – and, for the first time, tweak the lock-screen. That, as we saw on the HTC Sensation, can now show the weather along with four app shortcuts – user assignable, of course. To unlock the Flyer normally, you drag up the large ring at the bottom of the screen; to instantly unlock and load an app, you drag that icon down to the ring. It works well, though we did spot some glitchiness in the animation before the apps loaded.
The usual HTC array of software is preloaded, so you get FriendStream with Facebook and Twitter feeds, the Media Control app for handling DLNA streaming, and the heavily-animated Weather app complete with homescreen widget. There's also Amazon's MP3 store app, HTC Hub for wallpaper, ringtone and other downloads, HTC Likes with suggestions, Locations, the Teeter game, a Task Manager app and WiFi Hotspot, for sharing the 3G connection with up to eight WiFi-tethered clients.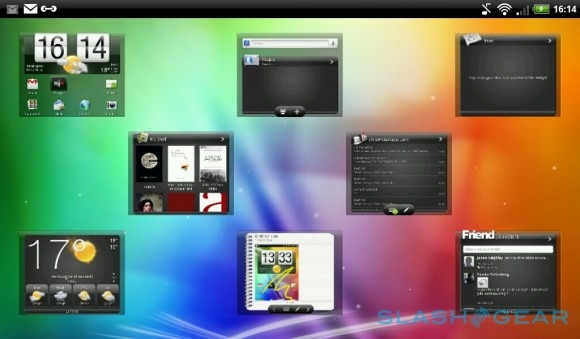 Some of the standard Android software comes into its own on the Flyer. The Car Panel, which offers chunky, finger-friendly shortcuts to navigation and multimedia for use while driving is particularly suited to the tablet's 7-inch display. HTC also throws in Dock Mode, which shows weather, recent FriendStream activity and some app shortcuts (plus has a backlight dim button so that you can use the Flyer as a bedside clock). It can be set to automatically load when you drop the slate in the (optional) dock – which we didn't have to review – as well as optionally turn on WiFi Hotspot sharing as well.
In addition to the standard camera and camcorder apps, there's Snapbooth, a somewhat gimmicky app that uses the front-facing camera to take vanity shots that can be mangled with various special effects. It's good for a few minutes fun, at least. HTC's online Sense suite also gets an outing, offering remote access, tracking and locking of the Flyer. Unfortunately, you can only have a Sense account active on one HTC device at a time – signing in on the Flyer prompted us to unlike the account from the HTC phone it was currently being used with. Considering the Flyer lacks phone functionality on its own, that means the HTC-faithful will have to pick whether they want to use their Sense account with the tablet or their smartphone, rather than having it on both.
HTC Flyer Highlights:
[vms 07203749ae32dd0e7d64]
Most of the time, HTC's extensive reskin means that the absence of Honeycomb isn't felt. Still, that's not always the case. Like Samsung did on the Galaxy Tab, HTC has reworked its Mail and Calendar apps to suit the greater screen real-estate on offer, with a two-column email view when the Flyer is held in landscape orientation, and various day, week, month and year views in the calendar. Both support multiple accounts and are far more usable than their phone cousins. The gallery, too, uses the same two-column layout, with albums on the left and previews – with sharing buttons – on the right. Similarly, the browser has a tab preview bar along the top, showing live thumbnails of all your open pages.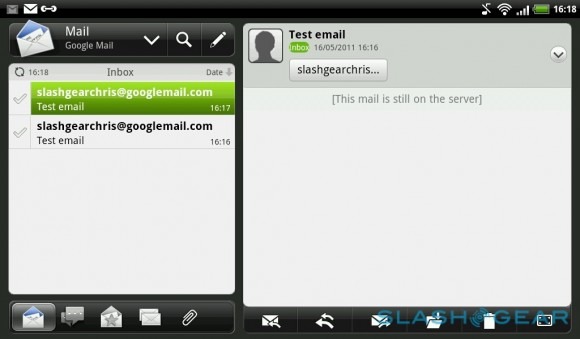 Unfortunately, you don't get Google's own tablet-version of Gmail, instead the regular smartphone app. That's fine on a phone, but is stretched and wasteful with space on the Flyer's 1024 x 600 panel. Similarly Google Talk is the basic phone version. 7-inch displays are often ideally-scaled to type on with both thumbs, and the Flyer is no different. HTC's custom keyboard doesn't stretch to a dedicated number row, but does have navigation keys, sensible auto-predictions like @ and .com in email text boxes, and simple access to Android's voice recognition. The auto-suggestions are also accurate, with prompted words popping up with no lag or delay.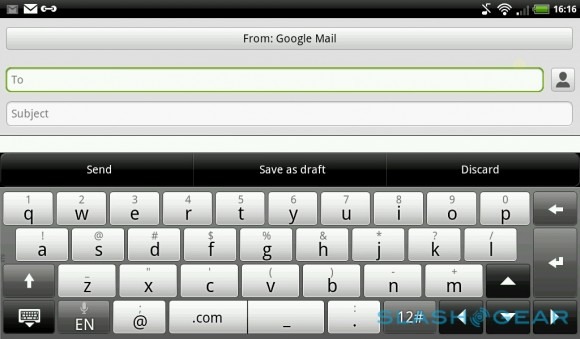 Performance overall was mixed, depending on quite how much we stressed the Flyer with multiple-running apps. In Quadrant Standard, the tablet scored 1817, while in Quadrant Advanced it managed 2166. Linpack Pro came in at 55.009 MFLOPS. That puts it in the same ballpark as what we've seen from Tegra 2 based Honeycomb tablets.
Magic Pen
Say stylus and most people immediately think of the fiddly toothpick that came with Windows Mobile phones. The Flyer has more in common with Windows tablets, though again, don't let that put you off. Basically, rather than a resistive touchscreen that simply responds to pressure, or a capacitive stylus that pretends to be a blunt fingertip so that the screens used by the iPad, XOOM and other recent slates are tricked into recognizing them, the Flyer uses a special battery powered "Magic Pen" that communicates with a second layer sandwiched with the regular, finger-friendly touchscreen. That second layer knows not only where the pen nib is, but also how hard you're pressing: that way, lines on-screen are thin when you press lightly, or thick when you press harder.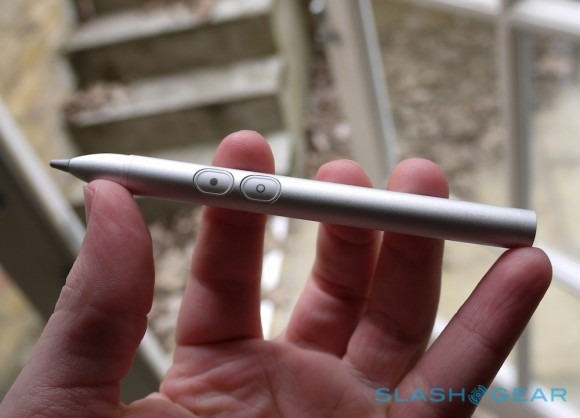 The pen itself matches the Flyer's brushed aluminum, and has a pair of buttons on its side. One puts the stylus into highlighter mode, the other text selection. It runs on an AAAA battery – HTC reckons you should get a few months use out of it. Places where the pen can be used are flagged up by the stylus button turning green; tap that, and a radial menu of pens, tools and colors pops up in the lower left-hand corner of the screen.
In most places, the pen is used to grab screenshots or "Scribbles", triggered by tapping the pen once on the display. The resulting image can be doodled on and annotated and then instantly shared – using the normal Android options – or pasted into a new Notes document (more on which later).
It all works, but it's not perfect. While the Flyer uses a similar active digitizer to what you'd find in a Windows 7 tablet PC, it doesn't feel as accurate. That usually means making your handwriting slightly larger, which is frustrating on a 7-inch display. Meanwhile, although HTC claim a couple hundred levels of pressure sensitivity, there's little visible difference between the two extremes. There's also no handwriting recognition, and you can't handwrite emails or jot into text-entry boxes.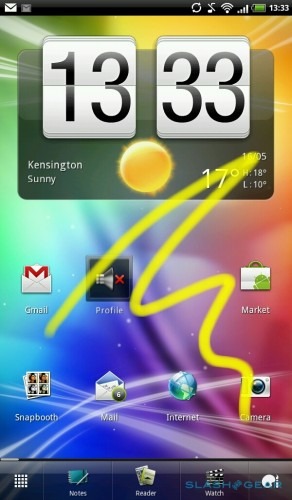 More frustrating, though, is the confusion between finger-touch and pen-touch. 99-percent of the interface is intended for finger control, but even if you'd prefer to use the Magic Pen, the Flyer won't allow you – instead, it just takes a Scribble shot of the screen you're looking at. When you're actually in that screenshot, however, and you want to either paste it into Notes, share it or delete it, you can't tap the buttons with the pen – instead you have to use your finger.
It doesn't sound like much, but it means lots of flipping between the two, finger and stylus. Even after hours of use, we still found ourselves taking accidental screenshots when we wanted to open menus, simply because the pen seemed the obvious tool as it was the one we were using at that moment. We've a feeling HTC took this somewhat draconian attitude in an attempt to prevent commenters from saying the Flyer was a pen-tablet, one of the old-school. In their haste, however, they've made it more infuriating to use.
Ironically, it's an issue many Windows 7 tablets address, and in a perfectly reasonable way. Models with dual-mode pen and finger touchscreens allow either input method, shutting off the finger-control when the stylus is active. The Flyer already knows whether the pen nib is near, so it wouldn't take much to flip between the two methods accordingly. We're hoping HTC at least offers the flexibility with a settings option in the future.
HTC Notes
Notes is where the Flyer's Magic Pen comes into its own, and is arguably the center-point of the whole tablet. As we said, HTC took it on itself to add active stylus support to Android, and Notes is where that energy pays off. On the face of it, it looks like any other memo app: a place for a title then room for notes. However, on the Flyer those notes can either be thumbed in using the on-screen keyboard, or written in using the Magic Pen. The same radial menu of pen types, colors and other tools – offering highlighters, pencils, felt-tips and more – pops up, and you can sketch or scribble away to your heart's content.
There's also audio recording, which is indexed according to your note-taking. As you scribble, the Flyer automatically creates bookmarks through the recording that match text with audio: you can either see a thumbnail of the relevant note as the audio plays back, or skip to the relevant section of the audio by tapping on the note. It works, but it lacks granularity: a Livescribe pen, for instance, goes directly to the point of the audio recording, while the Flyer is a little less aggressive with its timestamping. Finally, there's a shortcut to the camera so that you can shoot an image, have it instantly pasted into a new note, and then annotate it as you see fit.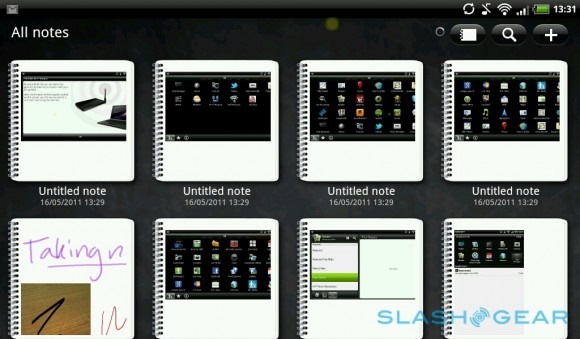 HTC's masterstroke, however, is partnering with Evernote, the online digital notetaking service, to manage the jottings created in Notes and allow them to be accessed from other platforms. Evernote is a free service – there are paid subscriptions if you're a heavy user – with apps for Android, iOS, PC and Mac, among others, allowing for multiple digital notebooks, note tagging, audio clips and more.
There's also comprehensive search, not only of regular text but of handwritten notes and of text included in images. Once synchronized with Evernote's servers – where the OCR is done – you can search for, say, "recipe" and see all notes where that's been typed in, scrawled on or included in a photo. Evernote treats handwritten notes from the Flyer as images – that means you can't open them up and edit them in, say, the OS X version of the Evernote software – and so can include them in searches. You can also easily review them on other platforms.
HTC Reader
If you're a Kindle, NOOK or other ereader platform user, you can obviously load up your app of choice on the Flyer from the Android Market. HTC, though, would rather you use its Reader app, offering a variety of titles – both free public domain ebooks and newer, paid ones – for download direct to the slate.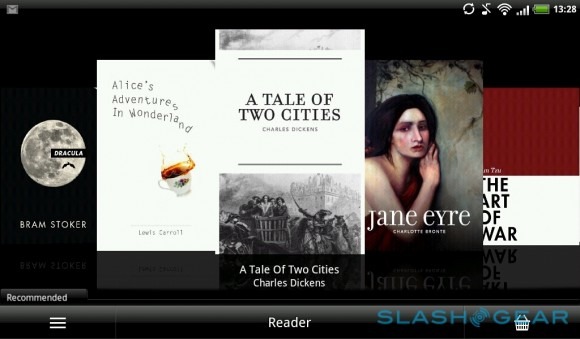 Reader is also the second app in which the Flyer's Magic Pen gets a proper outing. You can annotate and sketch, either keeping neatly to the margins or scrawling all over the place, as well as highlight passages. Reader automatically slots in a bookmark on any page you write on, so that you can more easily find your notes later.
HTC Watch
Tablets are generally used for browsing and for multimedia consumption, and so HTC Watch is the company's attempt to make some money off the latter. Basically a movie and TV episode store, it offers both rentals and purchases – depending on title – with prices ranging from £7.99 to £9.99 to buy 720p movies in the UK or £2.49 to £3.49 to rent them. TV episodes come in at £1.49.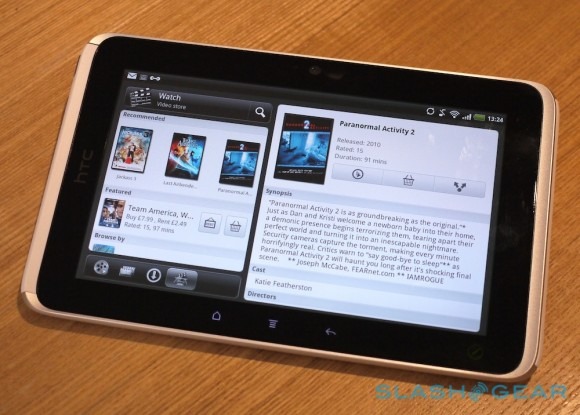 Previews can be streamed over 3G or WiFi connections – there's about 5-10 seconds of buffering before they play – but purchases can only be downloaded over WiFi. Unfortunately once you've bought something you can only watch it on an HTC device; there's no way to transfer it to your laptop, for instance, or even another Android gadget. Rentals can only be viewed on the device they're bought on.
OnLive
Streaming gaming service OnLive is currently only available in the US, and so we were unable to test it on our UK Flyer. When the US version of the tablet goes on sale, it will offer the chance to play full games – the sort you'd normally need a beefy PC or a proper console – on your slate while on the move. We'll revisit OnLive on the Flyer when the service is operational.
Camera and Multimedia
The Flyer's main camera may pack 5-megapixels, but we can't help but suspect some of them have flown the coop. Camera performance is plain disappointing, falling well short of what HTC's current crop of 5-megapixel smartphones can manage. Stills are fuzzy, lack definition and have uninspiring, muted colors, while video is somehow even worse. HTC claims the Flyer is shooting 720p HD, but as you can see in our sample clip below it hardly looks that way.
Although that would usually be enough to give any gadget the kiss of death, the Flyer does have one saving grace. Close-ups of text – such as grabbing a snapshot of a magazine article – come out reasonably well; that's handy when you then import that shot into Notes, and sync it over to Evernote for OCR. Treat the Flyer's camera as another aspect of the notetaking experience and its flaws are easier to stomach.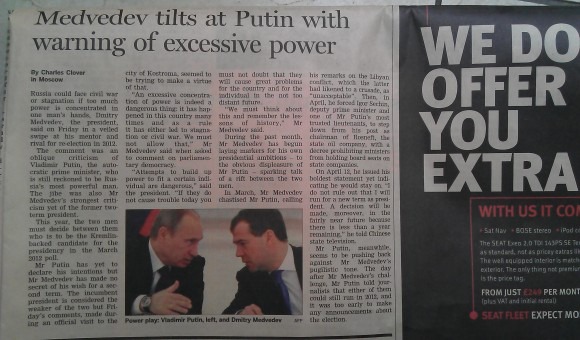 Media playback is another mixed bag. HTC says the Flyer will work with AAC, AMR, OGG, M4A, MID, MP3, WAV and WMA audio files along with 3GP, 3G2, MP3, WMV, AVI and Xvid video files, up to 720p, and indeed we had no problems with those. Trying more ambitious files, however, and the Flyer's processor began to struggle. The stereo speakers lack voice, sounding insipid and reedy; better to plug in headphones or use an A2DP pair.
Unlike Tegra 2 based tablets we've seen, the Flyer lacks a dedicated HDMI output. However, like the Samsung Galaxy S II, its USB port apparently supports MHL, the new standard which – with the right adapter – allows you to plug into an HDTV or projector via HDMI. MHL-compliant sets should be able to control the Flyer's playback using their own remotes; right now, though, the Flyer's media adapter is in short supply, and we were unable to test it for this review. If you have HTC's MediaLink DLNA box, you can of course use that instead.
Battery
The Flyer's 4,000 mAh battery is non-user-replaceable, and HTC reckons users should see up to four hours of video playback or between 820 and 1470 hours of standby. Bear in mind there are no voice calls being made, though of course there's plenty of background updates being pulled in for Gmail, Facebook and other services over the 3G network.
In practice, we found that with a mixture of push email turned on, various social network apps updating, and a fair amount of GPS mapping, browsing, music and video playback and some camera use, the Flyer made it comfortably through to the end of the day. With lighter, more sporadic use – as is perhaps common for tablets – would probably see it run for a couple of days on a single charge. HTC has thrown in some sensible power management options, including the ability to turn off email checks overnight (something we remember fondly from Windows Mobile) when you're unlikely to need the very latest messages.
Wrap-Up
All too often we criticize new tablets for trying to take on the iPad by photocopying its specs. Apple's slate has undoubtedly changed – and dominated – the consumer touch device market, but it seems that sales success has blinkered many rivals to the possibility that there are other ways in which tablets can find a role in our lives.
It's a criticism you can't level at HTC, and whether you believe the Flyer's "Magic Pen" is a boon or a blunder, at least the company is trying something different. In its first iteration, what the software delivers doesn't quite live up to the hardware's promise, but we like the direction in which HTC looks to be taking it. Although many tableteers are content using their fingers, there are plenty of others who would like the flexibility to use an on-screen keyboard when that makes sense and then a digital pen when it feels more appropriate.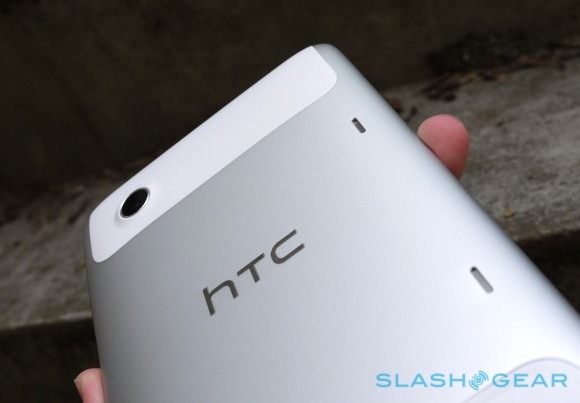 Yes, there are some frustrations: the camera is an embarrassment, the speakers underwhelming, and the single-core processor does give us a little pause for thought when we consider the sort of demanding apps likely to be coming down the pipeline for Android slates. Still, HTC obviously believe it's potent enough for Honeycomb, since an update to the tablet-centric OS is expected in reasonably short order.
What will really make the difference is HTC's commitment to Magic Pen functionality. Sensibly, the company has decided not to keep its pen magic all to itself, and to instead open up the APIs the Flyer uses to third-party developers. That will hopefully mean more apps that take advantage of it, broadening the Flyer's appeal beyond mere note-taking. Before that will happen, though, developers will want to see that there's a market worth their time: that will probably take more just the Flyer alone. HTC needs to be clear that dual finger and pen interfaces are integral into its vision of tablets. Users will only stomach the added cost and bulk of the digitizers – pushing the 32GB 3G Flyer in the UK to a heady £599.99, while the 16GB WiFi-only model comes in at £479.99 – if they're confident that HTC won't abandon the idea down the line.
Even as it stands, though, there's a lot to like about the Flyer. The 7-inch size fits just as nicely between smartphones and 10-inch tablets in terms of functionality as it does in the hand, and the stylus adds a new layer of possibilities of which HTC Notes only scratches the surface. It's likely to remain a niche model for the moment, but those who find the iPad's interface more like finger-painting than fine-art will find plenty of appeal in the HTC Flyer.