HTC Flyer Honeycomb 3.2 update leaked with screenshots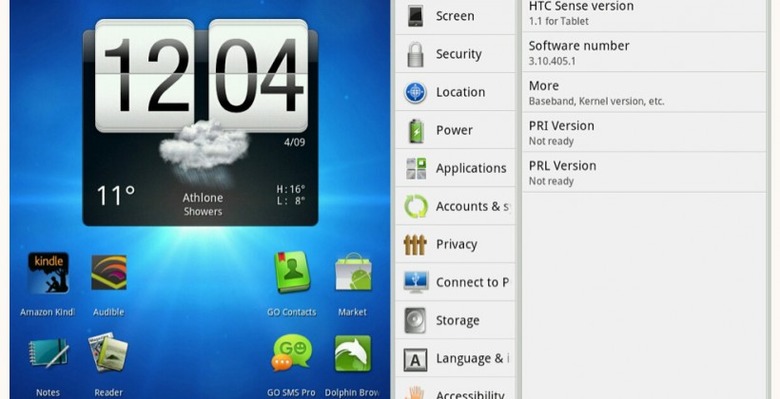 The HTC Flyer 7-inch Android tablet that boasts an optional stylus looks to be getting its Android 3.2 Honeycomb update very soon. MoDaCo's Paul O'Brien got a hold of a beta version of the update along with the "Sense 1.1 for Tablets" update and has publicly released the ROM for all to download and has also tossed up some screenshots of the new interface.
The screenshots give a nice preview of what Android 3.2 Honeycomb with the new Sense UI will look like on the Flyer. It maintains the iconic HTC Sense Flip clock widget, Home and Multitasking button, a modified clock, as well as notification and battery icons on the bottom right of the screen.
What's a bit confusing is that the new Sense UI is called "Sense 1.1 for Tablets" whereas the current Flyer shipped with a version called Sense 2.1, which looks a lot like Sense 3.0 running on HTC smartphones.
Also, the Flyer Honeycomb ROM that O'Brien put up is a developer build beta version and thus he offers various warnings of possible device bricking and an extensive step-by-step list for the process. One XDA member, globatron, was able to successfully boot the ROM on a 32GB 3G Flyer, which is apparently the only version the ROM will work on.
Globatron offered up some thoughts on this early developer build, saying that there are more widgets, smooth operation, no real lag, there's more compatibility in the market, and the pen interaction works everywhere, including for typing and buttons. However, globatron also offers some negatives, saying that the buttons on the bezel are gone, except for a pen action button, everything is optimized for landscape orientation, and phone support doesn't seem to work yet.
[via AndroidBugle]