HTC First Review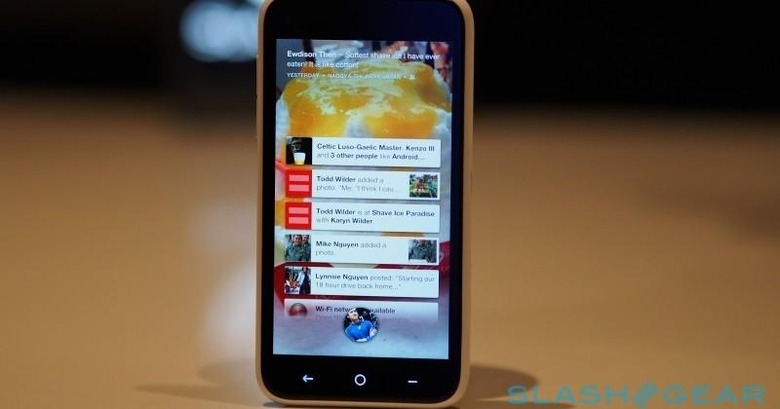 The HTC First is not the Facebook Phone, but it's a Facebook Phone, and if you feel like we've been here before then you're not alone. Baking the core essence of Facebook Home – "putting people first" with a content-rich homescreen and tightly integrated messaging – into a dedicated handset, the First is the start of what we're told will be a series of Home "experience" devices. Problem is, HTC tried putting Facebook front and center once before, with the HTC Salsa and ChaCha, and neither found much favor among the socially-obsessed. Has the $99.99 First got what it takes to be our very best friend? Read on for the full SlashGear review.
Hardware
HTC may put Facebook at the core of the First, but the hardware does remind us of another phone: the HTC One S. At 4.96 x 2.56 x 0.35 inches and 4.37 ounces it's a little shorter, but slightly thicker and heavier, than the 2012 midrange handset, sacrificing some sleekness by virtue of its cheaper soft-touch plastic body rather than the One S' more premium-feel metal. HTC will offer four color options: white, black, red, and pale blue.
The front is dominated by a 4.3-inch, 720p resolution Super LCD display. We've already praised HTC for compromising on the size/usability argument with the 4.7-inch One, which we prefer to 5-inch devices, and the 4.3-inch form-factor of the First makes for another nicely scaled phone. The curved edges of the matte-finish unibody casing nestle into the hand well, and while it may not be Full HD, the 341ppi of the display means it's more pixel-dense than an iPhone 5.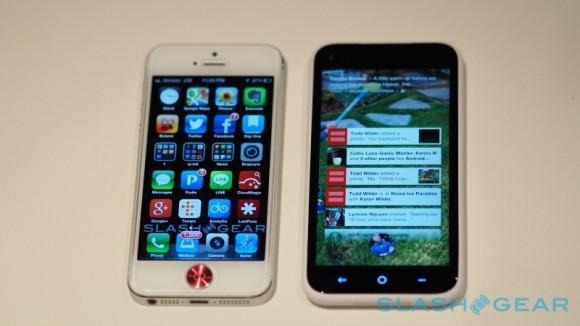 It's also bright and clear, with decent viewing angles. Underneath, there are three touch-sensitive keys – back, home, and menu – though no dedicated Facebook key, unlike HTC's earlier Salsa and ChaCha handsets; in fact, the only physical controls are a volume rocker on the left edge and a power button on the top, along with the 3.5mm headphones jack. The microSIM tray and microUSB port are on the right edge, and there's a small – and fairly weedy – speaker on the bottom.
The back (which has pleasing proportions that remind us of the original iPhone) has a 5-megapixel camera with an LED flash, while a 1.6-megapixel front-facing camera is included for your Facebook selfies. Both use backside-illuminated sensors and, in the case of the front camera, an ultrawide lens for including more people in-frame. However, there's none of the UltraPixel cleverness that HTC has included on the HTC One.
Inside is where the $100 sticker price of the First begins to properly show. The processor is a Qualcomm Snapdragon 400 8930AA dualcore running at 1.4GHz, paired with 1GB of RAM and 16GB of storage; like other HTC handsets in recent months, there's no microSD card slot to add to that, and nor do you get a removable battery. Instead, the 2,000 mAh Li-Poly pack is fixed.
Connectivity includes quad band HSPA+/GSM/EDGE and dualband LTE – AT&T has already confirmed it will be offering the First, complete with 4G support – as well as WiFi a/b/g/n and Bluetooth 4.0. There's none of the 802.11ac WiFi support of the HTC One, but the First does get NFC, dual-microphones, GPS/GLONASS and a digital compass.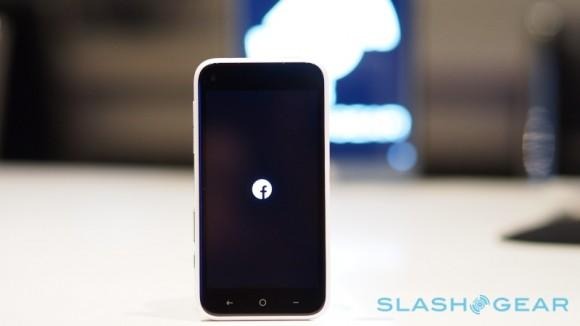 The most noticeable thing about the First is, perhaps ironically, just how inconspicuous it is. The barely-ornamented chassis – which includes relegating HTC's logo, along with those of Facebook and AT&T, to discrete silk-screens at the bottom half of the back of the phone, with no branding on the front whatsoever – basically serves as a discrete frame for Facebook. It reminds us a little of HTC's origins as a white-label designer, pumping out handsets for carriers to rebrand, and while the First is a sturdy little thing, it's hardly memorable.
Software and Performance
We've reviewed Facebook Home separately, since the new launcher will be available not only on specific "experience" devices like the First, but also as a free download for certain existing Android handsets from the Play market. In short, it's a replacement to the everyday user experience of an Android phone, as tightly integrated with Facebook services – and as exclusionary of others – as you'd expect.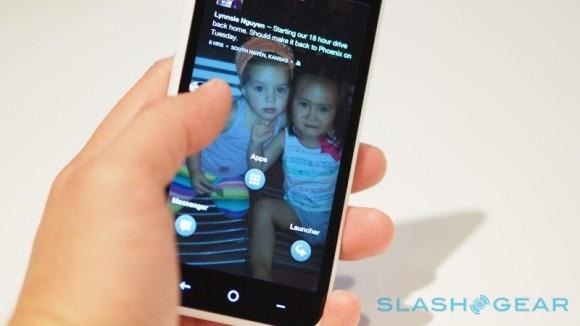 Underneath, though, is pure Android 4.1, with none of the Sense customizations that have been the default for HTC over the past few years. In fact, you have to look back to the original Nexus One to find the last pure-Android HTC. The irony is, of course, that as of Sense 5 on the HTC One, we've actually come back around to liking the company's customizations. There's also still no guarantee that, as per a Nexus-series device, you'll get more timely OS updates versus a Sense phone. One other hiccup was how the menu button was handled: some apps simply don't seem to recognize it.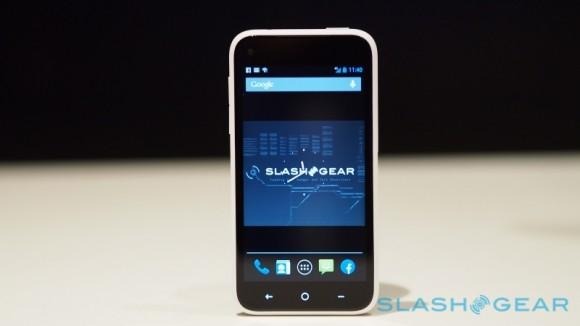 As for speed, we were pleasantly surprised with how smooth Facebook Home is on the First's more humble specifications. Facebook told us that it has worked hard to make sure things like the physics engine behind the animations, and the way the launcher renders, are in keeping with the processing potential of the Snapdragon 400 chipset, and that has certainly paid off for a silky user-experience.
Of course, not everything happens in Home, and so we put the First through the usual benchmarking trials to see how it held up. In Quadrant, it scored 6,346, putting it comfortably ahead of last year's One X, while a SunSpider browser test score of 1,567.8ms (lower is better) brings the First surprisingly close to where the One scored, with only around 400ms between them.
AnTuTu v3 saw the First manage 11,156, with the internal storage hitting 48.1MB/s reads and 20.7MB/s writes, while in Qualcomm's own Vellamo tool it scored 2,185 in the HTML5 tests and 587 in the Metal tests. That puts it ahead of the Galaxy S III (on Android 4.0.4, at least) in HTML5 performance, but behind the One X for its Metal store.
Camera
With 5-megapixels to play with, HTC is aiming decidedly at the mid-range with the First's camera. Unfortunately, while the megapixel count may be similar to that of the HTC One, the pixel technology isn't, and so the Facebook phone suffers from mediocre low-light performance, among other shortcomings.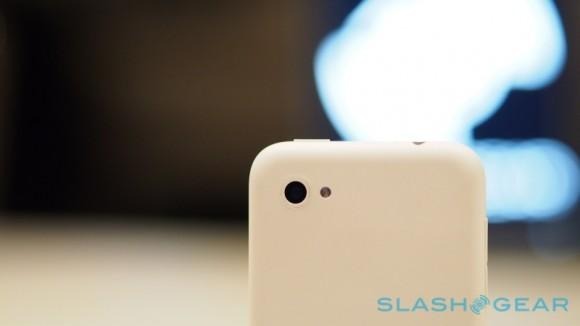 As with all phone cameras, give the First ample natural light and it can produce some reasonable stills. Unfortunately, as soon as you step away from those ideal conditions, things get shaky. We saw more noise from the First's camera than we'd like to, with muted colors and trouble focusing at times, Video suffers in much the same way, with the resolution being less of an issue than the noise and lackluster colors.
Whether most users will care about all that is questionable. Just as the First – and Facebook Home itself – is designed for consuming Facebook media, perhaps its camera will only ever be expected to create basic snapshots for sharing on the social site. Nonetheless, having seen what UltraPixel can do for low-light settings, such as the parties, concerts, and other dimly-lit venues of fun that are commonly documented on Facebook, it's a shame that those are the type of images that will fare the worst on the First.
Battery
The First will last for up to 14.3hrs of talk time or up to 18.2 days of standby, AT&T says, though that's likely to be heavily dependent on how socially active you are, and whether it's over LTE or not. In practice, with the combination of the mid-range specifications and Facebook's own software refinement, we saw some impressive longevity out of the First. With mixed use, we saw the gage drop by only around 20-percent over the course of more than 14hrs, for instance.
What you don't have manual control over is how much often Facebook Home refreshes. Facebook has adjusted the default behavior depending on whether you're connected to WiFi or cellular data, but there's no manual override, and as such you're at the mercy of what Facebook and HTC believe to be the most sensible settings. You do get three tiers of data use/image quality settings – high, medium, and low – though no more granular control than that.
Wrap-Up
You could argue that the HTC First is in a category on its own, the first and so-far only dedicated Facebook Home device. That's certainly how HTC and AT&T would like you to see it. However, there are plenty of ways to do social aggregation – HTC's own BlinkFeed for instance, on the One, pulls in Facebook updates among other things – and viewed in the grander scheme of things, the First simply doesn't feel like a $100 device. We'd certainly argue strongly in favor of spending the extra $100 upfront and going for the more refined build quality, better camera, and generally more impressive hardware and software experience of the HTC One, for instance.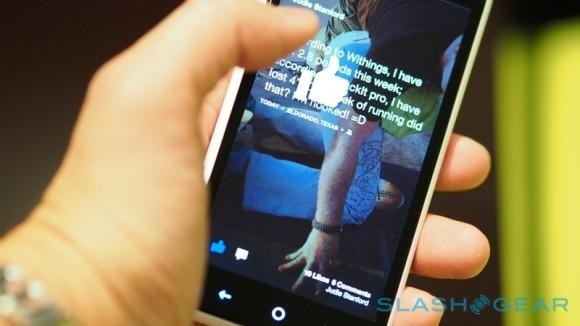 We also noticed that, for all the First is meant to be a great social phone, we quickly grew frustrated by its social immersion. Part of that is because we're not fully committed to any one single service, and Facebook Home does its level best to bury others, like Twitter and Google+, beneath the surface.
More critically, there's not enough control over what gets included in Cover Feed and what doesn't. The First is a window into your entire Facebook experience, whereas most of the time we wanted a more pared-back glimpse into the subset of people we're particularly interested in. That could be addressed with support for Facebook's existing Groups, and we'd not be surprised if it's high on the company's to-do list, but right now it's a hit & miss affair as to whether you'll turn on your phone and be faced with something you actually care about, from a friend you're actually close to. Ironically, Facebook Home is perhaps the best argument for pruning your friends list that we've seen in some time.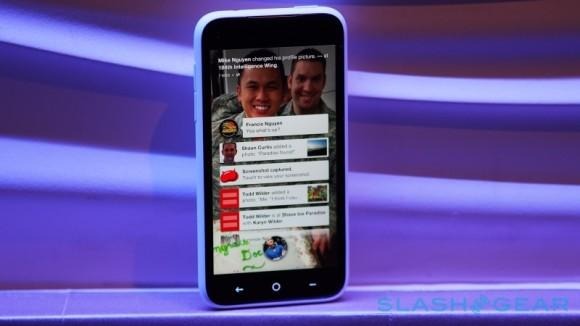 If the HTC First was a $99.99 device on prepay, we'd be a lot more comfortable recommending it. With a two-year agreement involved, and the relatively small step up to a device like the HTC One, which we rate so strongly, it's not just Facebook Home's beta-style performance that gives us pause for thought. The First is not a bad handset, but it's a generally nondescript one, and Facebook Home is not the "killer launcher" that would make it a must-buy.