HTC EVO 4G Coming to Sprint June 4th; Bringing Simultaneous Voice and Data

We could say that this is probably one of the biggest device launches in Sprint's recent memory, but that would probably be considered an understatement. Announced a little over a month and a half ago, the EVO 4G is finally here in all of its official glory, and it has a release date, pricing, and a list of verified features that people all over the place will drool at.
First up, you're looking at live voice chatting. We knew it was possible thanks to that front-facing camera, and now Sprint has confirmed without a shadow of a doubt that it's going to be one of the featured items on the device. The service won't be brought to customers thanks to Skype, though. Instead, Qik, the popular streaming video application/service that's available on most smartphones right now is handling the heavy lifting. There's been some confusion about whether or not it will incur some extra charges, but right now it looks like it might be free. (Which is the best way to go about things.)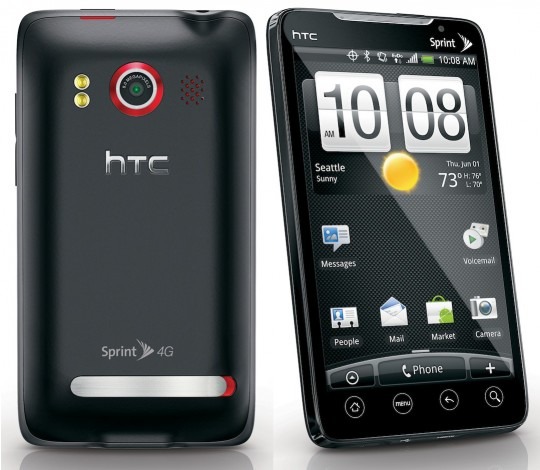 Just as we speculated in the past, Sprint confirmed that the EVO 4G will be able to handle simultaneous voice and data. The WiMax part of the device makes this possible, so obviously you'll need to be planted in a 4G coverage area to make the magic happen. As for video streaming, you're looking at two nuggets of joy: the ability to stream HD video content over the wireless network without a problem; and your YouTube app will be the first to play "high quality" YouTube videos. Basically, the EVO 4G wants to make sure that you can watch all your videos on that 4.3-inch display at the best quality available, and there's nothing wrong with that at all.
Now, for the price. $199 with a mail-in rebate, and your signature on a new, two-year contract. You'll also have to enlist your contract to bear the burden of Sprint's Everything Unlimited plan, which means you'll be paying $70 per month to start. And then you'll need to pay a mandatory $10 per month for access to the WiMax network. Yes, you read that correct. You'll be paying a premium to connect to the 4G network. The bad part? You'll be paying that whether or not you're in a 4G network, so you'll have to figure out on your own if the cost outweighs the benefit. As for the mobile hotspot feature the EVO 4G promotes, that will run you an additional $30 per month, on top of everything else. Availability is June 4th throughout Sprint stores, as well as online, but Sprint is saying they've got some heavy demand for the device, so maybe you should pre-order. Check out the video below of our hands on time with the device, to get your memory caught up. And just in case you did forget: The HTC EVO 4G features a 4.3-inch TFT LCD capacitive touchscreen, Android 2.1 with HTC's Sense User Interface (UI), and a 1GHz Snapdragon processor under the hood. Among a ton of other things.
[vms 77a97fc38f3421614151]
[via Sprint]