HTC EVO 3D hits Europe in July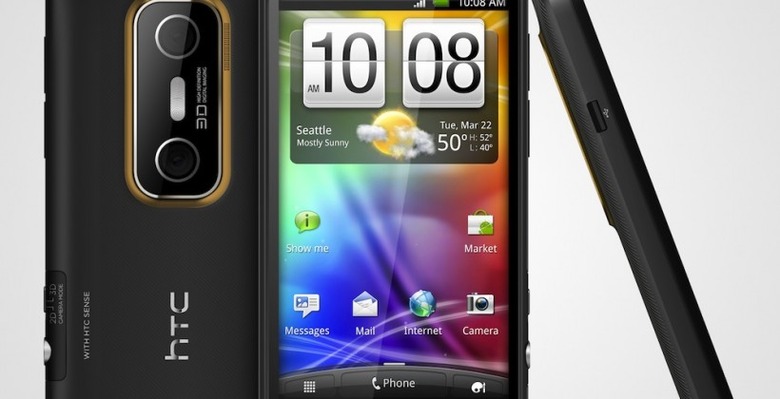 HTC has officially launched the HTC EVO 3D in Europe, with the 3D Android smartphone – which we reviewed in US form earlier this month – set to go on sale with HSPA+ GSM connectivity from July. The EVO 3D has a 4.3-inch glasses-free 3D display running at the same qHD 960 x 540 resolution as the HTC Sensation, along with a dual 5-megapixel camera array that can shoot stills and both 2D and 3D video at up to 720p HD resolution.
There's also the same 1.2GHz Qualcomm dual-core processor as in the Sensation, paired with 1GB of ROM and 1GB of RAM. Connectivity includes WiFi b/g/n, Bluetooth 3.0 and dual-band HSPA/WCDMA, capable of up to 14.4Mbps downloads and up to 5.7Mbps uploads, network depending. The microUSB port supports MHL HDMI – and will pump out both 2D and 3D footage to your TV, if it's compatible – and there's a 1.3-megapixel front-facing camera rather than the Sensation's VGA resolution camera.
In comparison to the Sensation, it's a bigger, chunkier device. The HTC EVO 3D measures 126 x 65 x 12.05 mm and weighs 170g, with squared off edges versus the curves of the Sensation. On the plus side, you get a sizable and tactile camera shortcut button, along with a dedicated 2D/3D switch. HTC told us at an EVO 3D pre-brief last week that the handset was targeted at multimedia and photography enthusiasts, though of course you get lower-resolution stills and 2D video than the Sensation (which offers 8-megapixels and 1080p).
[vms 0faf985047d4c3f13ed0]
OS is Android 2.3.3 Gingerbread with HTC Sense, and you get the same clever active lockscreen with shortcuts and weather animations. HTC has thrown in some 3D-specific tweaks, like making the gallery flag up which clips are in 2D and which are in 3D, and you can send images and footage in either 2D or 3D format over Bluetooth. The Video Trip app also works with 3D clips, and the camera can create 2D stills from 3D originals so that they can be shared with those people who don't have a 3D device.
HTC Watch, the company's movie download and rental app, will have 3D content, and some European countries will find a copy of The Green Lantern in 3D preloaded onto their EVO 3D. However there won't be 3D games, though HTC tells us that they're in the pipeline. Similarly up in the air is the bootloader: according to HTC, the EVO 3D was already in development when the decision to open bootloader access was made, and it's not certain what will happen with this particular device.
The HTC EVO 3D will drop in European markets from July 2011, pricing tbc (though we're assuming it will be in line with Sensation pricing, since the handsets are so similar). For more on the phone, check out our review of the CDMA version which is, radios aside, identical.