HTC Desire Z dropping sooner & cheaper says Amazon; new HTC Desire HD listing tips £540 price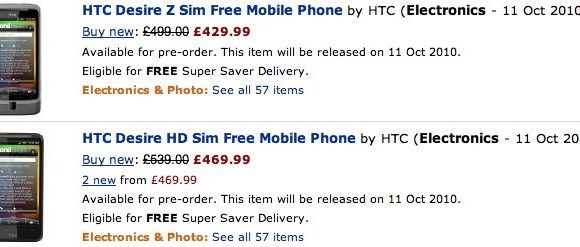 We may receive a commission on purchases made from links.
Amazon's listing for the HTC Desire Z which we spotted last week has been updated, and both price and release date are headed in the directions we prefer the most: down and soon.  The Desire Z is now tipped to arrive on October 11th – previously it was set to drop on the 18th – and Amazon are offering it SIM-free at £429.99 rather than the RRP of £499.99.  Meanwhile it's also been joined by a listing for the HTC Desire HD.
That, Amazon UK reckons, will also arrive on October 11th 2010, though you'll need a little more cash to pick it up.  The RRP is £539.99, which the retailer has slashed to £469.99.  That gets you a 4.3-inch touchscreen (versus the Desire Z's 3.7-inch panel) though of course no hardware QWERTY keyboard.
If you don't want to spend all that money upfront, various UK carriers have announced that they'll be offering the Desire HD and Desire Z free with a new agreement, though you might end up paying more over the course of your contract.  Check out our hands-on with the HTC Desire HD and HTC Desire Z for more information (and video) on each Android 2.2 smartphone.