HTC Desire L surfaces in Taiwan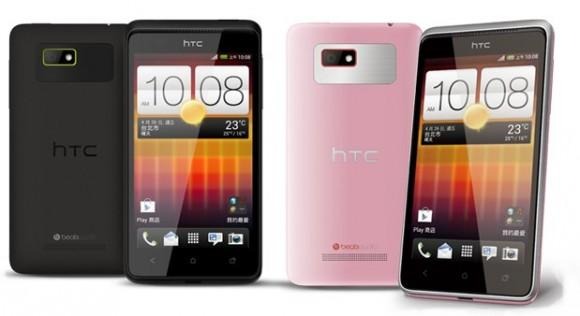 HTC has gone official with a new Android-powered smartphone in Taiwan called the Desire L. The smartphone offers modest specifications, which would seem to indicate that it will be a budget offering. The device will also be available in multiple colors including pink, white, and black.
The smartphone measures 128 x 66.9 x 8.9 mm and weighs 118 g with the battery installed. The phone features a 4.3-inch super LCD2 touchscreen with a resolution of 480 x 800. The processor under the hood is a 1 GHz dual-core unit and the phone will run the Android operating system. It is unclear exactly which version of Android the device runs, but it will use the HTC Sense user interface.
The phone uses a microSIM card and has 4 GB of integrated storage. The phone software that's preinstalled does take up some of that 4 GB of storage space, so actual storage will be less than 4 GB. The upside is that the phone has a microSD memory card slot for storage expansion. The Desire L also features 1 GB of RAM and integrated GPS/GLONASS.
The smartphone will operate on HSPA/WCDMA networks with 900/2100 MHz frequencies and GSM/GPRS/EDGE networks at 900/1800/1900 MHz. Other features the phone include a five-megapixel rear camera capable of recording 720p resolution video. The phone also has integrated Bluetooth, Wi-Fi, and a 3.5 mm headphone Jack. HTC also integrates Beats Audio technology into the device. Power comes from an 1800 mAh internal rechargeable battery. There's no indication the pricing or availability at this time.
[via Engadget]