HTC Desire HD Review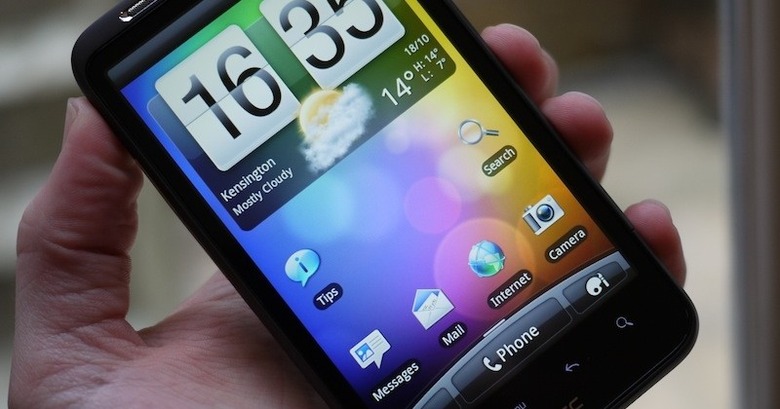 Big screen, big specs, big appeal. HTC know how to play the Android smartphone market, and the HTC Desire HD is no exception. Announced to great fanfare – and alongside the new online HTCSense.com service – last month, the Android 2.2 Froyo handset promises to take the original HTC Desire experience to the next level. Is this the best Android smartphone around today? Check out the full SlashGear review after the cut.Hardware
The HTC lineage is clear; the Desire HD uses the company's unibody-style construction, as seen on the HTC Legend, with a single piece of CNC'd metal forming the screen bezel, edges and majority of the rear panel. Rather than pulling the back away altogether for battery access, the Desire HD has two removable sections: the bottom unclips giving access to the microSD and SIM slots (and also works as the phone's antenna), while a panel on the edge gives access to the user-replaceable battery. It's a tough, sturdy and tactile design, and – along with the glass screen cover – feels weighty and expensive. Our only complaints are the somewhat tricky to replace battery hatch, not something you'll be opening all that often, and some creak in the bottom cover.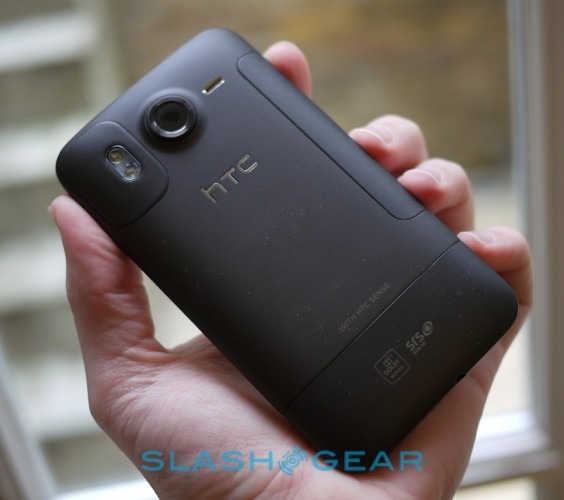 The Desire HD has close siblings in the HTC HD7 and HTC EVO 4G, with the front dominated by a 4.3-inch WVGA capacitive touchscreen. Underneath is a row of four backlit, touch-sensitive keys – home, menu, back and search – while squeezed into the narrow space above is the shiny chrome earpiece grill, ambient light sensor and proximity sensor, and an LED to show battery and other status alerts. On the left-hand side is the volume rocker, but – unlike HTC's Windows Phone 7 handsets – there's no dedicated camera shortcut on the right, which we missed. A microUSB charge/sync port on the bottom, along with a 3.5mm headphone jack, and a power/sleep button on the top round out the controls. The latter can be mildly tricky to press, being on the angled top edge and flush to the chassis.
On the back is an 8-megapixel camera with a dual-LED flash, next to a nicely bevelled loudspeaker grill. Inside, meanwhile, are all the components you'd expect from a new flagship: Qualcomm's 1GHz Snapdragon MSM8255 processor, paired with 768MB of RAM and 1.5GB of ROM, quadband GSM/EDGE and dualband (900/2100) HSPA/WCDMA, WiFi b/g/n and Bluetooth 2.1+EDR, and both GPS and a digital compass. There's also the microSD slot for adding storage. All in all, there's little to fault about the HTC Desire HD's hardware, though it's unsurprisingly a big device – 4.84 x 2.68 x 0.46 inches – and reasonably heavy at 5.78oz.
HTC Desire HD unboxing & demo:
[vms 150c77bda2eda01ae484]
Software
Android 2.2 Froyo has been around for a while now, and it's still a highly usable and flexible platform. As you'd expect from a Google OS, there's tight integration with Gmail and the other cloud-based services the search giant offers, together with the Android Market with its 100,000+ of free and paid titles. Google's Gmail software remains one of the best email apps around, while Google Maps Navigation offers free turn-by-turn directions together with POIs.
Into Froyo, HTC stir their own Sense interface and software. Now a long way from its relatively humble UI reskin origins, Sense not only reworks Android's appearance with new themes and widgets, but integrates social networking functionality like Facebook, Flickr and Twitter and pulls updates from those services into the Desire HD's contacts and calendar apps, as well as offering an aggregated timeline view of all recent updates. New to this build is a task switch of the eight most recently-accessed apps available in the pull-down status bar, which is particularly useful.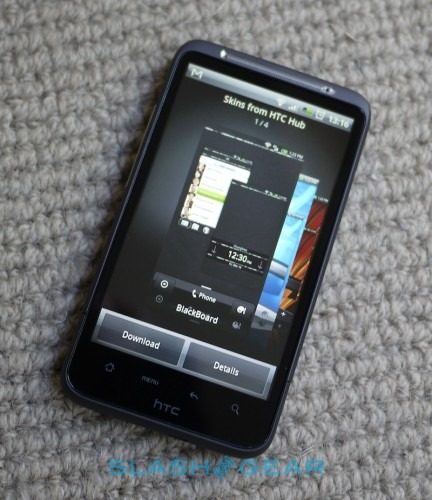 The on-screen keyboard is also HTC's own work, with decent auto-prediction and correction, though we found ourself preferring Windows Phone 7's key response. There's certainly no shortage of space for an expansive layout, however, with even portrait-orientation QWERTY being comfortable to use. In short, HTC Sense remains one of the more user-friendly approaches to Android for new and nervous users, though it has to be said that Google's own UI has come on leaps & bounds from the early days of the platform.
Perhaps in response to that, HTC has turned its attention to not just aesthetics but applications in this latest iteration of Sense, and these vary in their integration with the core OS. Some are seamless – the call screen that flags up recent social network status updates for incoming callers, dims the ring volume when you pick up the phone, and mutes it altogether if you flip the Desire HD screen-down, for instance – whereas others, like the Blocked Callers app, get their own icon and UI. HTC's preloaded widgets are big, bright and generally pretty data-heavy, and as always there's a tiny amount of lag as they update. Having used the final release of Windows Phone 7, however, it's getting easier to pick holes in the Sense experience: we wish HTC would add more comprehensive status updates to the Android lock-screen, for instance, rather than leaving it to the simple row of icons in the status bar. You get the most recent missed-call, but no indication of upcoming calendar entries or the number of unread messages.
The biggest change is in HTC's navigation options, with a new Car Panel that turns the Desire HD into a serviceable PND replacement. Big, finger-friendly icons for setting destination, seeing what POIs are nearby, and leaving Footprints (HTC's GPS bread-crumbing system) dominate the display, and rather than kick you out when you hit the Home button it sensibly assumes you want to go back to the Car Panel (there's an Exit option to return to the regular Android homescreen). Incoming calls, meanwhile, are discretely flagged up at the bottom of the navigation screen rather than replacing the map completely. Our only complaint with the new UI is the dialler, which is the normal phone pad (complete with relatively small contacts and recent call listings) rather than a bigger layout for easier use when driving.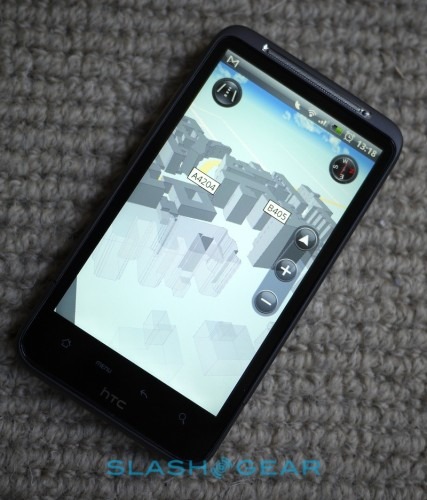 A new UI is only half the story, however; HTC has thrown in downloadable maps, too, which removes the need for an internet connection while browsing. You'll need a microSD card in place to store them, but you can choose which geographies you'd like to include. We downloaded the basic UK data, but if you're going abroad and are worried about data costs you can easily grab content for your destination and leave the Desire HD's 3G turned off. It all works, though if you want navigation, traffic information, speed camera warnings or different voices, you'll need to pay for them.
That's because, rather than integrate with Google Maps, HTC's version uses Route 66's navigation software. There's an option to "Integrated Google Navigation" with HTC Locations, but all that does is add the option to view a POI on Google Maps rather than, by default, Route 66 maps. UK and Ireland navigation is $5.99 for 30 days, $24.98 for a year, or $37.99 for the lifetime of the device; if you then want US navigation you'll have to pay again: $4.99 for 30 days, $19.98 for a year or $29.98 for lifetime service. The maps themselves look good, and offer regular 2D or birds-eye perspectives, but we can't see many people paying for service when Google Maps Navigation is so strong. It's also worth noting that Nokia offers free, locally-cached mapping as part of their Ovi Maps app, complete with free navigation.
HTCSense.com
The other half of HTC's new Sense is the online component, HTCSense.com. Registration is slotted in during the regular Android setup wizard, requiring basic details like email, name, phone number and a password; alternatively you can bypass it altogether. With a Sense account, you can log into HTC's site and remotely view the location of your phone (it tells you the accuracy of the positioning and the freshness of the data), make it ring at full volume (in case you've lost it down the back of the sofa), lock it or even wipe it. It's all useful remote management stuff, and all free as well.
Sense can also pull out your text messages and show you them online, and you're able to respond to them from the web interface. It's worth noting that any SMS you send go via your phone (i.e. you pay for them or they come out of your monthly bundle) rather than via some online service; the benefit of that is, to the sender, there's no confusion over what number the message is coming from.
Meanwhile, HTC has finally delivered Footprint sharing, something we've been requesting since the service first appeared. Sense online automatically suggests pairing your contacts with other registered account holders, and after that you can share your saved Footprint locations with them. It's also possible to browse POIs online and then send them to the Desire HD for accessing while on the move.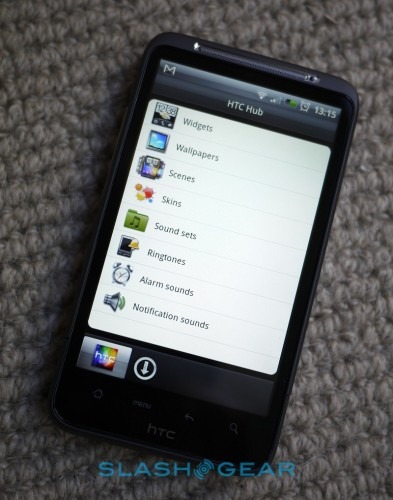 You can do a similar thing with applications, HTC using Sense – and the HTC Hub on the Desire HD itself – to access their own range of skins, widgets, apps, wallpapers, ringtones and other downloads. These can be flagged online (rather than a remote download triggered) so that the Desire HD reminds you to look at them on the handset itself.
It all works reasonably well, though there are unsurprisingly some teething pains. We had trouble accessing our messages via Sense online on a couple of occasions, and during registration there's no indication on the Desire HD itself that you need to click a confirmation link in an email before the handset can associate with the account. Instead, it threw up an error message and we had to retroactively add in our HTCSense.com credentials later. Still, it's an impressive suite (and likely to continue growing over time); we're guessing HTC see it as a lock-in for their users, since if you've had Sense functionality on one HTC device, you're unlikely to want to give it up by jumping manufacturer next time you upgrade.
Browser
Android's WebKit-based browser is one of the best around on smartphones today, and the HTC Desire HD internet experience is no different. As you'd expect, it supports pinch-zooming and double-tapping triggers quick and accurate text-reflowing to better suit the screen. There's not a huge amount of zooming necessary, however, what with 4.3-inches on offer. The combination of the second-gen Snapdragon CPU and a healthy chunk of RAM keeps things moving swiftly, even with multiple windows running, and rendering is quick. You also get in-page Flash video and animations, since the Desire HD supports Flash Player 10.1.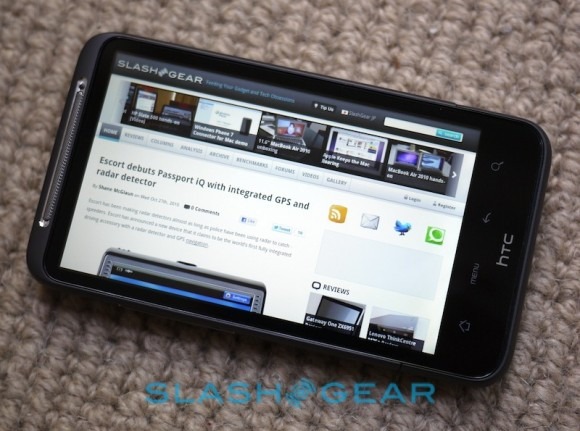 HTC, for their part, have added Google Reader synchronisation, accessed via the News app, though there's also a Reader app which, somewhat confusingly, is an ebook viewer. A partnership with Kobo provides the content, with on-device purchasing supported (there's also a catalog of free downloads). Of course, if you're already using Amazon's Kindle ebook service, or Barnes & Noble's NOOK system, there are apps in the Android Market to sync with them, too. The Desire HD's 4.3-inch display makes for a decent ebook reading experience regardless.
Camera
The HTC Desire HD's 8-megapixel camera is one of the higher-resolution options we've seen on Android, and comes complete with 720p HD 30fps video recording and the manufacturer's own tweaked interface. There's touch-to-focus support for both stills and video, and you can adjust the focus lock while in the midst of video recording, a skill which escapes many smartphones. It's not a quiet process, however, the autofocus mechanism making a loud and noticeable whirring noise.
Various preset shooting modes are available – both to suit the scene, such as sport and macro, and adding in effects like greyscale or sepia – and there's optional face detection and a self-portrait mode that can be set to take a shot when one or two faces are in-frame. That goes some way to making up for the absence of a front-facing camera.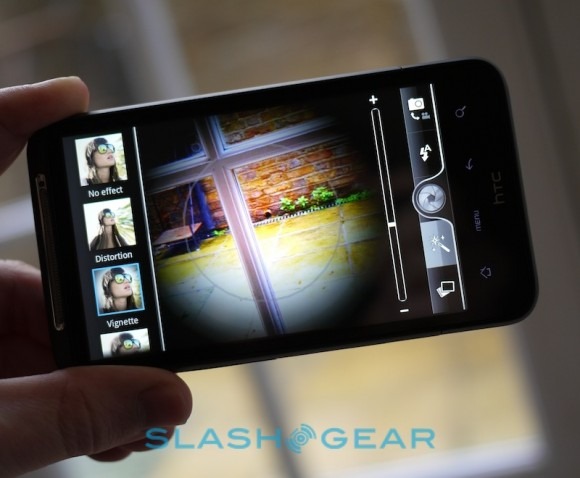 As for the quality of the images themselves, they're good but still not the best we've seen from a smartphone. Performance is certainly better than HTC's 5-megapixel handsets, as you'd hope, and in daylight the color balance is decent and picture noise minimal. In low-light, however, you have to either contend with undue fuzziness or the whims of the dual-LED flash, which is bright but prone to over-illuminating the subject.  Samples are in the gallery at the bottom of the page. Video, meanwhile, is better, with plenty of detail and the 30fps framerate cutting down on judder. Sharp pans will still cause problems with wavy edges as the CMOS catches up, but in general it's good enough to replace a basic standalone camcorder.
Multimedia
With a 4.3-inch screen, the Desire HD is ideal for playing video, and the smartphone's internal speaker does a reasonable job with audio. Better results, though, can be had by plugging in a set of headphones; HTC also adds Dolby Mobile and SRS WOW HD audio processing, which can be toggled on or off through the settings. Unfortunately there's no kickstand for propping the Desire HD up, as you get on the EVO 4G and HD7.
If you'd rather play content back on a bigger display, there's DLNA streaming using the preloaded Connected Media app: you can choose from the music, photos and video stored on your handset to squirt over WiFi to a networked media player. It works well, though strangely the option to access content in the other direction – stored on a networked computer or media server – is in a completely different place, over as an option in the Gallery app. While we can understand a split between media sending or receiving, some shortcut between the two might have been nice.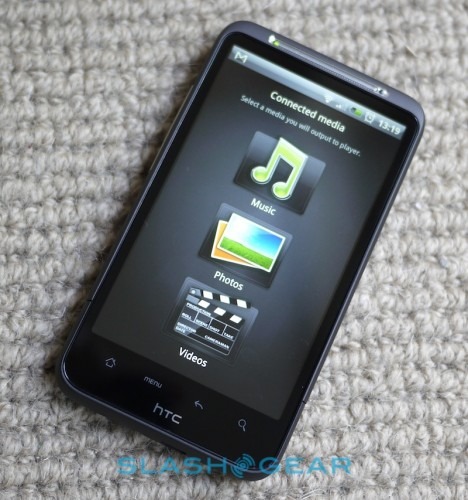 Unfortunately, there's no HDMI output to be had, which is a shame since that's been on the EVO 4G for some time now. HTC's register of supported file types is less comprehensive than we've seen on, say, Samsung's recent smartphones, too. You get WMV, MP4, AVI and Xvid video support, together with MP3, WMA, OGG, AAC and M4A audio (plus an FM radio), but we came across more files we couldn't play than was the case when reviewing, say, the Samsung Galaxy S.
Phone and Battery
We've no complaints with the Desire HD's wireless options, with the new smartphone proving able to cling to a GSM network connection where a Google Nexus One had already lost its signal. WiFi, too, had no problems staying connected, and we were able to pair and use mono and stereo Bluetooth headphones with no issues (as well as use their media control buttons). It's worth noting that the FM radio app requires a set of wired headphones be plugged in, to use as the antenna. In-call quality was good, and the speakerphone suitably loud.
Battery, meanwhile, proved par for the course for a modem smartphone: that is to say, a nightly recharge is standard. The Desire HD's 1,230mAh battery is actually smaller than the 1,400mAh pack you'll find in the original Desire, though all but WCDMA talktime estimates have increased on the newer device. In practice, we managed a day of push-email, some browsing and messaging, Twitter checking and a couple of voice calls without losing power partway through, though using the Desire HD's WiFi Hotspot app (which allows you to share its 3G connection with up to five WiFi clients, such as netbooks or tablets) did see more significant drain.
Conclusion
HTC has become synonymous with Android smartphones over the past three years, and with good reason. The company's Sense interface remains the most comprehensive reworking of the core OS to-date, and in this latest iteration has gone from being a simple social network aggregator and redesign, to a real value-add for HTC users. The bundled Sense-online experience not only works to the user's benefit, but is a clever move by HTC to promote brand loyalty. What remains to be seen is how quickly the company can move to deliver Android updates despite their heavy customisation, a problem faced by most players using Google's platform today. With Gingerbread just around the corner, the last thing HTC needs is a legion of unhappy users left wondering when their flagship phone will see an upgrade.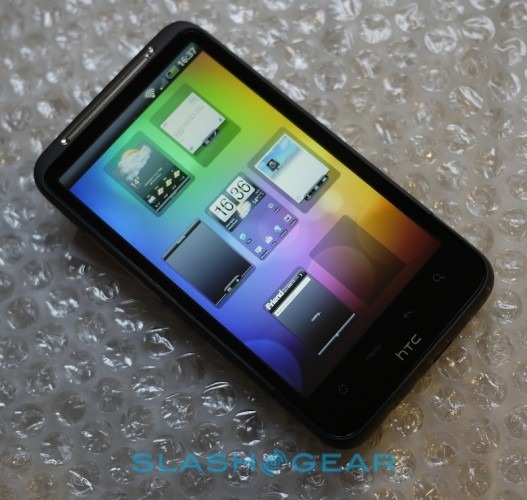 As it stands, though, the HTC Desire HD is a strong performer out of the box. The display is crisp, clear and – for tasks like browsing, ebook reading and video playback – an expansive pleasure to use, and while the camera may not be the best around, it's still a tier above what's now mainstream for Android devices. In fact, the Desire HD's biggest obstacle may be it's sheer size; it's a hefty device, and some will prefer a more pocket-friendly device with a smaller screen. We'd like to see HTC produce a 4-inch model to take on the Galaxy S family, as that's seems more of a compromise between 3.7-inches and the whopping Desire HD.
Still, if you've the pocket or purse for it, there's plenty to like here. One of the best browsing experiences on a mobile device, solid hardware and flexible online support – with the promise of more in the pipeline – makes the HTC Desire HD a highly recommended smartphone.