The HTC One M8 won't be the only Eye in town this week, if these leaks come to fruition. Unlike the earlier leaked One M8 Eye, the Desire Eye won't just have a 13 megapixel rear camera, it will have a front-facing shooter of the same caliber as well.
If true, then the HTC Desire Eye will be one of the most extravagant smartphones to pander to the selfie-obsessed populace. Most just put up to 5 megapixels and some wide angle features on the face of their smartphones, though some, like the OPPO N1, reuse the same 13 megapixel sensor for both normal photography and selfies.
In comparison, the features for this Desire Eye seem almost too good, or ludicrous, to be true. Imagine a front-facing camera that is on the exact same level as the back. And we're not just talking about the sensor size here. You also have auto-focus and, wait for it, dual LED flash. This is definitely a selfiest's dream come true.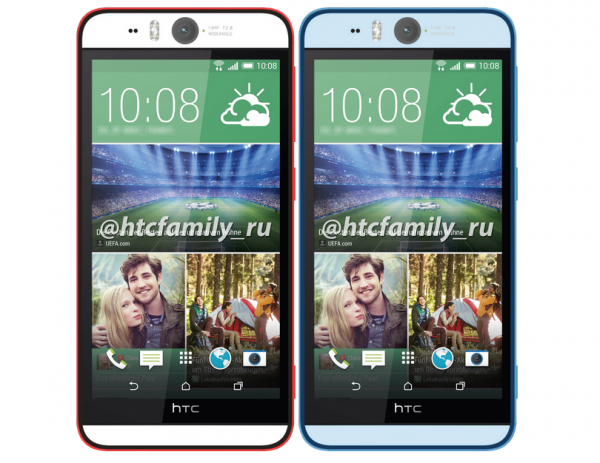 The rest of the specs for this Desire Eye are equally surprising. The Desire line is usually marketed a bit below HTC's flagship One brand, and yet here we see high-end hardware, such as a 2.3 GHz quad-core Qualcomm Snapdragon 801, 2 GB of RAM, a 5.2-inch Full HD screen, and, again, wait for it, IPX7 waterproof rating. Definitely not your everyday selfie smartphone.
Usually if it sounds too good to be true, it is. We will get to know for sure this week what camera visions HTC has been dreaming up lately. The OEM has scheduled a camera-centric event on 8th October, and we've caught glimpses of a rather odd-looking "action" camera as well as a 13 megapixel toting HTC One M8 Desire. This HTC Desire Eye wouldn't look out of place at all.
SOURCE: @upleaks
VIA: HTCFamily.ru