HTC Butterfly hits pre-order status in UK [UPDATE]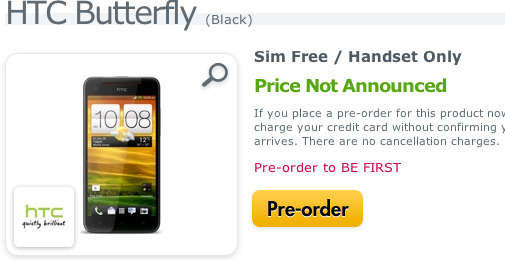 The HTC Butterfly, or also known as the global version of HTC's DROID DNA, has hit pre-order status in the UK thanks to online retailer Expansys, who posted up the listing today. However, while it looks like you can reserve your own unit starting today, the website doesn't mention price or availability details, and we haven't heard from HTC about a UK announcement.
Just a couple days ago, we heard that HTC's 5-inch 1080p smartphone would be hitting China sometime this month, joining Japan and the US, but it seems the phone is also planned for a UK launch as well. We're not sure if the listing was put up prematurely or if it's the real deal, since it looks like you can go through the buying process and reserve one for yourself. The website says that they won't charge you for the purchase until it gets shipped out.
UPDATE: We've heard word that these UK units may be grey-market imports, meaning that HTC hasn't officially started offering them in the UK, so if you buy one of these units, you may not get the official HTC warranty and all that, so be sure to approach with caution for now.
This version for sale is for an unlocked and SIM-free model that comes in black. It'll obviously sport the large 5-inch display with a 1080p resolution. The US version of the phone comes with a 1.5GHz Snapdragon S4 quad-core processor, 2GB of RAM, 16GB of internal storage, and runs Android 4.1 Jelly Bean out of the box.
The website lists similar specs with the UK version of the device, and we're guessing a hefty price tag will accompany those specs. The recent China version will have a price of around $700, so we wouldn't be surprised if the UK version ended up costing somewhere in that price range as well.