HTC Best Deals revealed: Bargains sucked to your smartphone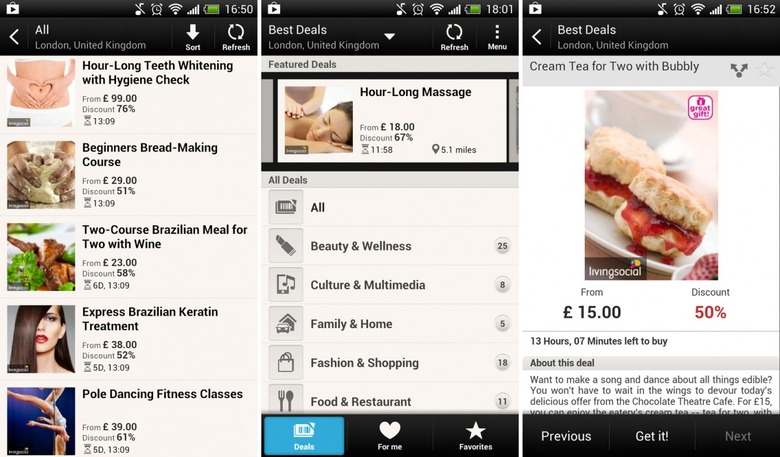 HTC has revealed Best Deals, a new smartphone-based deals service promising time-limited discount shopping directly on your Android or Windows Phone 8 handset. Making its debut on the HTC One X+ and the Windows Phone 8X and 8X by HTC, Best Deals will be available initially in the UK, Italy, Germany, France, and Spain, with over 1,7000 offers from LivingSocial, Trip Advisor, and more.
Qype Deals and Offerum are also contributing offers, with local sorting so that users will be able to sift through cheaper meals, massaging, and the inevitable waxing and hair treatments, that are nearest to them. However, HTC says that there will also be deals on the company's own products and accessories, though exactly what they'll be is unclear.
Other sorting options will include popularity, the size of the discount, the price, and when the deal expires. Each can be reviewed, bookmarked, or shared; it's not clear whether, if you share a deal with a non-HTC Best Deals user, they'll see the same offer, but it seems likely.
In addition to the 8X and 8S, and the One X+, the HTC One X and One S will also get Best Deals in a subsequent firmware update. HTC hasn't said when that new firmware will arrive.
At launch, twelve deal providers are involved with the app. HTC says it's working on adding more to that list, as well as introducing new categories. Partnerships with mobile operators are also on the cards.