HTC Athena suddenly becomes interesting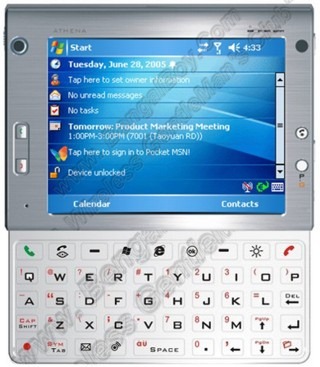 When I read about the upcoming HTC Athena last week I wasn't in a rush to post about it.  Yes, the design looked interesting, but the specs were anaemic (400MHz processor, 3.5-inch screen).  However some news passed to the::unwired may just change my mind, should it turn out to be true in the long run; their tipster claims that the true specs include such delights as a 5-inch VGA screen, a detachable keyboard made from clear plastic that fixes either over the screen or in laptop-style by magnets, an 8GB drive and a full bevy of wireless options (GSM/GPRS/EDGE and UMTS, Bluetooth 2.0, WiFi b & g).
Oh, and throw a 3-megapixel camera with flash, 624MHz CPU and GPS into the mix too.  Seriously, it starts to sound like a wish-list, but there's no denying that it's all possible – the tipster, 'xdarom', does point out that it's a "bit larger than the HTC Universal and more square, also it's quite heavier than the Universal" while being "about the same thickness".  You start to wonder what sort of price this could command, and whether it would make a good alternative to a UMPC or if the Windows Mobile OS (that it's still supposed to have) will be the factor holding it back.
RUMOR: HTC Athena Specs Updated? [the::unwired]