HTC 7 Surround Review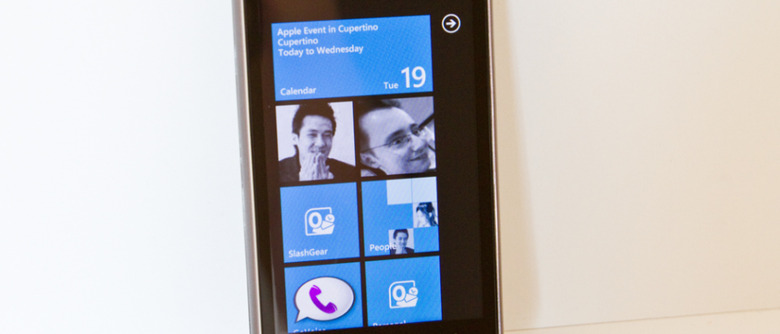 HTC's play for the Windows Phone 7 market is arguably stronger in Europe, at least at launch, but that doesn't mean the company has forgotten North America. The HTC 7 Surround joins the Samsung Focus on AT&T, launching with the US carrier as the HTC Surround, and will also cross the border to Canadian carrier Telus. Check out the full SlashGear review after the cut.Hardware
Microsoft's minimum specifications for Windows Phone 7 devices leave little room for differentiation, though the Surround does manage to introduce some exclusive features into the mix. At its core it's most like the HTC 7 Trophy: a 3.8-inch WVGA capacitive touchscreen in a sturdy chassis. The regulation 1GHz Qualcomm Snapdragon QSD8250 processor is paired with 512MB of ROM and 448MB of RAM, along with 16GB of flash storage for media. On the back is a 5-megapixel autofocus camera with LED flash and 720p HD video recording.
Connectivity includes 850/1900/2100 HSDPA/WCDMA, WiFi b/g/n, Bluetooth 2.1+EDR and a 3.5mm headphone socket, with a microUSB port for charging the 1,230 mAh battery. There's also GPS, a G-Sensor, digital compass, proximity sensor and ambient light sensor. The handset measures 4.71 x 2.42 x 0.51 inches and weighs 5.82oz. The microUSB port and volume rocker are on the left side, the power/standby button and headphone jack on the top edge, and a camera shortcut on the right side.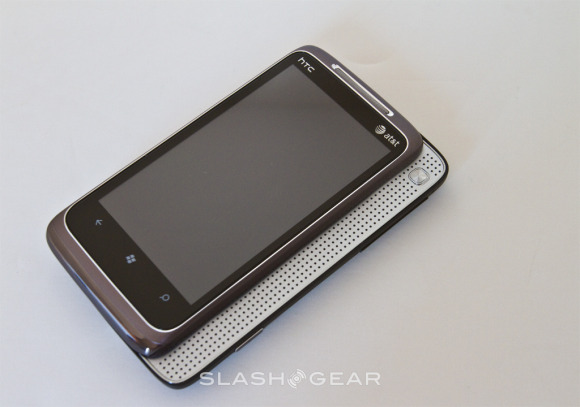 The HTC 7 Surround's unique feature is its slide-out stereo speaker, with the fascia – the touch-sensitive back, Start and search buttons running underneath – pushing a quarter-inch or so to the left. That reveals stereo speakers behind a silver mesh, together with a button that turns on a virtual surround sound mode. On the flip-side, opening the speaker reveals a flip-out stand which can be used to prop the smartphone up for watching videos.
HTC have a reputation for creating solid devices, and the Surround is no different. The sliding mechanism feels solid and reliable, and the chassis in general is sturdy. We wish there was some more of HTC's unibody-style metal work in evidence, as on the HTC 7 Mozart, but that's more an aesthetic preference more than anything else.
Software
We've covered Windows Phone 7's core functionality at depth in our Technical Preview, so won't retread too much old ground; we'd recommend reading that for a better understanding of the Microsoft OS as a software experience. We've also reviewed the AT&T Samsung Focus and the Orange HTC 7 Mozart, and we'd recommend reading those reviews for other Windows Phone 7 details.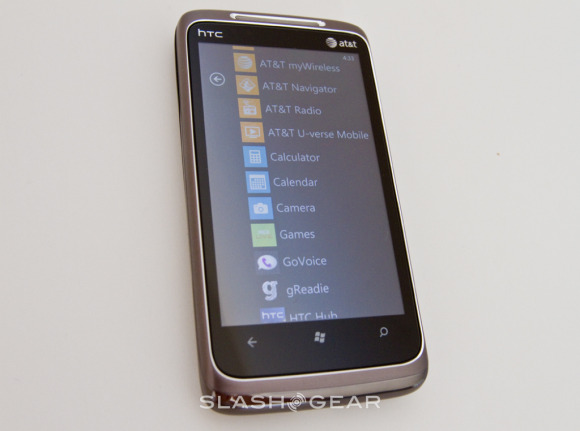 The following two videos, meanwhile, give a broad overview of the various applications and features preloaded and available through the Windows Phone Marketplace. While they show the Samsung Focus, the core phone experience is basically identical. In them, you can see the Seesmic Twitter app, browsing on the IE7/IE8 based WebKit browser, Bing Maps, the calendar (which supports day, month and agenda views, but no week view), messaging and more.
[vms 50b25b4114e93a98f1eb]
[vms 8b187f7182f1b9ce7a6a]
What's unique to HTC's devices is the HTC Hub, a suite of mini-apps that more closely resembles the company's Sense experience on Android devices. Loaded via a dedicated tile on the homescreen, it's packed with HTC's favorite weather animations and a selection of mini-apps including a flashlight, basic photo editor, stocks app, notes app (in which the notes visibly age the older they are), a sound equalizer and a converter app. HTC has also said it will be releasing further apps for the Hub for users of its devices. While they all work, the overall theme sits uncomfortably with the regular Windows Phone 7 UI, and Microsoft's decision to prevent OEM modification of the core visuals of the OS means it's easy to forget HTC's extras.
As with the HTC 7 Mozart, the 1GHz processor keeps applications running quickly, and we haven't experienced any slowdown during the frequent animations and pivots that run throughout Windows Phone 7. The Surround has less RAM than some of its counterparts, too – 448MB versus the 512MB of the Mozart, for instance – but that's also yet to have caused any issues.
Camera
The 5-megapixel camera, meanwhile, is responsive and quick to focus, and has a range of settings including multiple shooting modes – Auto, Portrait, Landscape, Sports, Beach, Backlight, Candlelight and Macro – together with various effects – Grayscale, Negative, Sepia and Solarize – plus flicker adjustment, a choice of metering – center, average or spot – and flash on/off/auto. Colors can be over-saturated, but generally they're reasonable if not particularly inspiring.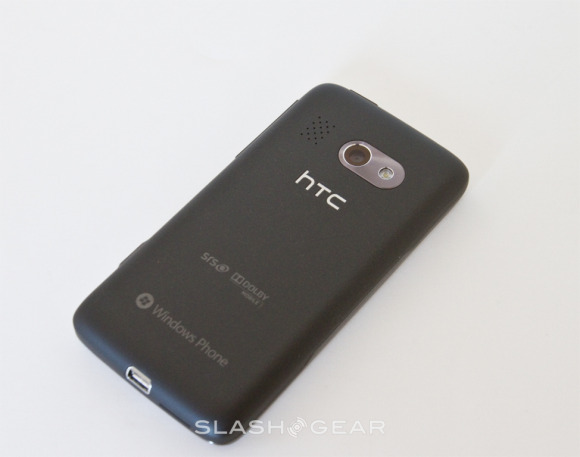 Video fares better, with the HTC Surround recording 720p HD clips. Fast moving scenes can lead to uneven wobbling in the edges, but with a more steady subject there's little blurring or shadowing. The Surround's display is clear and fairly bright, and can be seen outdoors as long as there is no direct sunlight. There's no sharing option with video, however, not even attaching clips to an email. The only way to offload content, in fact, is via the Zune desktop app.
[vms c592db97d0dbe54c7adf]
Unfortunately, the HTC Surround's main feature, its slide-out speaker, falls short of delivering the knock-out blow for the handset. It's certainly loud, but it lacks clarity and sharpness; the surround sound mode, meanwhile, is audibly different from the default setting, but we wouldn't say it was theater-like either. We suspect most users would rather use a set of headphones – either wired or A2DP Bluetooth – instead of blasting their audio on the subway or in another public place.
At home, meanwhile, a computer or TV screen will offer a far better picture (and far better audio, too), leaving the HTC Surround in an odd place in-between. It works well as a speakerphone, true, where the shortcomings in audio finesse are less important. However, we're not sure a stronger speakerphone experience is worth the extra weight and bulk of the handset.
Battery and Phone
HTC rate the Surround's battery for up to 250 minutes WCMDA talktime (240 minutes GSM) or up to 255 hours WCDMA standby (275 hours GSM). In practice, the smartphone was capable of managing a full day's use with push email turned on and moderate use of the internet and Bing maps functionality. Still, it's definitely a phone that will require a nightly recharge. Call quality, meanwhile, was fair, and we had no issues with AT&T's network nor audio on either end of the call.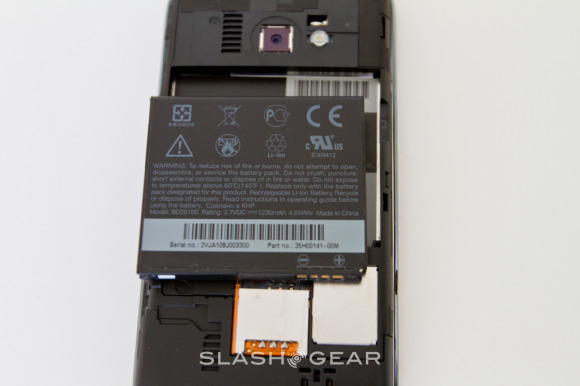 Wrap-Up
The HTC Surround is a solid Windows Phone 7 option, but its fellow AT&T handset, the Samsung Focus, outclasses it with its 4-inch Super AMOLED display. In contrast, the Surround's unique feature, its slide-out speaker, falls short both on usability and performance. It's certainly not a bad handset, and Windows Phone 7 is a surprisingly strong play by Microsoft, but we'd pick another device running the OS instead of the Surround.
Unboxing Video
[vms 1d984952c07998dc5435]
Gallery