HTC 10 renders aspire for a better looking flagship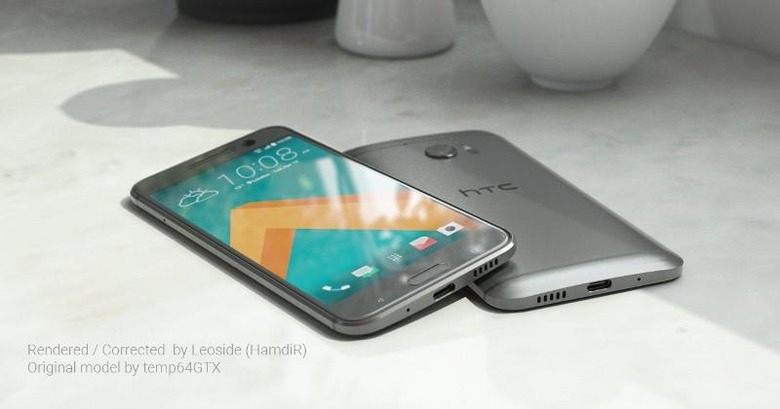 Smartphone fans have always been a passionate and creative bunch, whether they be rooting for iPhones, Galaxies, or, M's. That's pretty much evident in all the, of course unofficial, mockups, renders, and even full-pledged videos that proliferate with such quality they sometimes fool the unsuspecting. Take for example these newest batch of HTC 10, a.k.a. "Perfume", renders that almost look like they were done by HTC itself. But more than just rendering for the sake of rendering, the images reflect the HTC community's desire for a fresh new champion.
To be fair, HTC's flagships have always been easy on the eyes and the hand. While LG and Samsung have fluctuated over the years, HTC has gotten its iconic design down to a "T" since the One (M7) in 2013. While indeed due a refresh, fans will probably be delighted that, at least based on renders that compile past leaks and speculation together, the next flagship won't stray too far from that.
It is, however, visibly and distinctly different. Instead of plain curves, for example, HTC is expected to have used chamfered edges all around, front and back. Those sharp, flat surfaces are more pronounced at the back but also present, though thinner, on the front. The back plate, however, is still curved, though probably less than the HTC 10's predecessors. Back to the front, we see a slightly raised "2.5D Arc" glass that seems to be the fad these days.
While those are the good changes, some have taken issue with at least one unpopular change, the return of capacitive buttons. HTC finally did away with those since the One M8, following Google's preference. Now they're back with a vengeance, flanking a new home button. To add insult to injury, some believe that there will be extra large top and bottom bezels that further reduce the screen-to-body ratio,.
Design is good, but, in HTC's case, actual hardware is probably more important. Even if HTC actually stuck to its old design for a fourth generation, few would probably mind as long as the smartphone's features are actually on par with this year's top contenders. The camera is especially one touchy subject and HTC has promised to do right by its fans this time. Given how DxOMark has just crowned the Galaxy S7 as the top smarpthone camera in the market, it will definitely be a tough challenge for HTC.
SOURCE: XDA