HQ is a live trivia game app from the makers of Vine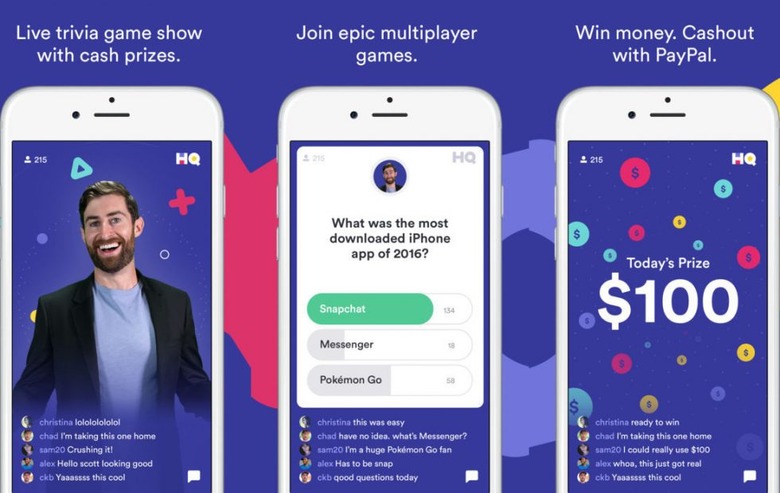 If you enjoy playing simple games on your iPhone but have grown tired of the typical puzzle and action titles, the new app HQ could be a breath of fresh air. Inspired by gameshows like Jeopardy and Who Wants to Be a Millionaire, HQ is a trivia game that played live twice a day, complete with a real host. It's created by the co-founders of Vine, the 6-second video app that was acquired by Twitter and eventually shuttered, and available now on the iOS App Store for free.
The game consists of a handful of multiple choice questions presented one at a time by host Scott Rogowsky. Participating feels a little bit like Facebook Live, where players can answer within 10 seconds, and if they pick correctly they move on to the next question. If they choose the wrong answer they're eliminated, but can continue watching and leaving comments.
The most interesting part, however, is that this all takes place live, with the game only available at 3PM and 9PM Eastern (12PM and 6PM Pacific) each day. The result is something that's both fun and interactive in a way that only live video can provide. Even better is that there's a cash prize, paid via PayPal, that's split among all the players who answered each question correctly.
"We just wanted to make something that people play with their friends and family," co-creator Rus Yusupov told TechCrunch. HQ doesn't have a huge playerbase just yet, but it's been growing since its August debut. A game earlier this week saw 3,300 concurrent players competing for a $150 jackpot, while the app's creators say they're experimenting with sponsored games to offer bigger prizes.
SOURCE TechCrunch, App Store