HP's OMEN X 35 curved monitor invites you to "never stop gaming"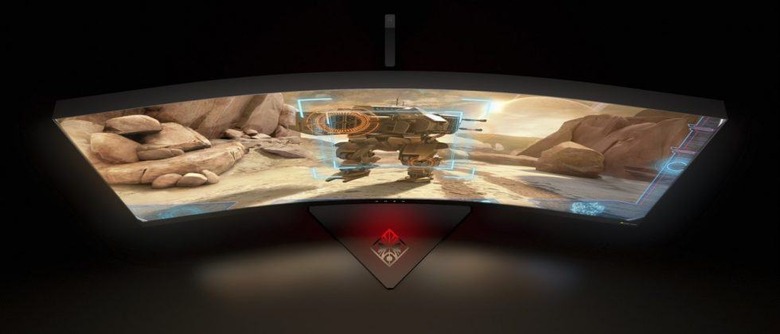 Many of HP's CES 2017 reveals have been centered around the consumer and professional markets, but what about you enthusiast gamers? HP isn't leaving you out in the cold, announcing its new OMEN X 35 curved gaming monitor. This beast of a display clocks in at 35-inches, and HP invites you to give it a spin to "see what your graphics card is made of."
Assuming you have room on your desk for such a monitor, you'll be treated to 3440x1440 resolution, a 100Hz refresh rate, and a 4ms response time. HP is throwing in with NVIDIA for this release, supporting the GPU maker's G-Sync technology. There's no word on whether or not we can expect a version of the OMEN X 35 that supports AMD FreeSync in the future.
Like some of the other HP products announced today, the OMEN X 35 features a Micro-Edge display, which attempts to cut the bezel down as small as possible. The 21:9 aspect ratio offers "34% more screen real estate" compared to other widescreen monitors with a 16:9 aspect ration, and the stand allows you to adjust the height of your display with a "130mm range of travel."
As far as ports go, you'll have one DisplayPort 1.2, one HDMI, and three USB 3.0 ports at your disposal. The OMEX X 35 offers a 2500:1 static contrast ratio and support for up to 16.7 million colors. HP has also included a built-in headphone hook – citing its own research that says 80% of PC gamers use headphones – and the monitor is also VESA mountable in case you're trying to lead a stand-free life.
It's an impressive monitor, but it's also one that everyone outside the enthusiast gamer crowd will likely find far too expensive. With a price tag of $1299 in the US, you'll be paying a lot of money for this monitor, so it's probably only worth it if you spend a lot of time at your PC playing games or doing something that would otherwise benefit from the increased screen size. If you fall into that subset of PC users, you'll be able to pick it up in a presale on HP.com starting on March 12, or find it in-store later on in March.