HP's ENVY Curved AiO 34 Gets Sleek New Design And Alexa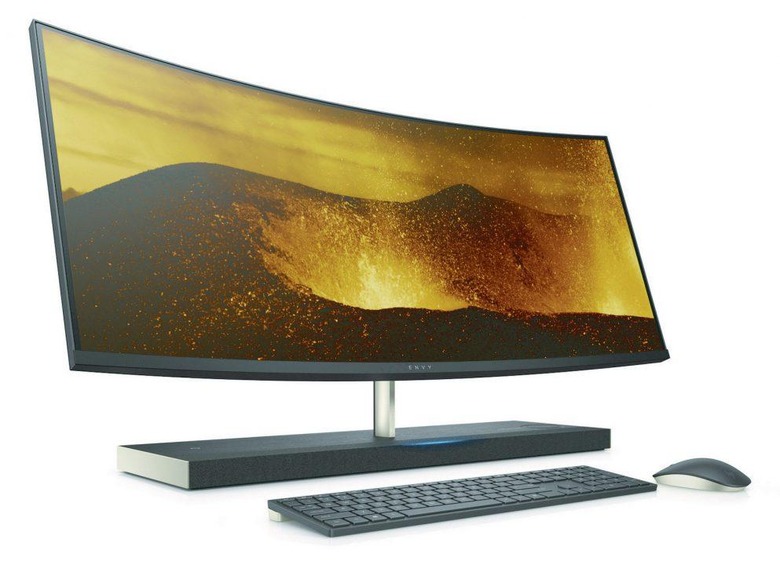 HP has updated its ENVY desktop line, adding Alex to its vast ENVY Curved AiO 34, and adding a minimalistic but potent tower to the range. Revealed today, the new desktops feature a more mature, restrained design language than you might expect from machines that have a gaming bent.
The ENVY Curved AiO 34 packs a huge, 34-inch display, mounted in an all-new design. In fact, it looks a lot more like a high-end TV now, with a rectangular base finished in dark ask woodgrain. The screen is mounted on a single, slim metallic arm.
Gold metal accents have been tastefully applied, while extraneous features – like the webcam – have been made more discreet by making them pop-out of the chassis only when required. The ports are clustered on the right side and rear of the base unit.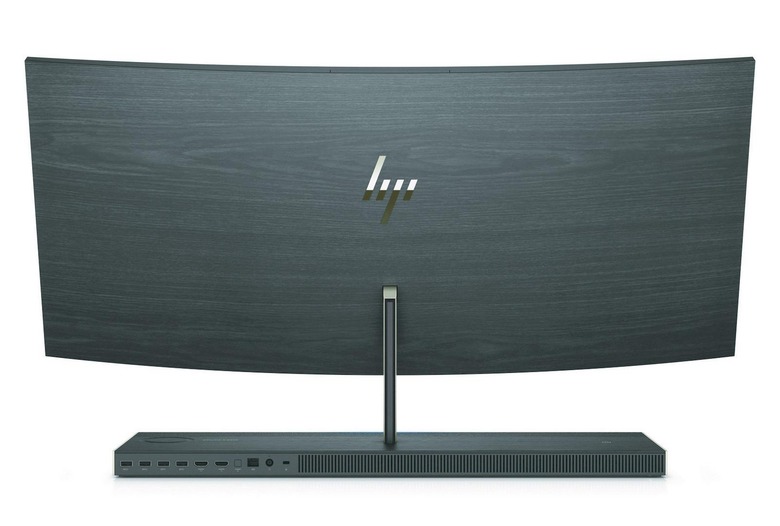 There's no shortage of them, either. You get multiple USB ports, an SD card reader, headphone jack, and ethernet, together with both HDMI outputs and inputs. Wireless charging has been integrated into the base, just as with the old version of the All-in-One, but HP has made it three times as powerful to get your smartphone up and running even faster.
Inside, there are up to Intel Core i7 processors and the option of NVIDIA GeForce GTX 1050 discrete graphics. HP Audio Stream has been baked in, too, allowing you to use the ENVY AiO's speakers as the Bluetooth output for your phone. Alexa has been integrated as well, with Amazon's virtual assistant responding to requests with both spoken and on-screen feedback.
If you're interested, but can't quite stretch your wallet – or desk space – to 34-inches, HP has another option. The ENVY AiO 27 will have a smaller, 27-inch screen and won't be curved, but it will be more affordable. There's also a business version, the HP EliteOne 1000 AiO G2, with a 34-inch display.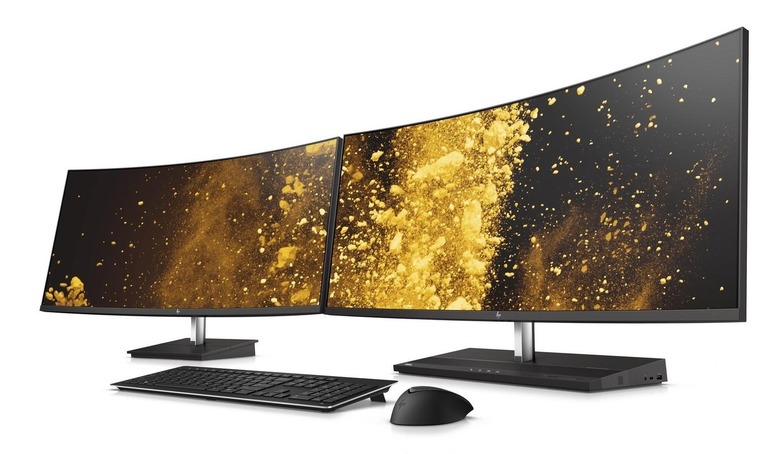 Finally, there'll be the HP ENVY Desktop. That's more sober than many performance machines, with diamond-0cut corners and "linear brushing" details. It gets 8th Gen Intel Core processors, optional NVIDIA GeForce GTX 1080 graphics, and optional Intel Optane Memory.
The HP ENVY AiO 27 will go on sale in May, priced from $1,399.99, while the HP EliteOne AiO G2 will arrive in June, priced from $1,279. The ENVY Desktop will go on sale in May, priced from $799.99. HP says the ENVY AiO Curved 34 will arrive later in 2018.