HP XW6600 And XW4600 Workstations Review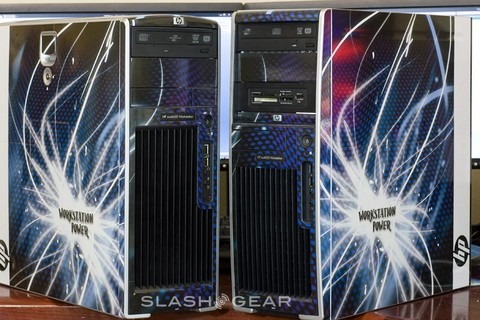 Lately the SlashGear test bench has been playing home to a number of midrange workstations from HP. The 4600 and 6600 ranges from low end to mid-level quad processor workstations; while the purpose is serious, HP are trying to broaden the appeal with colorful custom graphics skins courtesy of skinit.com. But are these just My First Workstation or have HP got some potential hits on their hands?
XW6600 (starts from $1,389)
Tested system $5,305 with FX 1700, $5,705 with FX 3700
Intel 5400 Chipset
Vista Business – 64 bits, 2x Intel Xeon E5450 3.0Ghz, Nvidia Quadro FX3700 512MB, 4X1GB DDR2-667 ECC FBD RAM, Seagate 7200.10 250GB 7200RPM, SATA 16X DVDR SuperMulti SATA Drive, 650 watts with 80% efficient power supply unit.
XW4600 (starts from $599)
Tested system $3,077
Intel X38 Express Performance Chipset
Vista Business – 64 bits, Intel Core 2 Quad Q9650 3.0Ghz, Nvidia Quadro FX1700 512MB, 2X2GB DDR2-800ECC RAM, Seagate 7200.9 250GB 7200RPM, SATA 16X DVDR SuperMulti SATA Drive, HP 16-In-1 Media Card Reader, Dual Firewire 400 PCI-32, 650 watts with 80% efficient power supply Unit.
Both systems are very heavy, weighing in excess of 30 pounds. Build quality is, unsurprisingly, solid, and HP have made liberal use of their tool-free chassis system. All replaceable components in the system, each of which are marked with green plastic pointers, can be easily accessed, upgraded, or replaced without the use of tools.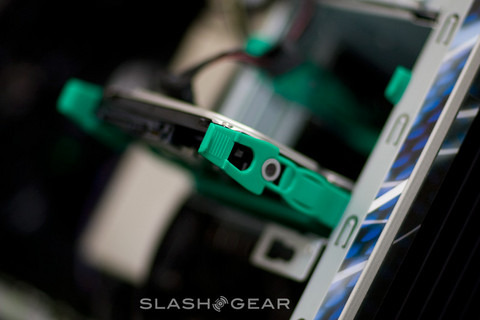 The front of the workstation has three 5.25-inch expansion bays, with two optical drives on offer together with a 16-in-1 multimedia card reader or, alternatively, a floppy drive. Both our test units came with a SATA 16X DVD-R SuperMulti SATA drive, but only the XW4600 had the media card reader.
Each system is backed by a dedicated HP service and support plan, with up to a 5-year limited warranty and 24/7 support.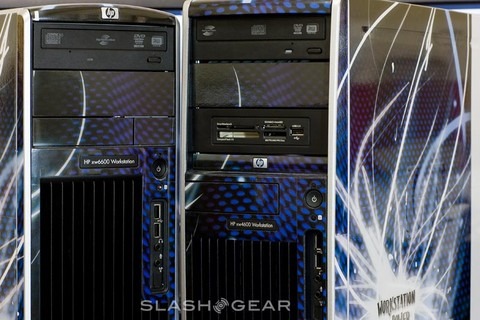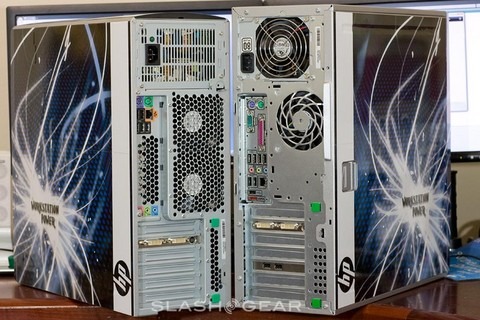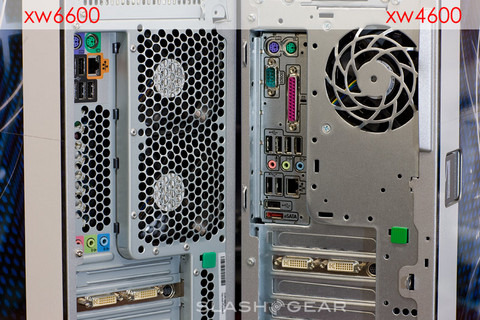 XW6600
Workstations may be all about power, but HP are making sure everyone realizes just how earth-friendly the XW6600 is. The manufacturing is apparently eco-friendly, with halogen-free packaging and lead free processors in 45nm high-k metal gate process technology.
It's a very compact footprint for a workstation; despite the higher model number, the XW6600 is in fact slightly smaller than 4600. In fact, HP tell us, it's one of the smallest dual-processor socket workstations in the industry. Inside, though, it has its fair share of room to move around, cables are well hidden and organized with a latch and there's a lockable door for security. HP supplies a pair of key for the locking system.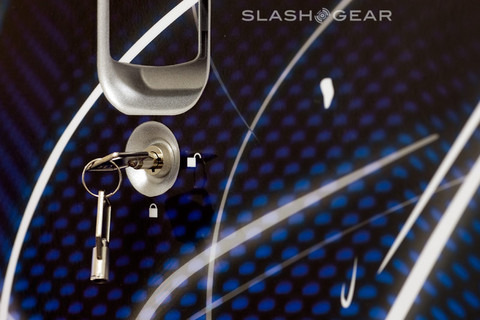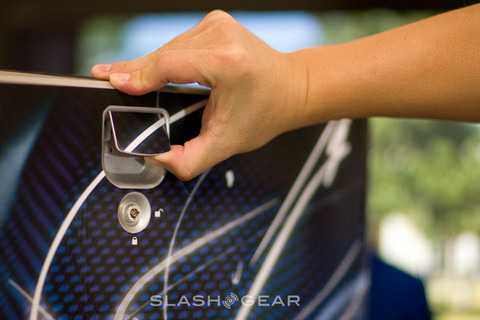 To open the case, one has to lift the latch, and pull it lightly. Make no mistake, the fitting is machined to a clinical level of precision and it is effortless to get the door open and close; it also locks firmly. Easily one of the best design cases I have used.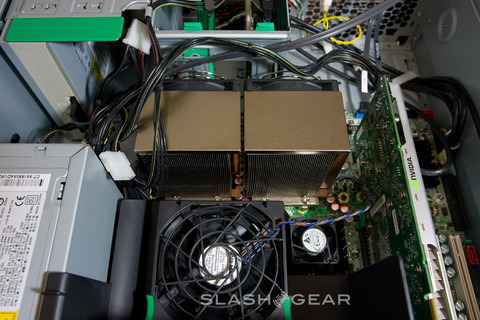 Despite having 6 fans inside the system – one over each CPU, one over the PSU, one on top of the memory modules and two as exhaust, HP have done a great job with the acoustic optimization; the XW6600 is extremely quiet, even when the system is booting up.
There's plenty of configuration choice too. The workstation will run the 32- or 64-bit versions of Windows XP, Vista and Red Hat Enterprise Linux Workstation 4. Supported processors include dual-core 5200 series or quad-core 5400 series Intel Xeon processors, backed up with up to 32GB of RAM spread over with 8 DIMM slots each supporting 4GB chips.
Connectivity inside includes six SATA-II, two eSATA, two PCI-Express X16, two PCE-Express X8, four electrical hook-ups, two PCI 32 slots, one IDE/ATA connection and a standard 34-pin interface for a floppy drive. The XW6600 has an integrated raid controller to provide the basic stripped or mirror raid configuration. It also offers optional LSI 3041E PCIe RAID controller, supporting up to four SATA or SAS drives in 0, 1 and 5 arrays.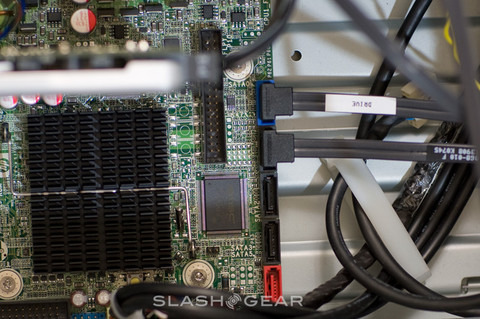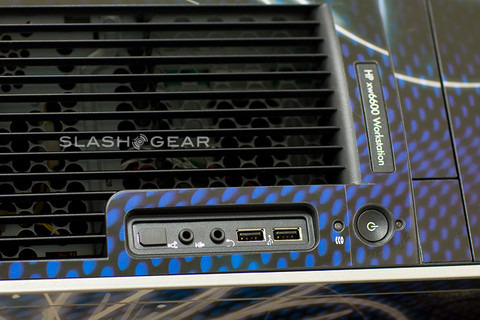 Ports outside the workstation include two USB 2.0, headphone socket, mic socket and optional firewire 400 on the front, while around the back there are five USB 2.0 ports, one gigabit Ethernet socket and an aux-in audio jack.
XW4600
Switch on the XW4600 and it's obvious where HP hid all the noise from the XW6600. The cheaper workstation is noisier and has a far louder boot-up compared to most other servers in its class. As expected, the 4600 cuts down number of fans in favor of higher RPM units: one on the CPU and two exhaust fans – at the back panel and PSU.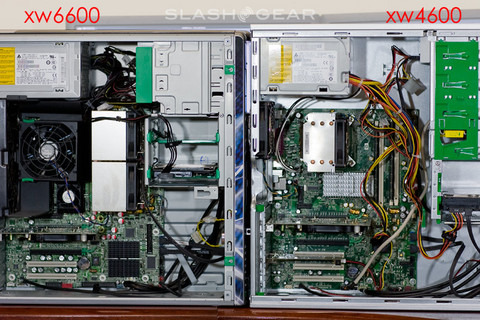 Internal cables are less organized than in the XW6600 but nothing a tie wrap or two can't cure. The case door is held by a side latch, similar to that on its more expensive sibling. To open or close, one has to lift and hold the latch and push it out to the side. The door fits firmly but it's hard to get it in place.
OS support is the same as the XW6600, but the processor roster is a little different. The XW440 will accept Pentium dual core, Core 2 Dual, Quad Core and Quad Core Extreme chips, together with up to 8GB of RAM in 2GB DIMMS spread over four slots. Like the XW6600, user can configure integrated raid controller with stripped or mirror array online or optional LSI 3041E PCIe RAID controller for up to four SATA or SAS drives in 0, 1 and 5 arrays.
Connectivity includes six SATA-II hard-drive connections, one 1.5Gbps eSATA, two PCE Express X16, one PCI Express X8 , four power hook-ups, one PCR Express X1, two PCI 32 connections and a standard 34-pin interface for a floppy drive.
Like the XW6600, ports outside the workstation include two USB 2.0, headphone socket, mic socket and optional firewire 400 on the front, while around the back there are seven USB 2.0 ports, one serial, one eSATA, one parallel, one gigabit ethernet socket and an aux-in audio jack.
Benchmark
For benchmarking, we fitted the XW4600 with NVIDIA FX 1700 graphics and the XW6600 with dual FX1700 and FX3700 before running PCmark vantage, Specview 10 and GeekBench version 2.0.19. Both motherboards were updated with the most recent BIOS release available.
PCmark Vantage
The PCMark Vantage benchmark was developed to measure complete system performance, mimicking Vista applications in real world scenarios. It is perfect in our test environment as both the HP workstations are running Vista 64-bit.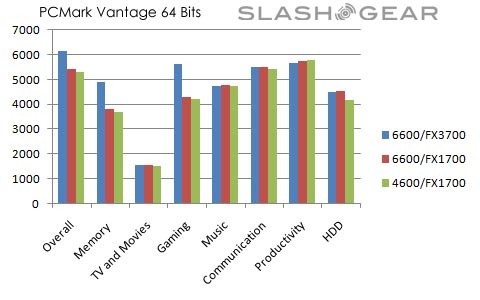 The results in HDD and similarly our experience of Vista start-up and application loading times indicate a better hard-drive in the XW6600, despite both systems having a 250GB drive running at 7,200RPM. The newer and thinner profile Barracuda 7200.10 is clearly faster than the 7200.9 series. The overall PCmark, memory game and suite scores in favor of the XW6600 thanks to the extra Quad Xeon processor, and the advantages of 51.2GBp memory bandwidth and 112 parallel processor GPU in the FX 3700 clearly pulling ahead of the FX 1700.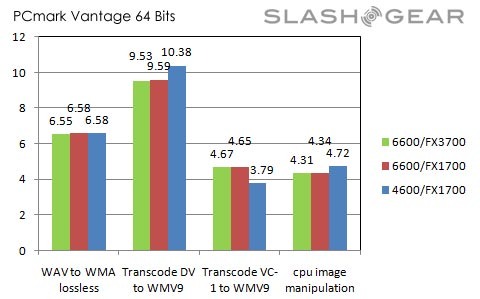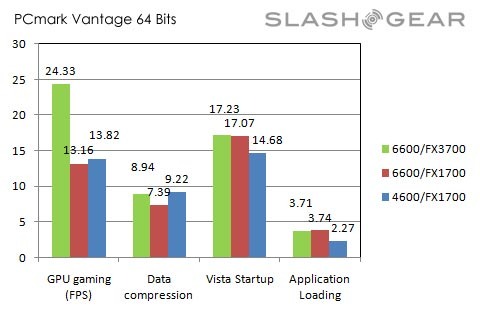 Viewperf
The HP workstations are built for DCC/CAD professionals regularly performing 3D graphics manipulation and image rendering. SPECViewPerf is the industry standard OpenGL graphics benchmark application used to measure the performance of systems running under the OpenGL subsystem, such as Solidworks, Pro/Engineer, CATIA, UGS NX 3 engineering models and Ensight engineering and scientific visualization.
On the viewPerf tests, we left the Desktop Window Manager as standard (with Vista Aero enabled). Thus, the results should not be compared to an XP system. Graphs were drawn from scores accumulated from one, two and four-thread runs. Despite having the extra quad processor, the Xeon system fell short in all departments compared to a lesser desktop processor paired with an identical NVIDIA Quadro FX 1700 graphics card.
In the single thread benchmark, Maya viewset was neck to neck in all three systems. The raw power on offer from the FX3700 GPU made the difference, with the so-equipped system pulling miles ahead. The GPU dependent benchmark is more obvious from the quad-threaded 3Dsmax viewset, including the Maya run.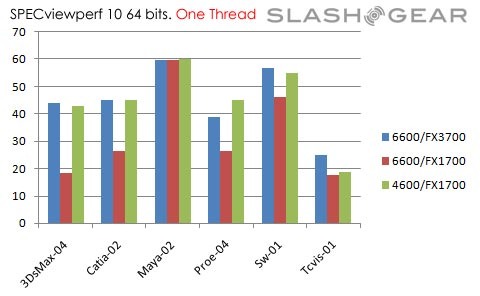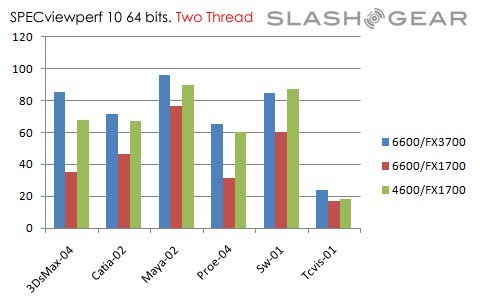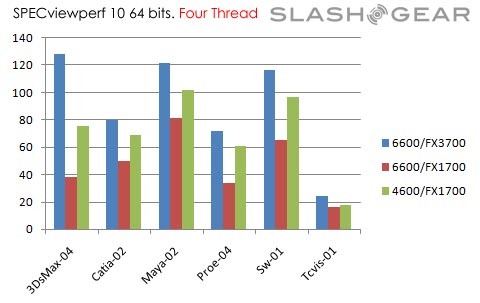 Geekbench
We ended the HP workbench testing with memory and CPU dependent cross-platform benchmarking using Geekbench 2.0.19 running in 64-bit mode. Now, one could clearly see the power of the extra quad Xeon processor to compute intensive integer and floating point operations.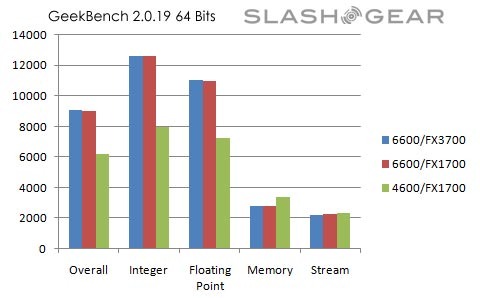 Conclusion
We've had both systems in our possession for over a month, running the graphics and 3D rendering benchmarks day and night and never once, even during prolonged CPU and GPU load tests, have either crashed, stuttered or experienced any sort of problems. That says a lot for system stability. The XW4600 combines performance and value with the Core 2 Quad Q9650, while the XW6600 delivers energy-efficiency and cooler and quiet operation.
Both are great systems, offering typical reliable HP engineering and high performance with expandability, and each having enough bandwidth for high performance graphics work. Professionals with demanding workloads would love the stability and performance of the HP, and we were pleased to find they both work straight out of the box without any bloatware getting in the way.