HP unveils Pavilion 14 Chromebook, available now for $330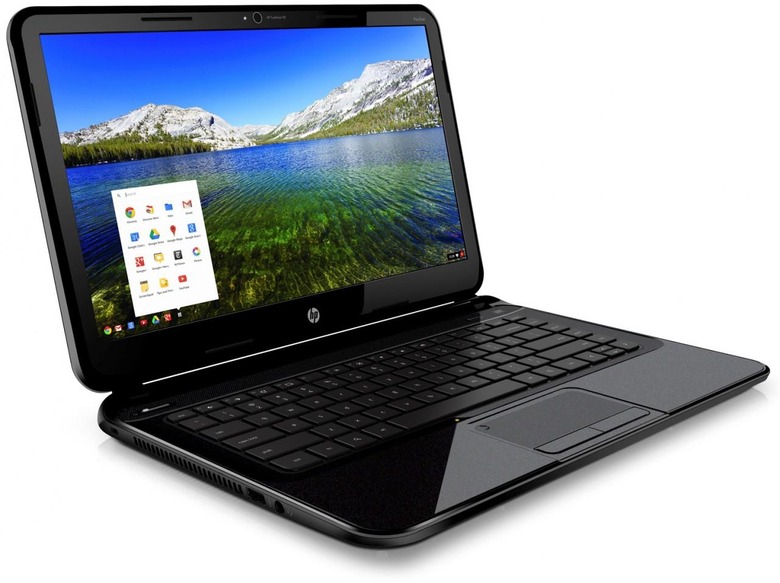 Just last week, we spotted a leak of HP's first Chromebook, and it was probably pretty embarrassing for them since they leaked it on their own website. However, it seems the new Chromebook has come earlier than the leak suggested anyway, with availability starting today instead of the rumored February 17 release date.
Granted, the Pavilion 14 is a little bit more expensive than what you'll pay for other new Chromebooks, and while it doesn't come with any hardware that's crazy impressive, the overall design of HP's Chromebook might be a big seller for some people. The 14-inch display has a 1366x768 resolution, and on the inside there's an Intel Celeron 847 processor clocked at 1.1 GHz.
Other than that, there's 2GB of RAM and 16GB of internal storage, which certainly isn't a lot by any means, but users will get 100GB of Google Drive storage for free for the first two years. As far as ports go, there's HDMI, three USB 2.0 ports, an SD card slot, and Ethernet. The laptop also weighs in at around four pounds, making it a bit chunkier than other models.
This marks HP's first go at a Google Chromebook, joining the likes of Samsung and Acer, who have more competitively-priced options at $249 and $199, respectively. If battery is a huge concern for you, HP's Pavilion 14 comes in at four hours and 15 minutes, which isn't too great for a Chromebook considering that Samsung has them beat, but either way, you can buy it now for $330.