HP unveils limited edition Envy 15 Beats notebook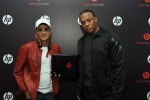 Rapper Dr. Dre has tied up with Monster to make a complete line of Beats headphones for audiophiles and DJs looking for the best sound possible. HP has announced that it has teamed up with Dre and Beats co-founder Jimmy Lovine to produce a special limited edition HP Envy 15 notebook for the music lover and aspiring DJ.
The notebook sports a quad-core Intel Core i7 processor and powerful graphics. Exactly what GPU the machine uses isn't specified. The machine has two different 15.6-inch display options including the LED HP Ultra BrightView widescreen unit. A night vision VGA webcam is also included.
The big feature of the limited edition notebook is a specially tuned audio system by Beats with premium sound optimized for playback via headphones or external speakers. The machine includes a set of Beats by Dr. Dre Studio high-definition headphones. The notebook also ships with mixing tool software including Traktor LE with Audio 2 DJ multichannel splitter. The notebook will ship on October 22 starting at $2,299.