HP TouchPad webOS 3.0 tablet official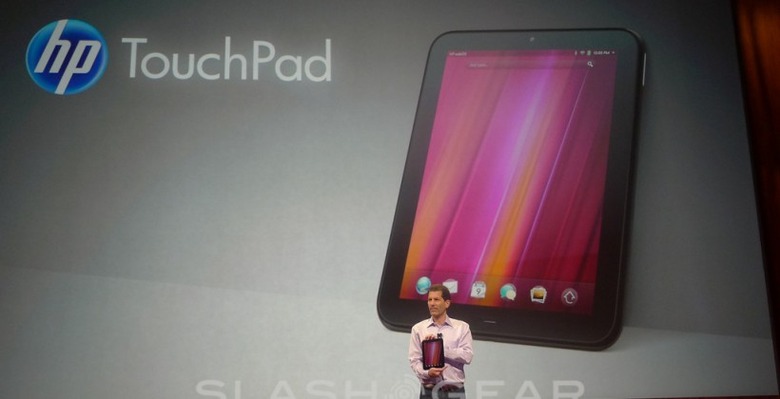 We've been calling for a webOS-based tablet for years now, and HP has finally delivered with the HP TouchPad. The first of a new HP webOS TouchPad tablet family, it has a 9.7-inch 1024 x 768 capacitive touchscreen and dual-core 1.2GHz Qualcomm Snapdragon APQ8060 processor, squeezed into a 242 x 190 x 13.7 mm chassis weighing around 740g. It will also help debut the next-generation of Touchstone wireless peripherals and webOS 3.0.
The HP TouchPad offers either 16GB or 32GB of onboard storage and Flash Player 10.1 support, but it's the updates to webOS 3.0 that HP is particularly pushing with the new slate. As well as Synergy, and phone-to-tablet communication (which flags up calls and SMS from the phone on the TouchPad, where you can answer and respond to them), the various webOS apps have also been adapted to suit the higher resolution screen.
Email now gets a multi-pane UI, showing the inbox at the same time as a message for instance, and allows for multiple selections and local content search. Contacts, too, has been updated with HP's new super-scrolling feature, while the calendar – which still uses Synergy to pull in information from Exchange, Google Calendar and other sources – now allows for multiple calendars to be shown at any one time.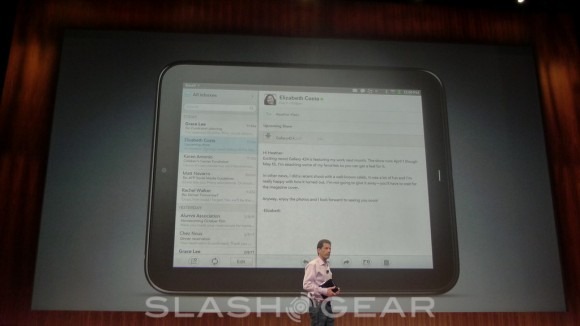 The TouchPad also supports video calling with a front-facing camera, and the new photo and video albums are now connected and offer integrated comments from online. HP has carried the Beats Audio tech over from its notebooks to the TouchPad, to improve the sound quality, and the TouchPad can also wirelessly print documents, photos and emails to the company's range of wireless and networked printers.
[vms 4254d26e9c7f2af1005c]
On-device content will be managed with the HP Movie Store, offering downloads of movies and TV shows, while Amazon has developed a Kindle for webOS app for ereading on the 9.7-inch slate. As well as books there will be magazines, such as Time, Sports Illustrated and Fortune.
A single control button pulls up webOS' "card view" of open apps, or pulls up the application launcher, and in 3.0 it's now possible to stack apps together. Notifications, too, can be handled individually or dismissed as a complete stack. Finally, there's a virtual keyboard with a dedicated number row that, HP suggests, will reduce keyboard layout switching (as you find on the iPad, for instance). It can also be resized, so if you can handle tiny keys then you can save more of the screen for content, or vice-versa.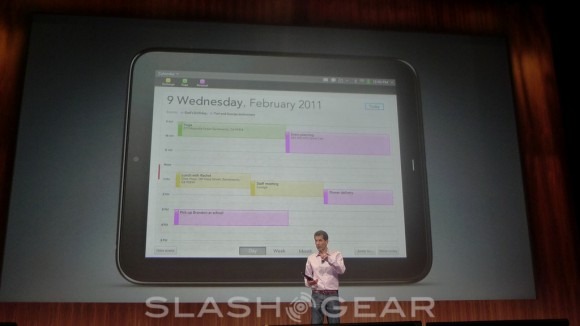 Like the HP Veer and the HP Pre3, the TouchPad supports HP's updated TouchStone technology. In addition to wireless charging – with a neat desk stand – there's touch-to-share support between the three devices. Tap them together, and information can be wirelessly transferred across. The Touchstone desk stand automatically kicks the TouchPad into "Exhibition Mode"; the tablet is context-aware, knows whether it's at the office or at home for instance, and so automatically shows information – photo slideshows, a calendar, dock-specific apps or just the time – suited to its location.
Exciting stuff, and we're very interested to see HP build on webOS' obvious multitasking strengths with a full ecosystem. The WiFi b/g/n HP TouchPad will go on sale in summer 2011, pricing tba, and be followed by 3G/4G versions later in the year.