HP TouchPad gets updated to webOS 3.0.5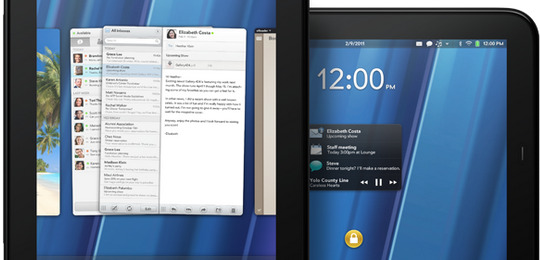 The HP TouchPad is getting a few improvements today with an update to webOS 3.0.5. It's not a major update, but it's nice to see that HP is still supporting the discontinued tablet and the webOS ecosystem, which had been teetering on the brink of extinction. Luckily for webOS fans, HP declared open-sourcing the platform last month.
The webOS 3.0.5 update will bring a few additional features and some bug fixes, including new support for HTTP live streaming, faster calendar switching, and improved stability when handling videos and MP3s. The full list is shown below:
- Faster switching between Day, Week, and Month views, and faster event display in Calendar.
- Faster scrolling when reading an email message.
- Email attachments are now saved with draft messages.
- Added sender photos and IM presence indicators in Email.
- Improved stability when watching video in the Web app.
- Improved handling of MP3s that are transferred from a computer using USB Drive mode.
- Added a dedicated view of contacts available for a video call, for quicker setup of a video call.
- New alert when video quality might be lower because of network issues.
- When typing, pressing the space bar twice inserts a period. This can be toggled on and off.
- Auto-correction can be turned off directly from the onscreen keyboard.
- Added support for HTTP Live Streaming.
Additionally, HP has rolled out an update to webOS 2.2.4 for the unlocked Pre 2 on AT&T and Verizon, and unlocked Pre 3 phones. For the Pre 2 expect improvements in Skype voice calling and messaging and overall messaging, calendar and contacts enhancements.
[via PhoneNews]