HP Spectre Folio Review: A classy leather 2-in-1 ultrabook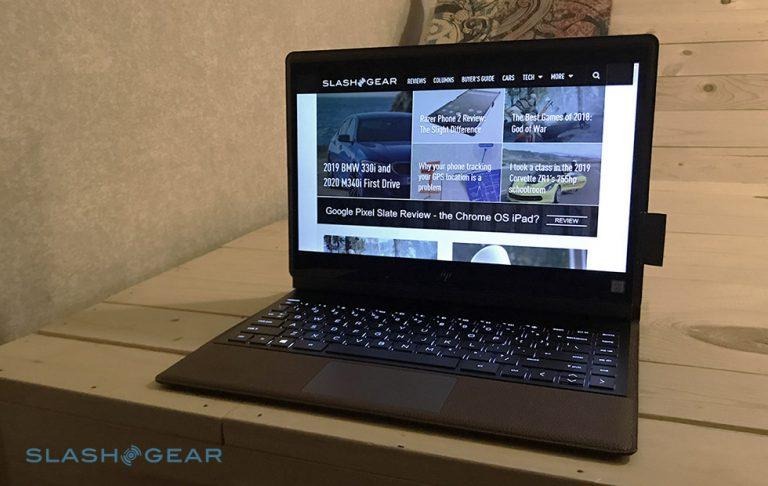 EDITORS' RATING: 8/10
If you've seen one laptop, you've seen them all, or so it seems. HP has challenged that notion with a new take on laptop design, eschewing metal and plastic lids, visible hinges, and port-lined edges for something completely different: a large, premium leather portfolio. The Spectre Folio catches the eye immediately, prompting questions like, "What the heck is that?" It's hard not to like the luxurious, classy design, but what does the 2-in-1 offer beyond a pretty shell?
The Spectre Folio is impressive from the start. HP packs its portfolio laptop in a premium box that sets expectations for the device itself, which — when fully closed — looks like any other large leather portfolio. Within the model's leather shell resides a convertible laptop that eschews typical kickstand 2-in-1 designs to offer a high quality, frustration-free experience.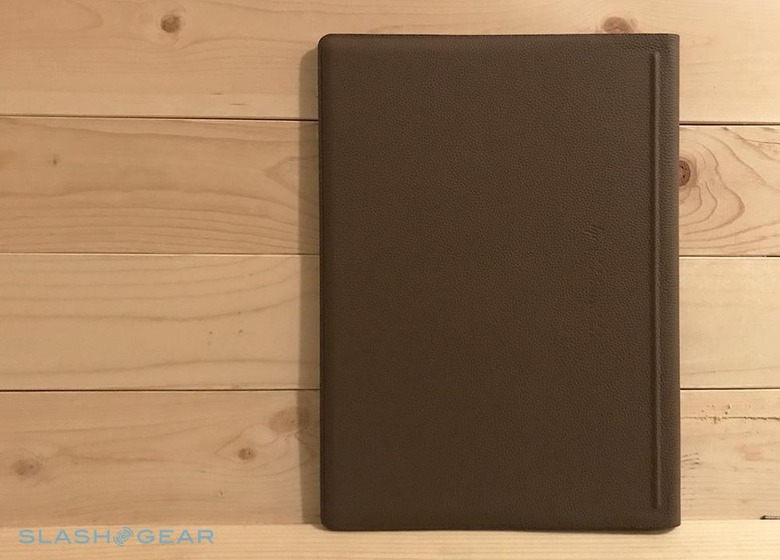 Convertible laptops — that is, models that can be used as a tablet and as a laptop — typically come in two varieties: with a removable display featuring a kickstand for support or with a 360-degree hinge that enables the display to be folded back as a "tablet."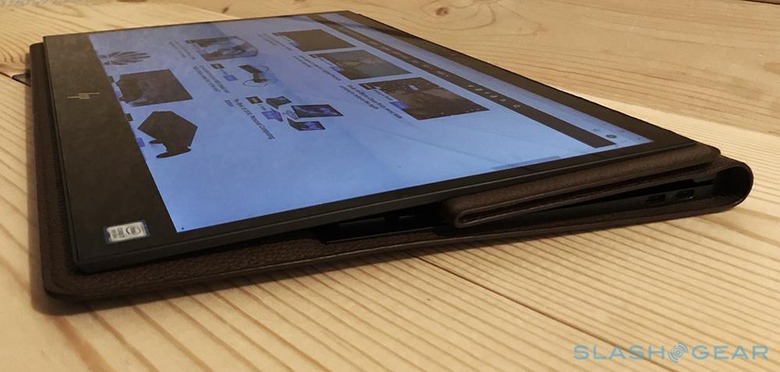 The Spectre Folio avoids both of those designs, instead offering a unique hinged display that pops forward and lies flat. When used in a laptop configuration, the Folio 13 is indistinguishable from a traditional notebook. The hinge is very stable, the display can be positioned at any angle, and the device avoids the top-heavy pitfall that plagues many convertible systems.
The Folio's most notable element is its leather shell — visually appealing, but also a point of concern for anyone who uses their laptop every day. The notebook is beautiful fresh out of the box, but how will it look after months of use?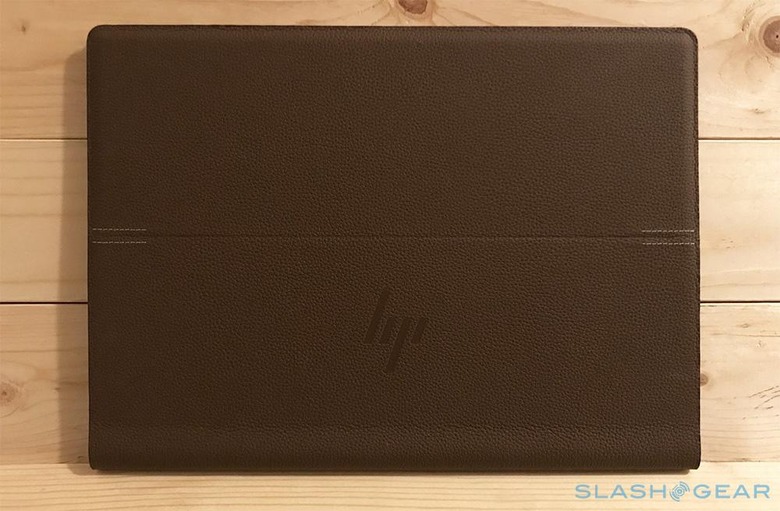 It's a fair question, one HP addressed with reassurance that it used genuine leather treated for durability; in fact, the company told me, small scratches on the leather may buff out.
The leather exterior is resistant to fingerprints, has a pleasant (if not very mild) leather scent, subtle stitching, and a couple deliberate creases where it folds when the display is transitioned. HP offers the Folio in two color options: Cognac Brown with an "Ash" keyboard and bezels (our review model) and Bordeaux Burgundy with a Luminous Gold keyboard and bezel.
The plastic of the keyboard is a stark contrast to the soft, firm leather palm rests. Magnets hold the laptop firmly shut, hiding the hardware within what looks like an ordinary office portfolio. The only external element giving away the Folio's nature is its glossy "HP" logo brand.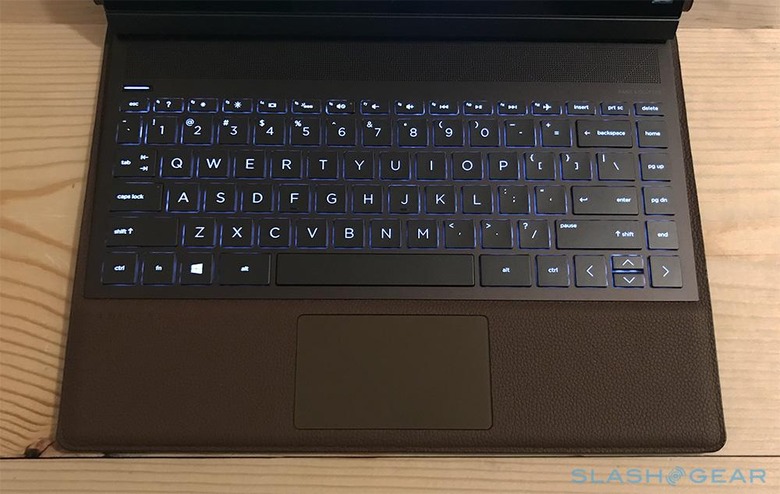 The laptop's display is transitioned into "forward" and tablet modes by grabbing one of the top corners and pressing on the back of the lid. Strong magnets keep the display firmly in place, but it doesn't take much pressure to pop the bottom free. From this point, the user can slide the bottom of the display into a small crease beneath the keyboard, putting it in forward mode, or fold it fully flat for a tablet experience.
Transitioning the laptop from one position to another is simple, fast, and almost without issue — it is possible to accidentally scrap the display across the keyboard, but muscle memory eliminates this issue after a few tries. The Folio stays in whatever position it is put, never getting in the way of actually using it.
Some users may find the port offering slim, though that's not surprising for a 2-in-1 ultrabook; the left edge features two USB-C ports, the right edge features one USB-C port, there's a 3.5mm audio jack near the hinge, and a SIM slot on the back of the display (accessible only when it is popped forward).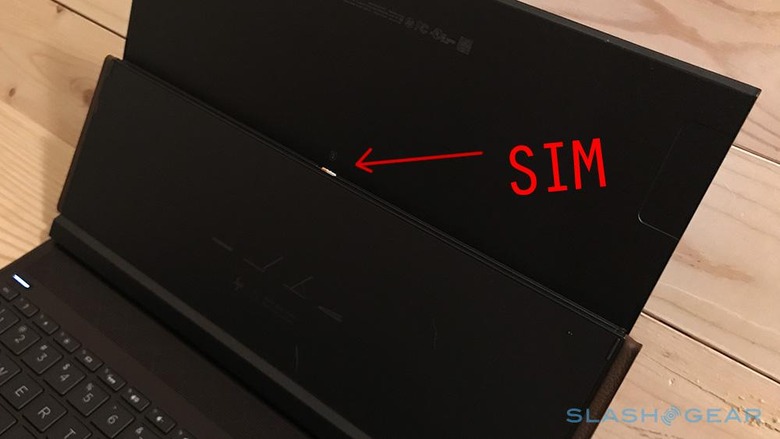 The Folio's touchscreen display is responsive to touch, offering a sharp image, great colors, and up to 400 nits of brightness. Consumers have both Full HD and 4K display options. Though the display is glossy, it can be easily viewed in rooms with bright and overhead lights, with glares rarely being an issue.
Performance
The Spectre Folio's performance is excellent...as long as you're not doing any extensive, demanding tasks, which includes things like editing a video. HP offers the Folio with Intel Core i5 and Core i7 options, but they're the low-power Y-Series CPUs. This hardware contribute to the great battery life, however it ultimately leave users wanting in terms of performance.
The presence of Turbo Boost enables the Folio to handle brief, intensive tasks, but isn't something you can rely on for extended periods of time. Our review unit features a Core i7-8500Y CPU and Intel UHD Graphics 615.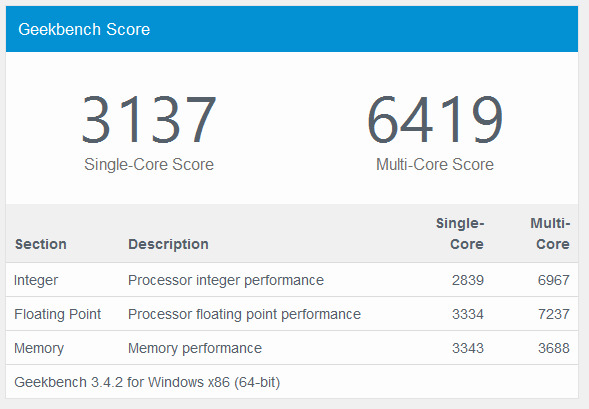 Things we like
I'm generally not a fan of 2-in-1 convertible laptops — not due to the spirit of the design, but rather the clunky implementation so many manufacturers have settled with. These devices are often top heavy, difficult to use without a desk, and many have lackluster keyboards.
The Spectre Folio is an exception across each category.
Someone unaware of the model's convertible features could open the Folio's display and never suspect it is capable of folding flat against the keyboard...and that's not a bad thing. The Folio can be used while sitting in atypical work environments, such as a chair without a desk, unlike models that feature a kickstand. Transitioning from laptop to tablet mode is smooth and can be easily performed in a second or two while standing.
Calling the Folio's design impressive is an understatement.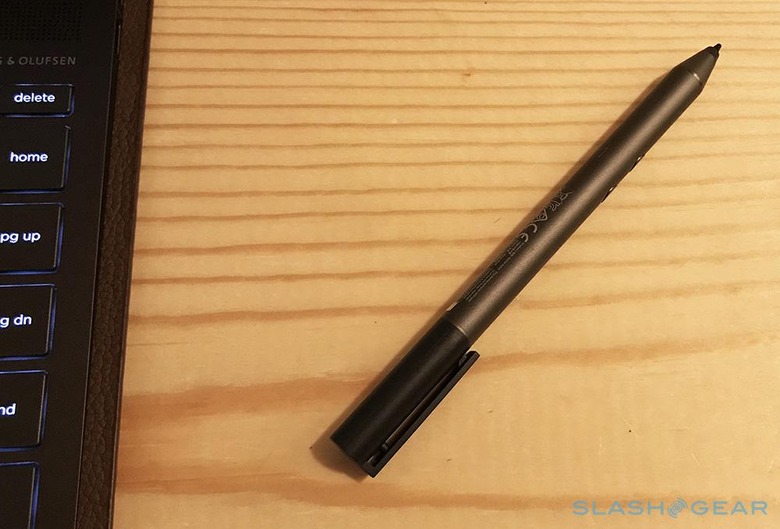 It's clear HP paid attention to small details. The leather seams, for example, are covered with a soft, smooth substance that eliminates any risk of roughness. Users can charge the device from ports on both the left and right side of the keyboard, meaning the power cable can be switched to the most convenient side when necessary. As well, the webcam is placed at the top of the display rather than beneath it, eliminating the awkward angles that come with bottom placement.
Keeping with the theme of small, welcomed details, the stylus holder fits the stylus well, keeping it in place even when the laptop is quickly turned. The holder is optional, featuring a small plastic square with an adhesive back that the user can choose to slot into a space behind the display. The adhesive keeps it fixed firmly in place, but also retains the option of removing it at some point in the future.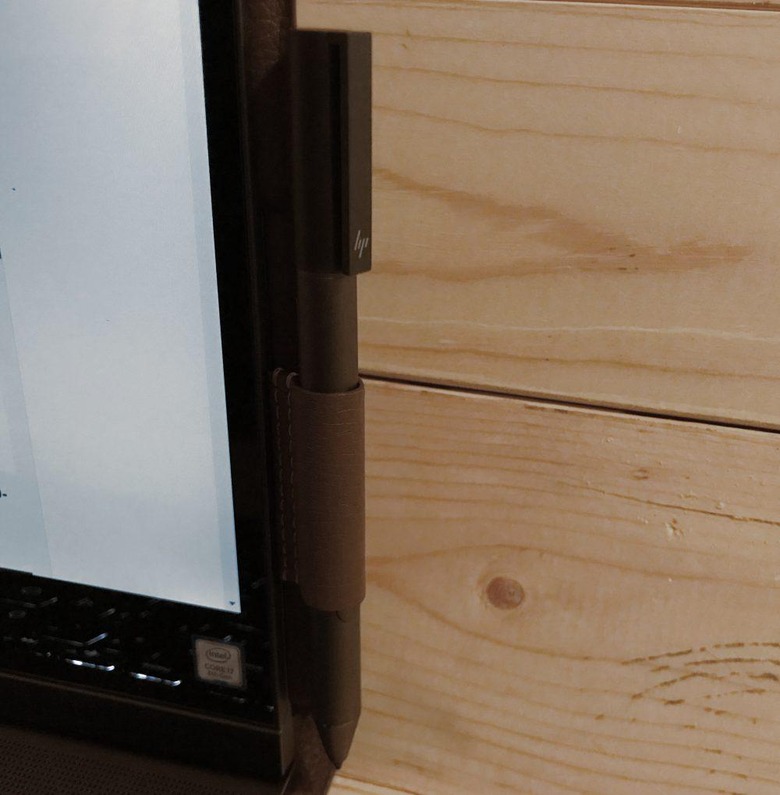 Battery life is one of the Folio's best features, offering not only up to 21 hours of run time per charge (depending on configuration and use), but also excellent battery conservation when in standby mode and rapid charging for quick top-ups. When left in standby mode for a few days, the battery experienced very little drain, and I was able to open it and immediately pick up where I left off.
The laptop's battery reliably got me through two working days without charging at all. When it is time to charge again, Fast Charge is capable of getting the battery from 0- to 50-percent in around half an hour, assuming the display is closed during that time.
Issues
There's not much to dislike about the Folio, but it's not a perfect laptop. Users should keep in mind the performance limitations when deciding whether the laptop is the best choice for their needs. Someone who spends most of their time word processing, web browser, accessing email, performing minor image editing, and streaming will find the newest Spectre model adequate.
The laptop isn't capable of sustained, demanding tasks, though, meaning someone who regularly edits videos, does extensive graphic design or image editing, and similar demanding activities should look for an ultrabook that offers more power. This isn't a problem, mind, but rather a potential issue for certain consumers.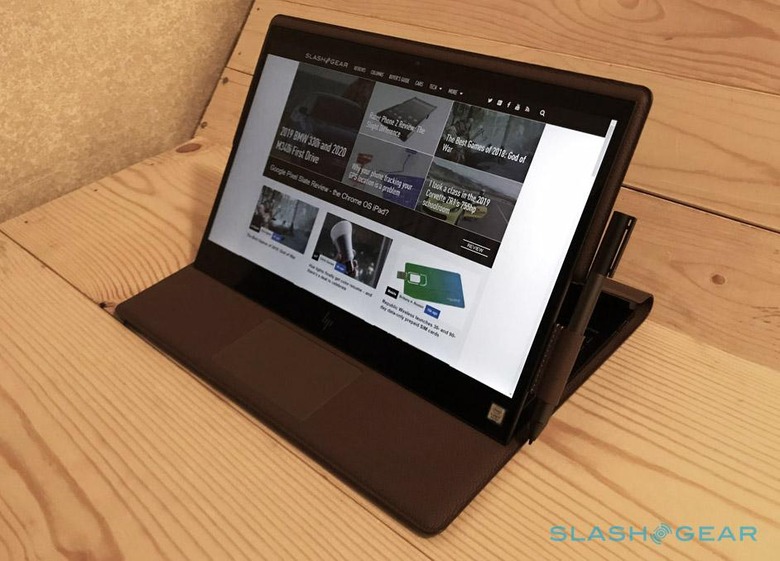 One aspect of the Folio that is likely to bother more users is the audio quality: though it can be loud, it is also tinny with very little bass note. Laptops aren't typically known for their bass-heavy speakers, but the Folio stands out as sounding especially brassy, even for a notebook.
Some other minor elements should be noted, namely the lack of a fingerprint reader and USB-A ports. As well, in case it's not clear, the Folio 13's display is not detachable, meaning that while you can get a tablet-like experience, you won't be able to pop the display free to use as an actual tablet.
Wrap-up
The HP Spectre Folio is truly a unique laptop and that uniqueness will no doubt be a very compelling factor for some consumers. The built-in portfolio case is classy and hard to ignore, but HP went beyond the surface, also focusing on a hinge design that is superior to many competing 2-in-1 notebooks.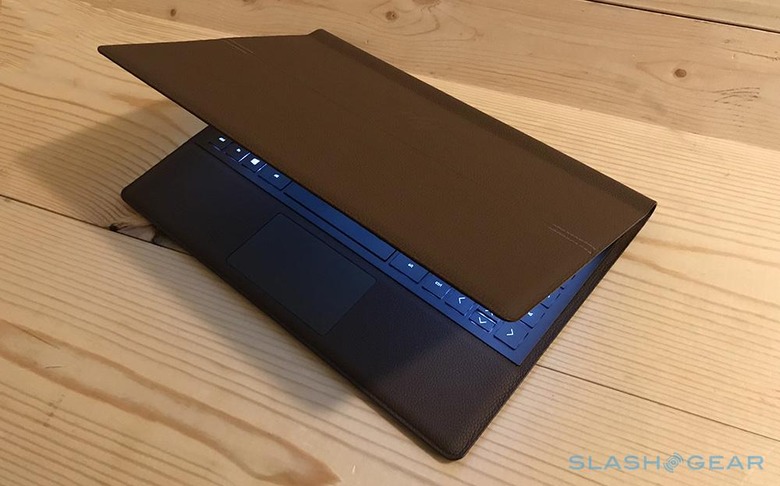 The design can only take users so far, of course, and middling performance coupled with a limited number of ports may be the sticking port for some consumers. Though the turbo boost enables the laptop to briefly step up to the plate for intensive tasks, such as editing an image, the Folio is not suitable for heavy, prolonged projects.
Customers in the market for a stylish, lightweight 2-in-1 that offers a true laptop experience will be pleased with the Spectre Folio, but the modest performance and tinny audio may be a deterrent for some consumers.