HP Spectre 13 and x360 notebooks get redesigned for 2017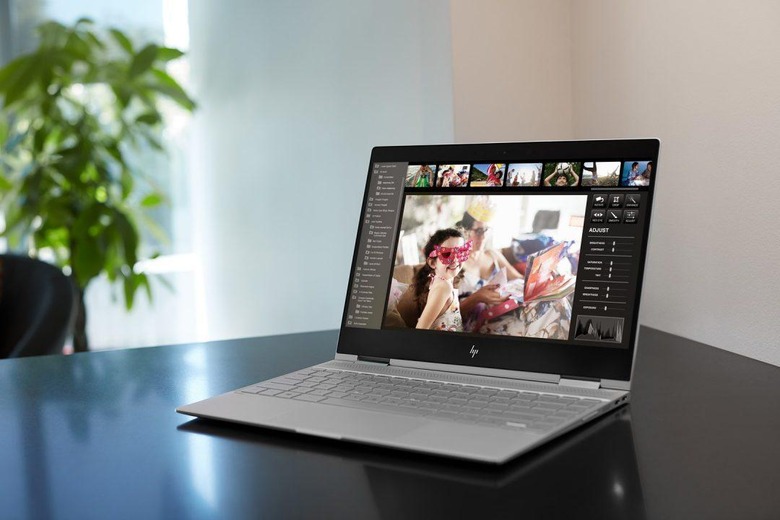 Today, HP revealed new models in its line of Spectre 13 notebooks. With an eye to design, these new notebooks – the standard Spectre 13 and the Spectre x360 13 – are launching later this month and will become the regular 13-inch offerings in HP's premium lineup. In developing both, HP said that it took listened closely to customer feedback about its premium models, so hopefully any criticisms you may have had about last year's Spectres have been addressed in these new releases.
For those who need to be brought up to speed, the Spectre 13 is a standard clamshell notebook, while devices in the x360 line are convertibles, capable of transitioning into a variety of different usage modes. Both should be suitable as a daily driver or as a media machine, so let's dive into what's changed with these new models.
HP Spectre 13
What's immediately noticeable about the Spectre 13 – at least compared to last year's model – is the focus on trimming down bezels and giving the laptop a sleeker look in general. You'll find that the Spectre 13 features a keyboard that mostly stretches from edge-to-edge, and even though HP managed to work a touch panel into this model, it says that it's still the same thickness as last year's release. That makes the Spectre 13 the "world's thinnest laptop," according to HP.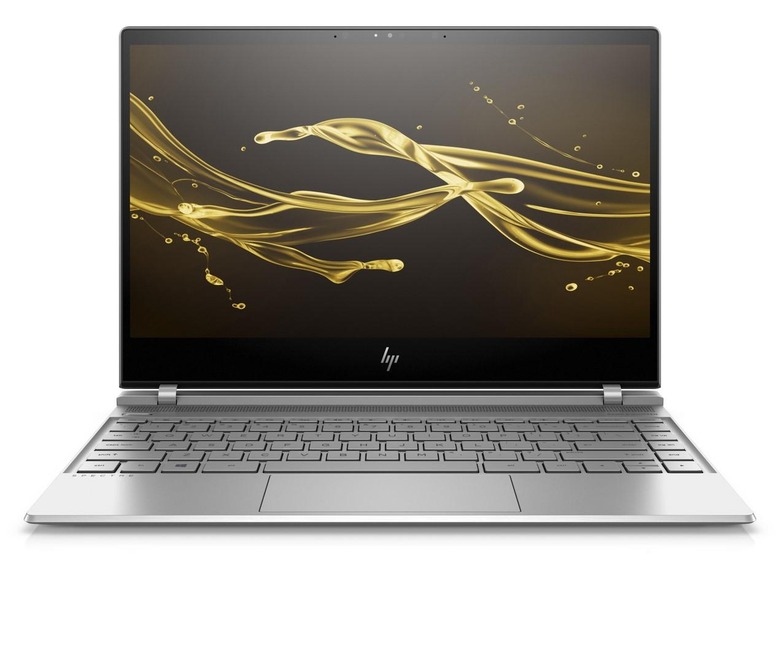 From a hardware standpoint, the Spectre 13 doesn't seem to be much a slouch. Depending on your configuration, you'll have either an 8th-generation Intel Core i5 or Core i7 at your disposal working alongside up to 16GB of RAM. Storage options start at a 256GB SSD and go all the way up to a 1TB SSD, while the HP Fast Charge-equipped battery has a quoted life of up to 11 hours and 30 minutes (though that'll vary depending on what you're doing).
The 13.3-inch IPS micro-edge display will likely be one of the stars of the show, as it'll be available in 1080p and 4K varieties. HP is also particularly proud of the TrueVision FHD IR Camera, which it says offers an 88-degree field of view and is capable of supporting login with Windows Hello. The Bang and Olufsen dual speaks have been moved from the sides of the keyboard to above it, giving room for HP to stretch the backlit keyboard from edge-to-edge. All in all, this hardware should make for a fairly snappy machine, though with Intel UHD graphics 620, it's probably more suited for media playback than it is something like intensive gaming.
HP Spectre x360 13
If you find yourself bored with the traditional clamshell design, something like the Spectre x360 13 might be more your speed. While the Spectre 13 x360 shares many features with its standard cousin, HP is more focused on creativity and security with this release. For instance, the 360-degree hinge should make this a good choice for those who use Windows Inking frequently, and HP has even decided to include a digital pen in the box for that very reason.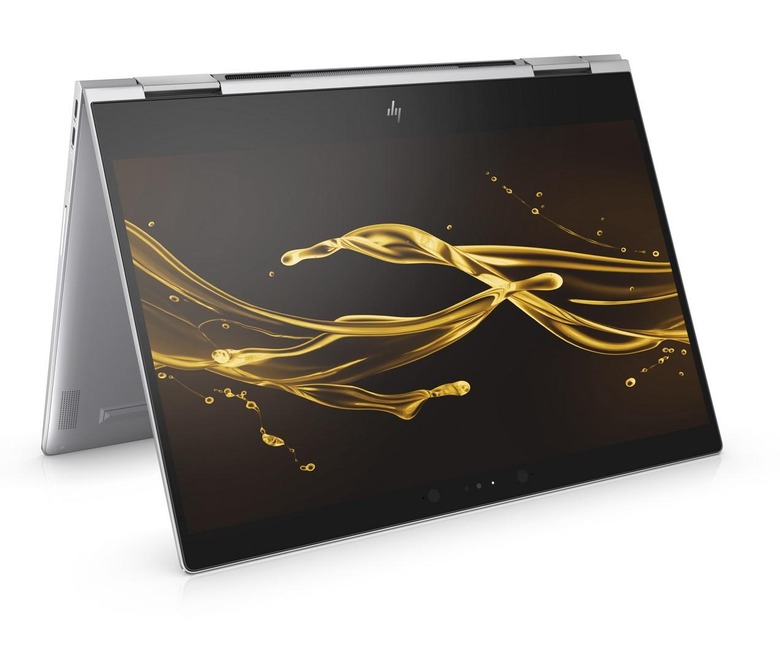 Like the Spectre 13, the x360 also supports Windows Hello through the same wide-angle front-facing camera, but with this model, you'll also have a fingerprint scanner for extra security. HP Sure View is also present in this release, allowing you to "eliminate visual hacking with one quick keystroke," though that functionality is only present in FHD models.
HP has opted for similar hardware in the x360 as well, with the 8th-gen Intel Core i7-8550U CPU making a return. SSD storage starts at 512GB this time around, while memory begins at 16GB. We're also seeing an upgrade to Bang and Olufsen quad speakers, and while it sounds like the 13.3-inch display will be available in both 1080p and 4K variants, HP is really pushing 4K as the optimal choice for the x360. With that in mind, it probably shouldn't be much of a surprise to see quoted battery life take a bit of a dip, with HP quoting up to 10 hours of mixed usage (though, again, your mileage will vary).
Pricing and availability
In the end, these notebooks sound like good choices for someone who needs a lightweight and portable laptop that packs a respectable amount of power under the hood. Both of these laptops will be available on October 29, and both are launching in two color schemes. For the Spectre 13, we'll have ceramic white with pale gold accents and dark ash silver with copper accents, while the x360 will be offered in natural silver and dark ash silver with copper accents. Both are available for pre-order from Best Buy today, with the Spectre x360 13 starting at $1,149.99 and the Spectre 13 starting at $1,299.99.