HP Slatebook X2 Tablet With Tegra 4 Hands-On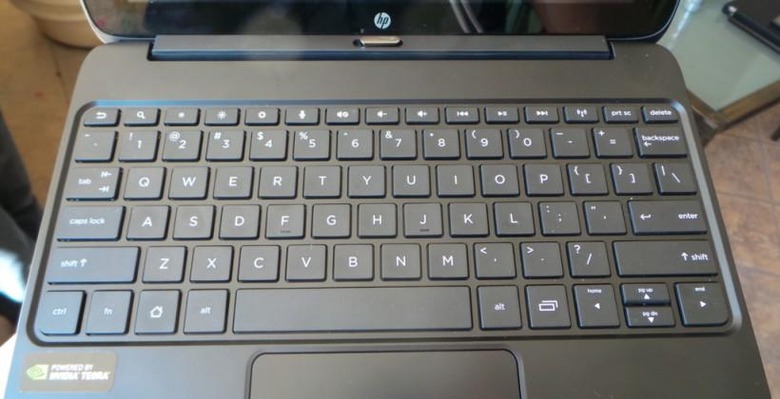 Last week the folks from HP announced their latest Android tablet, one of the first devices to be powered by NVIDIA's Tegra 4 quad-core, and today we were able to get our hands all over it. It's the new HP Slatebook x2 Transformer-like tablet running on Android 4.2 Jelly Bean and coming to market in August. Below you'll see plenty of hands-on pictures, and even a comparison to the Nexus 10.
Like many recent Android tablets, this doubles as a netbook as HP has a dedicated keyboard dock to transform this into a full laptop-like experience. Add in the NVIDIA Tegra 4 power, and you've got quite the device on your lap. All the details on the Slatebook can be found from our announcement post, and you'll want to check out the images if you're interested.
With a 10.1-inch HD display, Android 4.2 Jelly Bean, and the quad-core Tegra 4 processor under the hood the device should be pretty darn fast, stable, and powerful. Add in 2GB of RAM, 16GB of storage and the keyboard dock and you'll have most the essentials for an Android slate. You'll also get a micro-SD slot, hdmi-out, and much more.
Today at CTIA NVIDIA was nice enough to give us a quick glance at the new portable they'll be powering, and even tossed up a demo showing just how fast it is. Compared to the impressive Google and Samsung Nexus 10, the HP Slatebook blew past some browser benchmarks with NVIDIA's Tegra 4. This is just one test, but it nearly doubles the performance. Take a peek below.
In addition to having a 1920 x 1200 full HD display, the dedicated keyboard dock gives you additional juice with a separate battery for longer usage. As well as another SD slot, this time full SD, for even more storage options. While we only had a limited amount of time with the new slate, it gave us a pretty good first impression. We didn't like the flat power and volume buttons in the press photos, but found them easy to locate and use in real life. This kept the slate sleek and we liked the design language.
So far our only complaint would be a little dip and recessed area on bottom that fits into the keyboard dock, which wasn't extremely comfortable for regular tablet usage. However, that same area also houses front facing speakers, something we wish all tablets had on board. We'll need more time with the slate but we came away with two thoughts. One being that HP is looking to dive head first into the Android tablet game. And second being the Tegra 4 is one impressive quad-core chip. Stay tuned for more from CTIA 2013.