HP Slatebook x2 appears online, still slated for August launch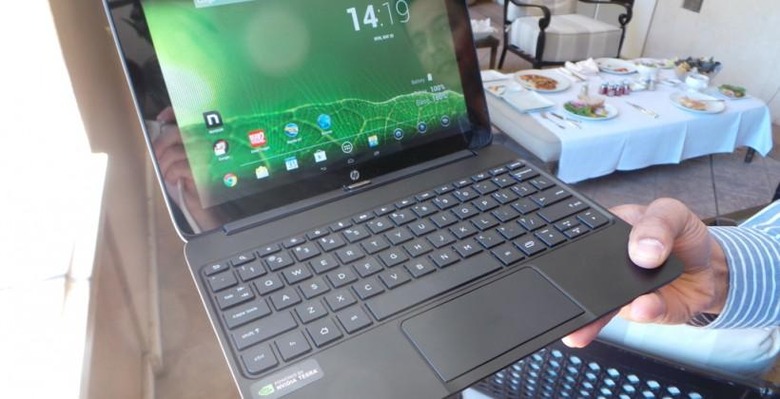 We got our hands on the HP Slatebook x2 back in May, a Tegra 4-powered Android slate with a dedicated keyboard, giving it netbook-like functionality. Word had it the device would be available in August of this year, and while that date hasn't changed, the Slatebook x2 has now appeared on HP's website alongside a price tag of $479.99 USD.
HP has the device listed as a tablet and a notebook, and has a contact form available allowing the interested to sign up for availability notifications. As we detailed back when the device was announced, the Slatebook x2 has a 10.1-inch IPS touchscreen display with a resolution of 1920 x 1200 and 400 nit brightness. This works out to a PPI of 224.17, which is certainly decent.
As mentioned, the device runs on a quad-core Tegra 4 processor alongside 2GB of RAM, with storage being set at 16GB. That number can be further expanded by 32GB with an SD card via the expansion slot. Because the device is a slate with a keyboard dock, there are two batteries – one in the tablet portion and one in the keyboard portion, giving it a long battery life when the two are combined.
Speaking of the docking aspect, the keyboard attaches to the tablet with a magnetic hinge, so removing and combining the two is simple. There are both front-facing and rear webcams, with the front camera being positioned where you'd expect to find the camera when using a notebook. Sound comes from DTS Sound+, but unfortunately the speakers are on the back, decreasing the sound experience.
And then there's the software, with the Slatebook x2 running Android 4.2.2 Jelly Bean that is near vanilla. You can check out the device in action in our comparison video above, then head on in to our hands-on to see a full gallery of the device.
SOURCE: Android Community