HP Slate 500 Hands-On [Video]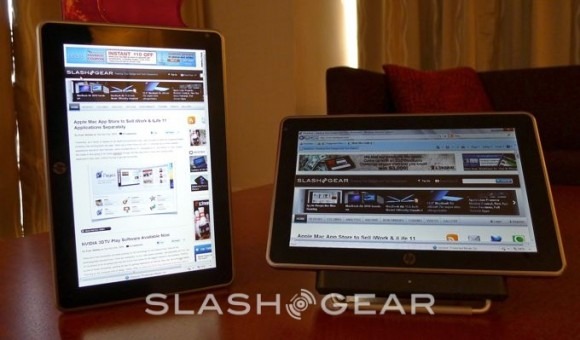 We have to say, with manufacturers dropping their Windows 7 slate projects left, right and center, we didn't really expect to see the HP Slate 500 ever make a retail debut.  Imagine our surprise, then, when HP invited us over to see the production model, set to launch for $799 – paired with an HDMI docking station – and running Microsoft's OS on a multi-mode finger and pen touchscreen.  HP are trying hard to avoid any iPad comparisons with the Slate 500; check out our first impressions after the cut.
It's a surprisingly small device, thanks to the 8.9-inch display and reasonably thin bezel – there's just enough width there to allow you to hold the tablet with one hand without accidentally touching the screen – though it's the same weight as the thinner iPad.  Still, it feels solidly made; the back panel, covered in angular triangles, is likely to polarize opinion, though it does at least make the Slate 500 reasonably easy to grip.
The 1.86GHz Atom processor is faster than you'd find on most netbooks, and the Slate 500 keeps moving at a decent pace; that's helped by HP's choice of an SSD rather than a traditional hard-drive.  There's also a Broadcom graphics accelerator chip, which as we've seen from other applications will allow for high-definition video playback.
As we said, HP isn't positioning the Slate 500 as an iPad rival; in fact, they're not looking to the consumer market at all.  Instead, it's resolutely an enterprise, business-centric machine, with the company playing up its ability to run software familiar from the corporate desktop.  Whether there's a sufficient market for the HP Slate 500 to make a significant dent – and make HP some money – remains to be seen; Windows-based tablets have always had a place in vertical industries, after all, it's just been a small one.  More information in our video hands-on!
[vms 45135b874349cfbed4fb]
iPad vs. Slate 500
[vms 81880c4f2c82958de8cf]