HP says it will restore 3rd party ink cartridge functionality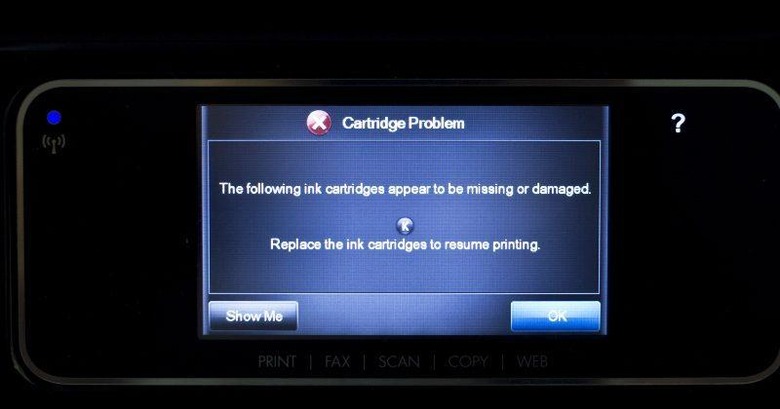 Few things in the world of technology anger people more than ink cartridges for printers. We have all been trying to print a document only to have the printer stop and force you to replace the cartridge to keep printing. Often that happens well before any print issues like streaks or faded color happens. HP really got itself into the muck with a firmware that bricked some third party ink cartridges recently and is now asking forgiveness of its customers.
The shame on HP and its plan to force people to buy only its ink cartridges or those with its security chips came after the Electronic Frontier Foundation called HP out on its firmware than snuck in the ink cartridge bricking. 24 hours later HP reversed its course. HP's COO Jon Flaxman wrote in a blog post, "We updated a cartridge authentication procedure in select models of HP office inkjet printers to ensure the best consumer experience and protect them from counterfeit and third-party ink cartridges that do not contain an original HP security chip and that infringe on our IP."
Flaxman continued, "When ink cartridges are cloned or counterfeited, the customer is exposed to quality and potential security risks, compromising the printing experience."
Flaxman also noted that the firmware only blocked third-party cartridges that had cloned HP security chips inside them. Any third-party ink cartridge that had a reprogrammed, genuine HP chip inside continued working after the new firmware update. HP notes that it will release a new optional firmware update for OfficeJet printers that will remove the ink cartridge bricking feature in the coming weeks. It's worth noting that these ink cartridges with cloned chips will likely be bricked again because HP only reversed its decision this time because it didn't tell customers what it was doing before issuing the firmware. The cartridges out there using reprogrammed HP chips will reportedly always function.
SOURCE: Hot Hardware