HP printer firmware snuck in failure date for 3rd-party cartridges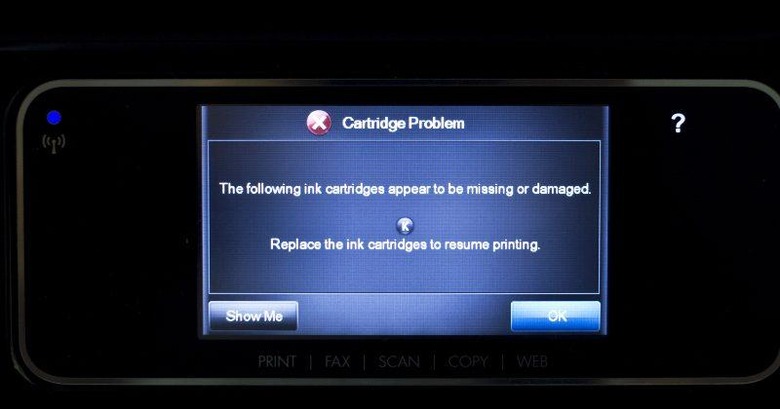 Expiring messages on instant messaging services is one thing. But an undisclosed "expiring" dates on printers using unofficial ink cartridges? Not that usual. And yet, that is practically what HP is admitting to after it has been accused of sneaking in a pre-programmed failure date for printers that were using non-blessed, third party ink cartridges. And that happened only after thousands have already reported that their printers suddenly started showing cartridge error messages, all on the same date: September 13.
It wasn't Friday the 13th, but it was precisely that for people who depended on their printers working daily. Thousands of such users have reported that they suddenly got a message on their printers that the ink cartridge appeared to be missing or damaged, advising them to replace them to be able to resume printing. That they happened all on the same day prompted Dutch online printer ink retailer 123inkt to conduct its own investigation.
It was eventually traced down to a firmware "feature" that practically shut down printers that were running on 3rd party cartridges sold by the likes of 123inkt. But the more startling revelation that the "expiration date" might have actually been pre-programmed into a firmware update dating way back in March this year, considering there hasn't been any firmware update since then.
HP confirmed to Dutch media that it does, in fact, push software updates that would make HP printers reject non-HP cartridges, to "protect innovation and intellectual property". What it didn't really confirm or explain is why it had a pre-programmed date for printers to suddenly stop working, months after the software was already installed.
On the one hand, HP does give lots of warnings about using third party cartridges, so it's not like users are totally ignorant of the risks. And HP even says that refilled official HP cartridges will continue to work, as long as they have the original security chip. On the other hand, it does raise the question of whether such a clandestine, expiration date is proper, not to mention legal in some countries.