HP reveals Pro x2 detachable notebook, Elite accessories lineup at MWC 2017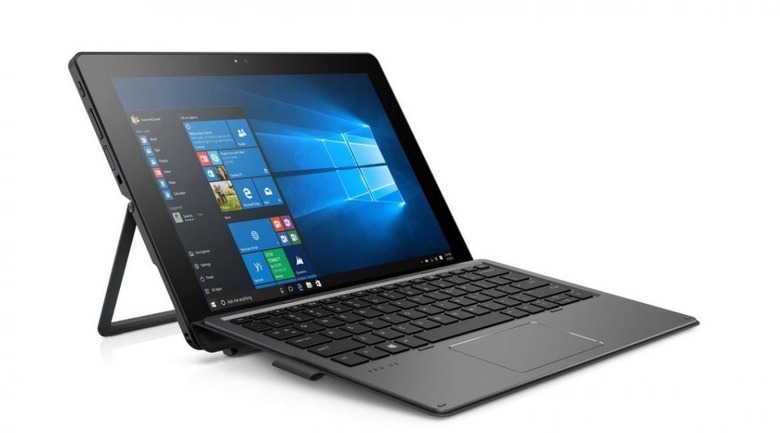 HP's big MWC reveal centers around a single device, but it's betting that the new Pro x2 612 G2 detachable 2-in-1 can make a splash in the enterprise space. HP has designed the Pro x2 to cover a number of different applications for professionals, whether that's using it as presentation tool or as a slate for taking notes. The Pro x2's detachable Collaboration Keyboard – a new version of the HP keyboard we've seen before – is a key component of some of these configurations.
To get a little more specific, HP names four usage modes for the Pro x2: presentation mode, inking mode, tablet mode, and notebook mode. Notebook mode, obviously, is where the Collaboration Keyboard is meant to shine, with its dedicated keys for voice and video calls.
Inking mode allows users to take notes or sketch images using HP's Active Wacom Pen, while HP's vision for tablet mode revolves around data collection in a number of different professional environments (though retail immediately jumps to mind). Finally, presentation mode utilizes the Pro x2's 165-degree kickstand, allowing you to present notes or data to others easily.
The Pro x2 has some degree of ruggedness to it, with HP saying that its MIL-STD 810G certification for drops, dust, temperature, and functional shock should allow the device to meet a 3-to-5 year lifecycle. It was also developed with IT security standards in mind, offering such features as a removable SSD, a fingerprint scanner, and optional support for NFC.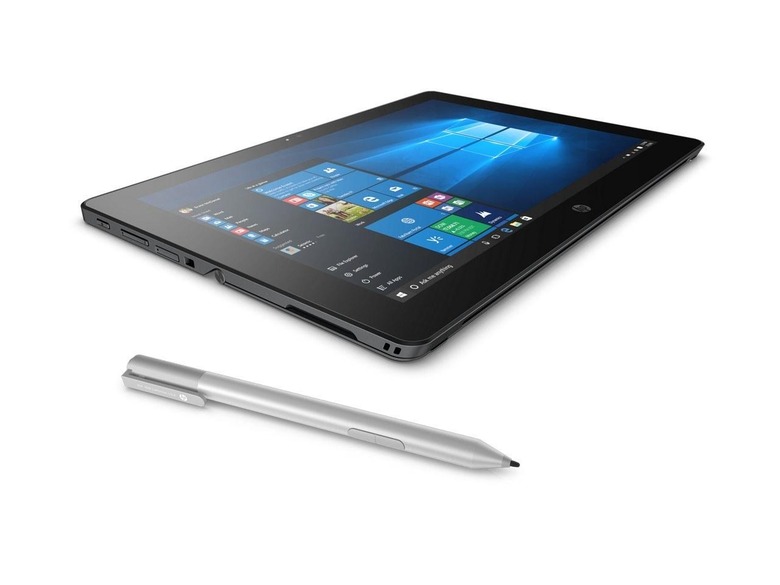 There are a number of different configurations for the Pro x2, and it seems that a lot of the hardware inside is customizable depending on your needs. Though all models ship with 8GB of RAM, CPU options include the Intel Pentium 4410Y and M3-7Y30, all the way up to two different Core i5 models and the Core i7-7Y75. Just the same, internal storage can range from as little as 128GB to as much as 512GB. As far as ports go, you'll have one USB Type-C port for charging and data transfer, 1 USB 3.0, 1 microSD slot, 1 smart card reader, 1 SIM slot, and a microphone/headphone combo jack.
The battery may end up being the star of the show, with HP quoting 11 hours of life from a full charge. As is always the case, your mileage will definitely vary (and likely won't top out at a full 11 hours), but if you run out of juice, HP says that you can get back up to 50% in around 30 minutes with the battery's fast-charging capabilities. Obviously, the final cost of the Pro x2 is going to vary greatly depending on the internal hardware you choose, but the notebook starts at $979 as is available from HP's website today.
Along with the announcement of the Pro x2 612 G2 comes a new line of accessories meant to play nice with both the Pro series and Elite series of devices. First up is a pair of cases for the Pro x2 – the Rugged Case and the Retail Case 12. The names sort of give away the functionality of each, with the rugged case meant to be used in extreme work environments and the retail case being the better option for those who will be on a sales floor. Both cases are available today, with the rugged case going for $49 and the retail case demanding $249.
Next we come to the Elite USB-C dock, which allows you to turn your device into a desktop by connecting it to multiple displays, and the USB-C travel hub, which offers access to additional peripheral ports. The travel hub is available now directly from HP for $49, while the USB-C dock won't be arriving until sometime in March. When it does, you'll be asked to plop down $149 for it.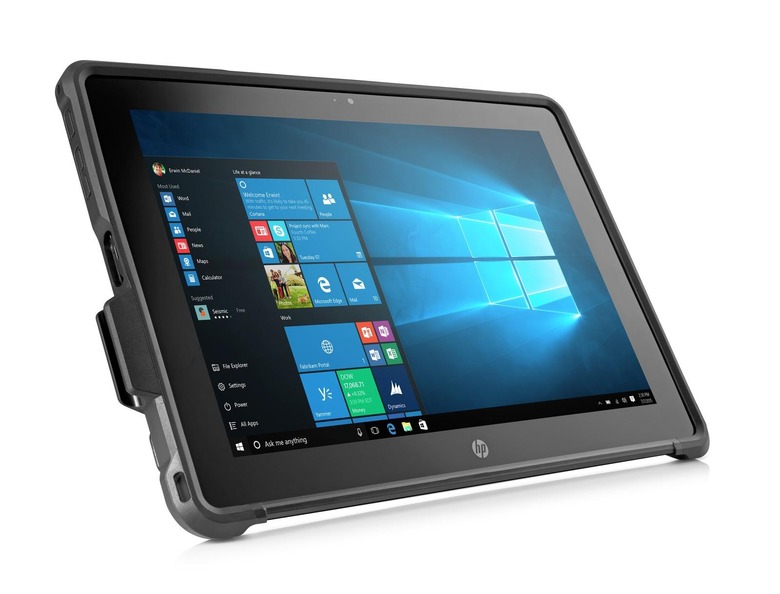 Finally, HP is releasing two new accessories for the Elite x3 – a Mobile Scanning Solution and a more fleshed out Mobile Retail Solution. These are, of course, aimed primarily at enterprise customers, and the additional functionality they offer comes with a somewhat hefty price tag. Both are available now, with the basic Mobile Scanning Solution sporting a price tag of $329 and the more feature-rich Mobile Retail Solution (which includes a mobile scanner of its own) clocking in at $999.
So, while HP may have had a lot of devices aimed at mainstream consumers and gamers at CES 2017, the theme for MWC 2017 seems to be all about business. HP definitely seems to be making a play for those who are interested in something like the Surface Book with the Pro x2. Stay tuned for more from Barcelona, and check out our MWC 2017 hub for all of our coverage from the show!