HP's Envy 34 curved all-in-one slims down for CES 2017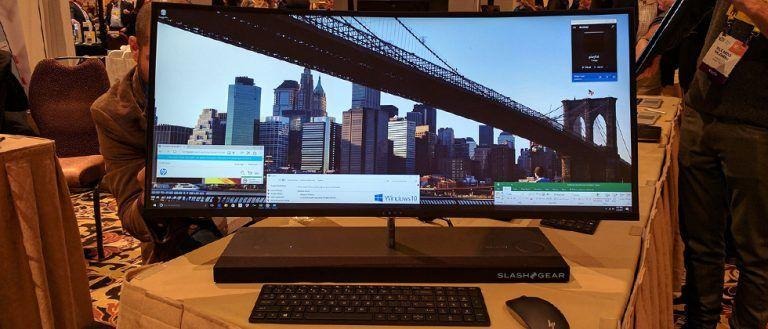 HP's Envy curved all-in-one PC is about to get a significant makeover. Announced today at CES 2017, HP is launching something of a refresh of its 34-inch curved AIO later this month. This new PC will be joining existing 27-inch models, and prospective buyers can expect a number of improvements over 2015's 34-inch machine, especially when it comes to aesthetics.
Gone are the attached side speakers that made for a rather large bezel. Those have been moved to the box unit that now sits beneath the monitor and forms its base. That's where all of the hardware has moved too, making HP's new Envy much slimmer than its predecessor. The unit's four forward facing speakings and two passive radiators comprise the Envy's new sound bar, but if you liked the sound 2015's Envy was capable of, you'll be pleased to know that these speakers are made by Bang & Olufsen as well.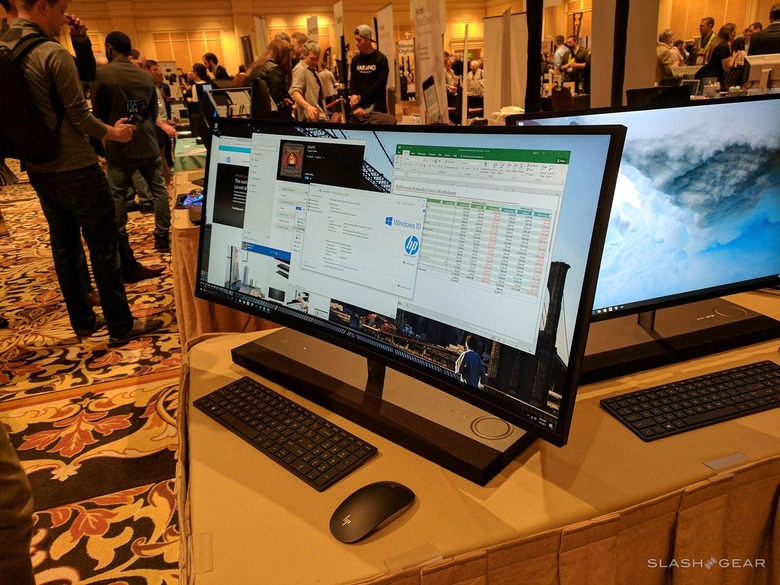 Within the base of the Envy, that sound bar will joined by your choice of an Intel Core i7-7700 or a Core i5-7400T. You'll be able to use the integrated graphics on those CPUs or opt for a discreet graphics card instead – either the NVIDIA GTX 950M or the AMD RX 460. Each of those GPUs come with 4GB of GDDR5 video RAM, and you'll be able to get either 8GB or 16GB of DDR4 RAM for the PC itself.
Obviously, the star of the show is the 34-inch IPS display, which can boast a 21:9 aspect ratio at 3440 x 1440. HP designed this PC will smaller bezels than previous models based specifically on customer feedback, and as the cherry on top, it comes Technicolor Color Certified, so the colors you see on-screen should better reflect their real-world counterparts. You can even make use of the display's blue light filter if your work stretches into the evening to ensure that time spent in front of the screen doesn't keep you up at night.
One interesting thing to note about the PC is that Qi Wireless Charging functionality has been built into its base. It's a small feature when held up against the Envy's hardware specifications or display, but I have a feeling that it'll prove important nonetheless. It's not necessarily a feature you'd think to include in an all-in-one, but it makes a lot of sense, and I think it could be a difference maker for some consumers when deciding between the Envy and other AIO models.
So, the Envy's curved monitor and solid internals seem to make this a relatively powerful package, but obviously that kind of spec list is going to cost some cash. The Core i5 model, which comes with 8GB of Ram and 1TB HDD, will be available from HP's website starting on January 11 for $1749. It's not until next month that we'll see the Core i7 model hit shelves. On February 26, this more powerful model will arrive at US retailers with 16GB of RAM and a combo 256GB SSD and 1TB HDD for $1999.