HP reveals potent VR workstation and Mixed Reality headset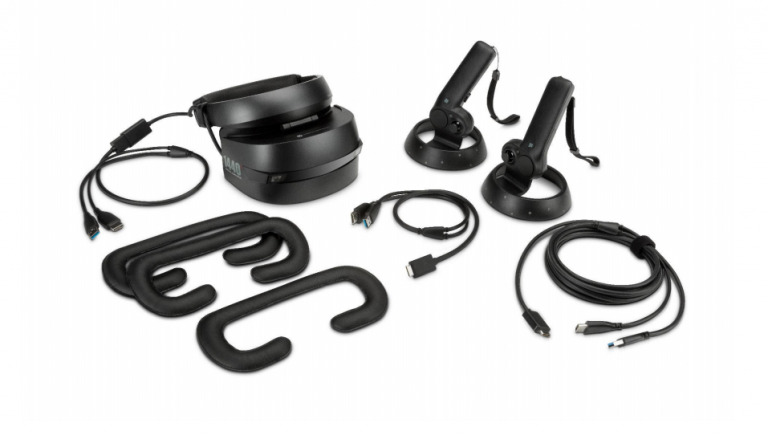 HP kicked off the work week by making a bunch of new announcements, indicating that it's about to hit the world of VR hard. Today the company unveiled its new HP Windows Mixed Reality Headset – Professional Edition. Though it could do with a somewhat shorter name, those who are looking for a high-end VR headset might want to give this one a look.
One of the key features of HP's Professional Edition headset is the resolution it boasts. At 1440 x 1440 resolution per eye, the headset outclasses even the Oculus Rift and the HTC VIVE. Like those two headsets, the Professional Edition boasts a 90Hz refresh rate, but only if you're using it with a Windows Mixed Reality Ultra PC (you'll be capped at 60Hz otherwise).
In fact, this headset requires a Mixed Reality Ultra PC for most of its features to shine. For instance, when paired with one of those beefy PCs, you'll have a 100-degree field-of-view, though HP doesn't say what the FOV will be when the headset is connected to a standard Mixed Reality PC. The headset also offers six degrees of freedom, integrated motion tracking, and the standard pair of Bluetooth controllers that ship with most Windows Mixed Reality Headsets.
If you're going to pick this up, you'll need a beefy rig if you want to put all of its features to use. HP's "recommended minimum" specifications call for DX12-capable graphics, like a NIVIDA GTX 1060 or AMD Radeon Pro WX 7100. In terms of CPU, you'll need an Intel Core i7 or Xeon E3-1240 v5 or better, along with 16GB of RAM. HP also recommends that you've applied the Windows 10 Pro Fall Creators Update before you get going with the headset.
If you find yourself without a PC capable of handling HP's Professional Edition headset, HP has you covered there as well. Today the company introduced its new Z4 workstation, which offers a number of configurations for those who need a lot of power for intensive projects. Options include an almost ridiculous range of Intel Xeon, Core i9, and Core i7 processors, along with up to 256GB of RAM and graphics ranging from NVIDIA Quadro P400 and AMD FirePro W2100 all the way up to the Quadro P6000 and Radeon Pro WX 9100.
We're guessing the fact that both of these announcements are being made on the same day is more than mere coincidence. The HP Z4 workstation is available now from HP's website with prices starting at $1,499, while the Windows Mixed Reality Headset – Professional Edition will launch sometime in March at a $449 price point.