HP Q2 2012 Shows $1.6b Earnings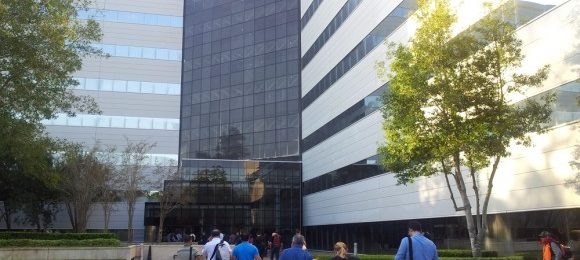 This week HP is showing off their second financial quarter earnings wares with $1.6 billion in GAAP earnings no less than a 27k employee cut restructuring plan. This call includes HP's announcement of a new revenue of $30.7 billion, this a decline of 3 percent year-over-year. HP's earnings of $1.6 billion this quarter compared to last quarter is a massive 31 percent decline – not the news you want to hear if you're an investor, to be sure.
Above: HP's Houston, Texas Campus photographed at their 2011 Making of Elite tour
HP's Personal Systems Group, aka the group HP was considering spinning off last year but changed their minds on before the spin could begin, was an object of some interest today. Even though revenue was flat for HP's PSG with a 5.5% operating margin, Commercial revenue increased 3%. While Consumer revenue declined 4%, Desktop units went up 5% and Notebooks went down 6%.
Also included in the call was HP's printers in their Imaging and Printing Group with a loss of business of 15 percent with a 4 percent loss loss in commercial revenue. Overall HP's printer business slid 10 percent downward when compared to the same quarter last year. Meg Whitman attempted to pad the situation with a note that there was a "lot of excitement" surrounding the new HP multifunction color printers when they were revealed recently – we shall see how that all pans out.