HP ProBook 4320s, 4420s, 4520s & 4720s hands-on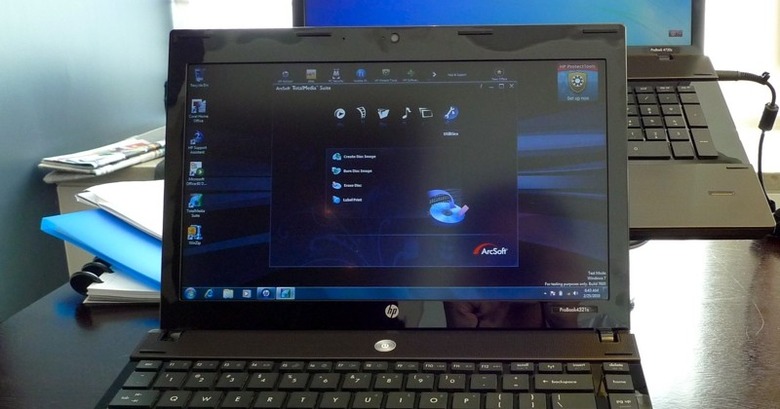 HP's four new ProBook models may not be as eye-catching as the company's EliteBook 2740p tablet, but the notebooks do span a 13.3-inch to 17.3-inch display range and offer the latest Intel Core i3, i5 and i7 processors.  Meanwhile pricing kicks off at $719; check out the full details and some hands-on first impressions after the cut.
The smallest model is the HP ProBook 4320s, with a 13.3-inch 1,366 x 768 display, Core i3/i5/i7 processor and up to 8GB of DDR3 memory.  Storage is up to a 500GB 7,200rpm HDD, and there's a standard optical drive (either DVD or Blu-ray) together with an ExpressCard/34 slot.  Graphics range from integrated Intel HD through to ATI Mobility Radeon HD 4350 512MB, while connectivity choices include optional EVDO/HSPA (with GPS), WiFi (b/g through to a/b/g/n) and Bluetooth 2.1.  There are also three USB 2.0 ports, an eSATA/USB combo, both VGA and HDMI, audio in/out and gigabit ethernet, together with an optional 2-megapixel webcam and a choice of 6-cell 47Whr or 9-cell 93Whr batteries.
Next up is the HP ProBook 4420s, with a 14-inch 1,366 x 768 display, and the 15-inch HP ProBook 4520s, each with the same processor, memory, storage and graphics options as the 4320s.  Ports are also the same, though there doesn't appear to be a Gobi EVDO/HSPA option on the 4420s.  Both machines have shortcut multimedia controls integrated into the standard keyboard.
Finally, the HP ProBook 4720s has a 17.3-inch 1,600 x 900 display that falls short of Full HD resolution.  It too has the same Core i3/i5/i7 processor options, up to 8GB of DDR3 memory and up to 500GB 7,200rpm HDD, but has the Radeon HD 4350 graphics as standard.  No Gobi option, but the same ports and wireless choices together with a full-sized keyboard with separate numeric keypad.  HP have outfitted the ProBook 4720s with a standard 8-cell 73WHr battery.
To be fair, these business-focussed machines lack some of the multimedia appeal home notebooks have, but they're all well made and discretely good-looking.  We're not sure the keyboards match up to, say, what you'd find on a Lenovo ThinkPad, but they're very usable, as is the gesture-capable trackpad.  HP are yet to announce specific pricing – they'll only say the new models kick off at $719 – but they should go on sale this month.
HP ProBook 4320s, 4420s, 4520s & 4720s hands-on
[vms 0de0cfea955afd4644bb]