HP Pre3 hits Orange UK support site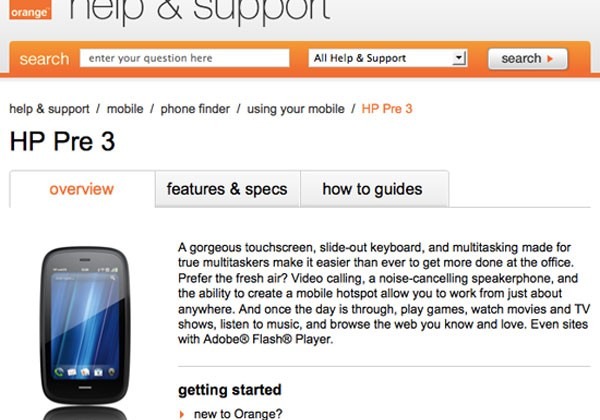 We already know some of the details on the coming HP Pre3 smartphone. The last time we talked about the Pre3 was in mid-July when the device was tipped to be running a 1.2GHz dual-core processor. The Pre3 is expected to hit the UK at the end of the month. The big question on the device so far has been what carrier it will land on. The scuttlebutt was that O2 didn't want the handset so they ruled out one major carrier.
The answer is now clear; the Pre3 has now landed on the Orange support site so we know where the device is headed. The smartphone could land on other carriers too, but for now, Orange is the one we know of. The official support page lists the specs that we already know about. The Pre3 gets 512MB of RAM, a 3.6-inch 480 x 800 resolution display, and either 8GB of 16GB of storage.
Along with the Orange support page, there are several retailers that have pre-order pages up for the device. The phone will sell for $130 or £80 according to the listings. The rub is that the prices have varied in the past and the launch date has changed on the pages too. In a nutshell, the price and launch details are still unknown but the new support page on Orange defiantly shows the device is headed there.
[via PreCentral]