HP Pre 2 Starts Selling At Verizon February 17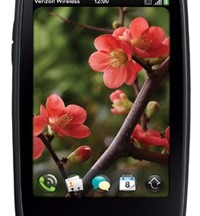 If you can't wait until later this year for HP's Pre 3, the Pre 2 may still be a good option as it will be the first smartphone to run webOS 2.0 that offers a good multitasking interface. Verizon just announced today that they will be carrying HP's Pre 2 starting February 17th and the device will be available both in stores and online.
The Pre 2 will have a 3.1-inch glass multi-touch screen, 5-megapixel camera, and the slide-out QWERTY keyboard design that the Pre is known for. It weighs 5.1 ounces and will have 3G mobile hotspot capability. Start multi-tasking with webOS and test out the new improvements that HP has made.
The Pre 2 will be $149.99 with a two-year contract after a $50 mail-in rebate from Verizon. To get the most out of the Pre 2 subscribers will have to sign up for a data plan, unlimited data plans start at $29.99 monthly. The rebate comes back to the customer as a debit card and can be used wherever debit cards are accepted.
Press Release:
VERIZON WIRELESS' NETWORK TO INCLUDE NEXT GENERATION OF INTUITIVE MULTITASKING PLATFORM WITH PRE 2 FROM HP

Verizon Wireless Customers Have Fast, Fun Access to Work and Play on HP webOS 2.0

BASKING RIDGE, N.J. – Verizon Wireless, the company with the largest and most reliable wireless voice and 3G data network, announced today that the Pre 2 smartphone by HP will be available in Verizon Wireless Communications Stores and online at www.verizonwireless.com on Feb. 17. Pre 2 is the first device to run on HP webOS 2.0, allowing quick and easy multitasking of e-mail, games, music and more.

Key features:

· 3.1-inch glass multi-touch screen with a vibrant 24-bit color, 320 x 480 resolution HVGA display

· Slide-out physical QWERTY keyboard

· Support for Microsoft® Exchange e-mail, as well as personal e-mail support (Google Gmail™ push, Yahoo!®, POP3, IMAP)

· Integrated IM, SMS and MMS

· VZ Navigator® capable – Receive audible turn-by-turn directions to millions of points of interest and share the directions with others

· TI OMAP 1GHz processor with 512 RAM

· 5-megapixel camera with LED flash, extended depth of field, geo-tagging and video capture

· Wi-Fi connectivity (802.11 b/g/)

· Bluetooth® wireless technology 2.1+ EDR with A2DP stereo Bluetooth support

· 3G Mobile Hotspot capability

· Dimensions: 2.34 inches (w) x 0.66 inches (d) x 3.96 inches (h)

· Weight: 5.1 ounces

Lifestyle features:

· Contact Integration via HP Synergy – Customers can keep contacts and calendars up to date automatically with built-in integration for Facebook®, Google, LinkedIn®, Yahoo! and Microsoft Exchange.

· Customized Inbox – Customers can view all of their accounts together or separately to access work e-mail alone or combined in a favorites folder with personal e-mail from places like Gmail or Yahoo! Mail.

· Full HTML Browsing – Customers have access to full websites just like on their Macs or PCs. They can play video, upload photos, access online banking and much more. webOS also now integrates a beta of Adobe Flash Player 10.1 in the browser, which provides access to rich, Flash-based Web content.

· With Just Type in webOS, customers can start an e-mail, create a message, update their status and search their favorite websites – all before they even open an app.

· Mobile Music Store – Customers can buy and download music right from their webOS smartphones using the Amazon MP3 app when on a Wi-Fi hotspot.

· Skype mobile™ – webOS 2.0 supports Skype-to-Skype calls and messaging while in the United States to anywhere in the world, and low-rate calls to international landlines and cell phones.

Pricing and availability:

· Pre 2 will be available from Verizon Wireless for $149.99 after a $50 mail-in Verizon Wireless rebate with a new two-year customer agreement. Pre 2 customers will need to subscribe to a data plan. Unlimited data plans are available to customers starting at $29.99 monthly access. Customers will receive the rebate in the form of a debit card; upon receipt, customers may use the card as cash anywhere debit cards are accepted.

· For additional information on Verizon Wireless products and services, visit a Verizon Wireless Communications Store, call 1-800-2 JOIN IN or go towww.verizonwireless.com.