HP Pavilion dm1 Alexandre Herchcovitch model hands-on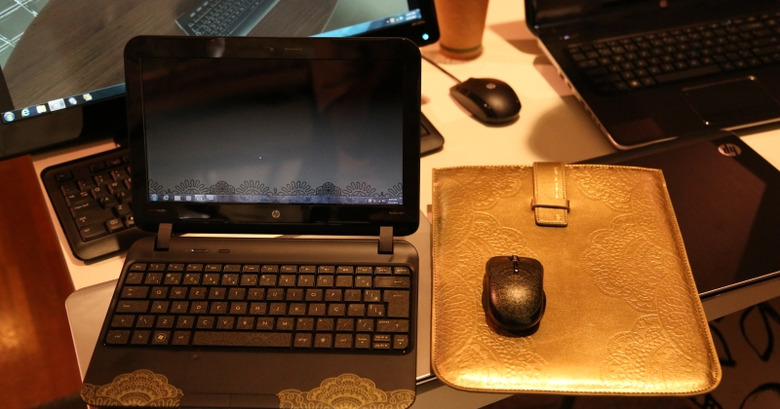 The Brazilian fashion designer known as Alexandre Herchcovitch has come together with HP to create a special edition beast of an HP Pavilion dm1 notebook computer. This device comes packed with the latest AMD processor, has an 11.6-inch LED display, and has Beats Audio embedded – but these elements are not the draw. The notebook you see here is set to be QVC exclusive release in the USA and has design elements all over and inside according to the direction of Herchcovitch himself – it's fashionable!
This notebook appears very much to be a unique piece of machinery with custom-designed outer elements and innards. It's also not a half bad notebook besides! What you'll find here is a 3.5 pound black and gold laptop with HP CoolSense to keep the whole unit cool when you've actually got it resting on your lap (though it's never recommended anymore by any company, of course, laptops not called notebooks on the whole.) You've also got HP TrueVision HD Webcam action up top for next-level images and video even in dark locations.
Inside you'll get a collection of software such as Adobe Photoshop Elements 10 and Adobe Premiere Elements 10 for photo and video editing and Arcsoft Perfect 365 instant makeover and It Girl for the fashionista in you. This notebook comes with a mouse that matches the look and feel of the notebook and comes with a faux leather sleeve so you can get on board with the whole package deal. You'll find this notebook exclusively on QVC in the USA starting at $629.95. Check out the rest of our HP releases today via our HP portal and get into HP's summer range!