HP outs latest Omen desktop gaming PC and 32-inch display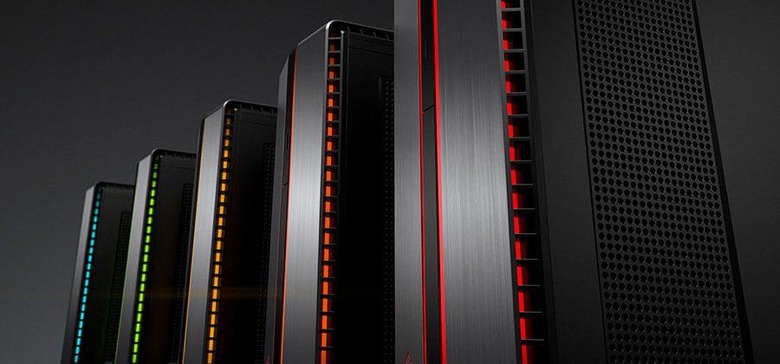 HP has added a new gaming desktop and a new gaming display to its Omen line. The desktop computer is called the Omen Desktop and it is certified for virtual reality and crams some of the latest NVIDIA graphics cards inside. The Omen desktop can be fitted with the NVIDIA GeForce GTX 1080 inside as well as other NVIDIA graphics options.
Gamers who prefer AMD graphics can get a variety of AMD Radeon graphics cards in their new gaming rig. The Omen Desktop runs Windows 10 and has overclocking capability built in with unlocked Intel Core i7 processor. Buyers can choose to fit the gaming PC with liquid cooling to help the machine run cooler when overclocked and under high gaming demands.
It's not clear if the liquid cooling system covers both the GPU and CPU. Up to 32GB of RAM can be fitted inside the machine and it has enough graphics outputs to support up to four monitors at once. SSD drive options are available up to 500GB along with up to 3TB HDDs. The desktop has all the ports you expect for connecting peripherals. HP has designed the chassis of the Omen Desktop to give easy access to internal components to make upgrading easier. The Omen Desktop starts at $999.99 and you can bet fully loaded machines will cost much more than that. Launch is set for August.
HP has also launched the Omen by HP Display and has offered little in the way of detail on the monitor. What we know about it is that it has Quad HD resolution and promises wide viewing angles. The screen has 100% sRGB color space coverage and supports AMD FreeSync technology. FreeSync tech aims to deliver fluid and artifact free performance that matches the power of the Omen desktop gaming PC. The display will launch in August at an undisclosed price.
SOURCE: HP