HP Mini 210 Vivienne Tam edition goes Crazy Town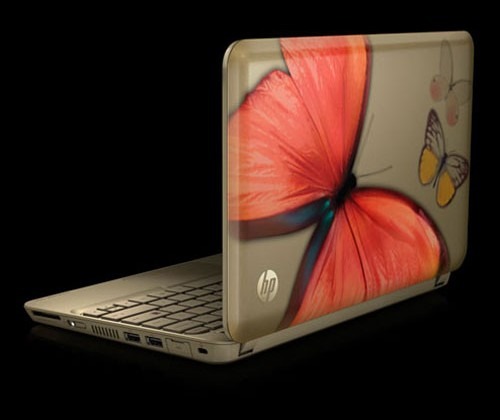 HP and many other electronics companies are trying hard to reach people like my wife who don't buy electronics and computers based on specifications, but buy them based on looks. My wife would take a mediocre camera if it's pink over a fantastic black camera. Most of her girly friends would do the same. For this crowd, HP has unveiled its latest product designed by Vivienne Tam.
The new machine is the basic HP Mini 210 adorned with a "Butterfly Lovers" design and gold color that goes along with Tam's latest collection of clothing. Other than the gold color, which extends to the keyboard and other surfaces of the netbook and a wireless mouse, the rig is the basic Mini 210.
If you are the sort that cares about looks and specs, the hardware inside is as follows. The machine runs an Intel Atom N450 CPU and has 2GB of RAM. The screen is a 10.1-inch BrightView Infinity Widescreen unit and the keyboard is 93% of full-size. The golden hued 3-cell battery promises up to 5.5 hours of use per charge and the butterfly decorated mouse is an option. The netbook is slated as "coming soon" by HP for about $600. That is a lot of coin for a netbook even if you are a "Butterfly Lover."